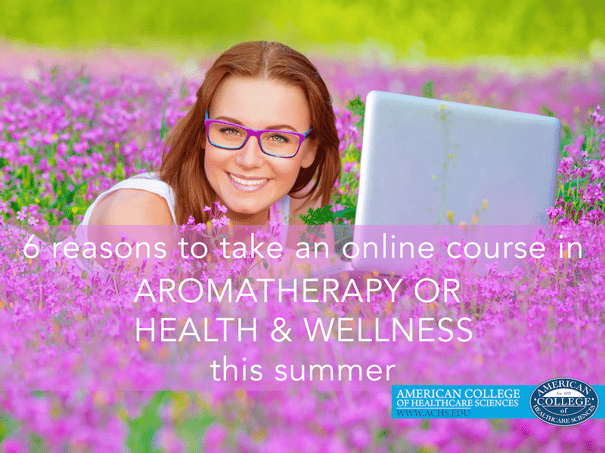 Editor's Note: This post was originally published on April 8, 2014, and was updated in May 2016.
You're a wellness warrior. You keep active. Maybe you love whipping up organic, fresh-from-the-garden holistic meals for your family. Perhaps you'd love to take your garden know-how one step further and become an herbalist some day soon. Whatever holistic health practices bring you joy, you're always looking for more education and new ways to be even healthier!
If this sounds like you, why not continue growing your holistic health knowledge AND your overall well-being by enrolling in a holistic health online course? While ACHS offers some of the only accredited online programs in alternative health and wellness, did you know that you can take up to six credits without enrolling in a degree program?
Here are my six sensational reasons to take a single online course in holistic health this summer:
1. You're ready to go back to school, but you want to test the waters first.
If you've been thinking about going back to school, there's nothing like taking an introductory natural medicine course to get your feet wet. ACHS courses like HERB 101 Basics of Herbalism, AROMA 101 Introduction to Aromatherapy, and NAT 101 Nutrition, Bodycare & Herbalism are perfect introductory online courses to help you decide if you're ready to enroll in a full or half-time holistic health program.
Maybe you've always loved cooking with organic, whole foods. You delight in learning how and why certain foods affect the body in certain ways, and you're carving out a path to become a certified holistic nutritionist. Taking one or two nutrition classes online might be just the thing to get your feet wet. Who knows? You may LOVE it and decide you want to add a Master of Science in Holistic Nutrition to your résumé!
Or perhaps you're a greenhorn aromatherapist, and you're ready to take your practice to the next level. You could be asking, "I want to become a Registered Aromatherapist (RA). Should I take aromatherapy courses online?"
To sit for the Aromatherapy Registration Council (ARC) exam, you'll have to complete a minimum of a 200-hour Level 2 program in aromatherapy from a National Association of Holistic Aromatherapy (NAHA) or Alliance of International Aromatherapists (AIA) approved school.[1] (ACHS is both!) But you don't have to take those 200 hours all at once!
Consider starting with AROMA 101 Introduction to Aromatherapy to see if an aromatherapy certification is right for you. And an added benefit: ACHS offers an accredited online certificate in aromatherapy program, so you know you're receiving a thorough education from expert instructors.
2. You're not sure if online learning is for you.
Maybe you're intrigued by online learning, but you're not quite sure what it's all about. You've looked at some "free" online classes that are simply a bunch of web pages, and you don't see how that can be effective in learning a complicated subject like aromatherapy. Taking a single class this summer at ACHS lets you see how a comprehensive online class works: with online discussions, instructor graded assessments, video, audio, interactive multimedia, and much more.
AROMA 101 Introduction to Aromatherapy may be the perfect starter course for you! You'll complete hands on projects with essential oils, learn the physiology behind the sense of smell, learn how to identify and safely use essential oils, and build an in-depth understanding of how essential oils interact with the body on physical and emotional levels.
Our new accelerated courses in the Canvas platform mean you can study on your smart phone or tablet!
I'm so thrilled, all my reading and lectures are done for the week!! I love the user friendly system. Makes learning so much easier as its all mobile friendly. I was learning about clinical correlates of the digestive system while outside with the kids! - Teddy N. Georgia May 23, 2016
3. You want to enrich your family's health and wellness with a blend of hands on, age-old remedies and scientific research in integrative health.
It can be VERY difficult to navigate the waters of fact and fiction when it comes to health and wellness. There is an enormous amount of confusing or downright false information out there about herbs, essential oils, nutrition, and complementary alternative medicine (CAM) in general. Following your favorite health-foodie blogger is a great start. Reading research papers is even better. But muddling through on your own, trying to figure out which "studies" about the efficacy of herbs versus supplements versus pharmaceuticals are good science might not cut it. You might just be ready for the nitty-gritty resources and knowledge that only a classroom and an expert instructor can provide.
If you're looking to build yourself an arsenal of health and wellness tools to take care of your family, consider taking the natural medicine course NAT 101 Nutrition, Bodycare & Herbalism. It's the perfect course for a buffet of holistic health "how-to's"— including holistic nutrition, herbalism, aromatherapy, and health and wellness. You'll learn to implement tools for your well-being, holistic nutrition, and a natural and balanced way of life for you and your family.
4. You want do something for yourself this summer, but still be Super-Mom or Super-Dad!
Let's be real: raising a family can make you feel like a chicken with your head cut off! With a thousand different schedules to keep, meals to cook, and kids to care for, finding time to "go to class" can feel like a pipe dream! You need a class where you can study on your own time and incorporate what you're learning into your family's daily life.
So go ahead: take your HERB 101 weekly test in the morning before the kids wake up or evening when they're in bed. Test out the acid-alkaline theory you learned in NUT 509 during your family dinnertime. Or get the kids involved in planting an herb garden, harvesting herbs for herbal teas, or making lip balm!
Attending a mobile classroom also means you don't have to fall behind if you're stuck at home. Sick kid? Not only can you still get to class, you've just given yourself an excellent case study for a class project!
The portable nature of online courses allows you to maintain your Super-Dad or Mom lifestyle while building more knowledge to keep you and your family healthy.
5. You want to educate yourself for a new business.
Maybe you've been caught up in the latest network marketing business or you've started your own. Either way, you know you need some research-based education that isn't coming straight from the company. Just one course can give you the confidence you need to share your business and products safely and effectively.
For example, maybe you own a health shop and you want to start selling herbs for teas and home remedies. HERB 101 Basics of Herbalism is the perfect way to help you learn the fundamentals of herbal medicine, including the basic methods of administration, blending, and therapeutic actions. Or if you're eligible for graduate level courses HERB 502 Advanced Herbal Meteria Medica.
ACHS is offering the following accelerated courses this summer, check out:
6. You want to be a well-rounded and educated wellness warrior!
The best reason to take a single course in holistic health: learn how to be a wellness warrior! Ultimately, your health is in your hands. With the rise of social media and viral information, it's crucial that we're able to empower ourselves with accurate knowledge about our personal health.
Taking an intro class in holistic health is one way to stock your tool kit. Whether it's learning simple herbal tea blends in your herbal medicine course, learning the theory behind dry skin brushing and the proper dry skin brushing technique (yes—there's a right and a wrong way!), or learning how to assess the quality of your essential oils, there's no "down-side" to taking an online holistic health class. Take control of your health and wellness by enrolling in an online class from ACHS. You never know what you might learn!
Want to learn more about these online courses or how to become a certified holistic nutritionist, registered aromatherapist, or a master herbalist? Download the ACHS Viewbook here:
If you could choose one holistic health class to take, what would it be? Tell me in the comments!
Disclosure of Material Connection: I am the CIO of American College of Healthcare Sciences, the Institution that publishes this blog. However, all opinions are my own and I only recommend products and services that I personally have reviewed and believe will be good for my readers. Some of the links in the post above are "affiliate links." This means if you click on the link and purchase the item, I may receive an affiliate commission. Regardless, I only recommend products or services I use personally and believe will add value to my readers. I am disclosing this in accordance with the Federal Trade Commission's 16 CFR, Part 255: "Guides Concerning the Use of Endorsements and Testimonials in Advertising."
This article is for informational purposes only. It is not intended to treat, diagnose, cure, or prevent disease. This article has not been reviewed by the FDA. Always consult with your primary care physician or naturopathic doctor before making any significant changes to your health and wellness routine.