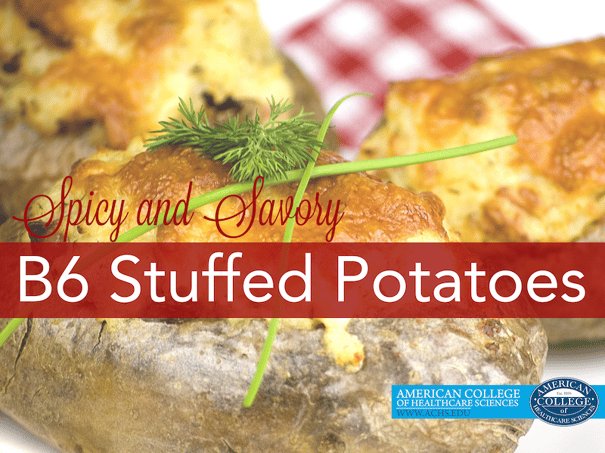 The holidays are here! Are you struggling to balance your holistic nutrition with the call of winter comfort food?
Don't stress!
And stop scouring magazines and Pinterest for the perfect side dish to bring to your work potluck or family Thanksgiving. We have the recipe for healthy winter comfort food … B6 stuffed potatoes!
Try this healthy and zesty twist on a holiday classic, packed with vitamin B6 to help support your energy levels and mood this winter season.
Spicy and Savory B6 Stuffed Potatoes
Ingredients
*Always choose Certified Organic when available
Garlic Allium sativum: 1 clove
Extra virgin olive oil: ½ teaspoon
Kidney beans (drained): 1, 16-ounce can
Cumin Cuminum cyminum: ½ teaspoon
Chili powder: ¼ teaspoon
Salsa: ½ cup
Medium to large potatoes (baked): 2
Low-fat cheddar cheese: 4 tablespoons
Cilantro Coriandrum sativum (minced): 2 tablespoons
Directions
In a medium saucepan, sauté garlic in olive oil until soft. Add beans, cumin, and chili powder, and stir to combine. Cook over medium heat, mashing beans with the back of a fork until fairly smooth. Stir in the salsa.
Open each potato by slicing it lengthwise and top each with half of the bean mixture and half the cheese. Place under broiler for a few minutes until cheese melts and sprinkle with cilantro to serve. Serves two.
Nutrition facts per potato
444 calories, 5 grams fat, 10 milligrams cholesterol, 16.6 grams fiber, and 1.7 milligrams vitamin B6
Disclosure of Material Connection: This blog may contain affiliate links. I am disclosing this in accordance with the Federal Trade Commission's 16 CFR, Part 255: "Guides Concerning the Use of Endorsements and Testimonials in Advertising."
This article is for informational purposes only. It is not intended to treat, diagnose, cure, or prevent disease. This article has not been reviewed by the FDA. Always consult with your primary care physician or naturopathic doctor before making any significant changes to your health and wellness routine.