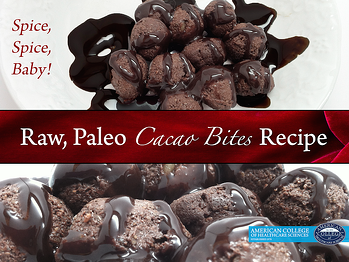 Valentine's Day is a day to celebrate love of all kinds; it's also a day synonymous with sugary sweets. Here at ACHS, we love a tasty, guilt-free chocolate snack. Enter our "date-fully" delicious raw, paleo (or Primal) cacao bites! No sugar required, but still sweet and spicy. These powerhouse snacks are packed with nutritious sprouted almonds, soaked chia seeds, dates, cacao powder, and lots of love.
Wow your significant other, your friends, and your palette this Valentine's Day with these tasty chocolate rounds. Spiced in a variety of ways that even Cupid can get on board with, these sugar-free, bite-sized cacao treats are sure to get the attention of all chai, chocolate, and holistic nutrition lovers alike.
Here's how you can whip up our date-fully delicious raw, paleo (or Primal) cacao bites with your sweetie-pie, bestie, or greatest love of your life … you!
Raw, Paleo (or Primal) Cacao Bites Base
Almonds: 1 cup (soaked 2-4 hours)
Cacao powder: Approximately 1 cup (not to be confused with cocoa powder)
Chia seeds: ¼ cup (soaked 15-20 minutes)
Dates: 10 (de-seeded and soaked in ½ cup water for 1 hour; save ¼ cup of date water for later)
Pick Your Seasoning!
With these cacao bites, you can customize the seasoning to your liking. Prefer the zesty bite of cinnamon and spice? Try the chai seasoning. Love a little kick of cayenne? That's a spicy option, too. Or you can get creative and try all three! Either way, you'll have a sweet and spicy treat this Valentine's Day. Don't forget to share what spices you decide to add in the comments section below!
Option 1: Homemade Chai Seasoning
Cinnamon Cinnamomum zeylanicum powder: 1¼ tablespoon
Cardamom Elettaria cardamomum powder: 1 tablespoon
Coriander Coriandrum sativum powder: ½ tablespoon
Ginger Zingiber officinale powder: ½ tablespoon
Clove Syzygium aromaticum powder: ¾ tablespoons
Black pepper Piper nigrum: ½ teaspoon
Option 2: Lavender Salt
3:1 ratio of sea salt (Primal approved) to lavender Lavandula angustifolia flowers
Option 3: Light Cayenne Dusting
Cayenne Capsicum annuum powder: ¼ teaspoon
Directions
Process almonds until they are in tiny bits without any large chunks. Add chia seeds into the processor, pour in date water, and pulse in one date at a time. Consistency will be thick, easily formed. Transfer to a large mixing bowl.
Add cacao in slowly. Allow mixture to absorb the cacao while gently mixing and pressing with a spoon.
Add desired spice. Try one of the three options above or create your own zesty blend.
Form into balls.
OPTIONAL: Dip into melted certified organic dark chocolate (great for fondue!) or drizzle dark chocolate over top if desired.
Top with your spice of choice.
For an alternative to dipped chocolate, try rolling the bites in…
Hemp Seeds
Coconut
Top with cacao nibs
Don't forget to tell us which spices you chose in the comments!
This article is for informational purposes only. It is not intended to treat, diagnose, cure, or prevent disease. This article has not been reviewed by the FDA. Always consult with your primary care physician or naturopathic doctor before making any significant changes to your health and wellness routine.
Disclosure of Material Connection: I am the Production Lead for American College of Healthcare Sciences, the Institution that publishes this blog. However, all opinions are my own. This blog may contain affiliate links. I am disclosing this in accordance with the Federal Trade Commission's 16 CFR, Part 255: "Guides Concerning the Use of Endorsements and Testimonials in Advertising."