With Valentine's Day comes delightful aromas! What better botanical to work with than the flower of love: rose! If you are a budding perfumer, rose is an essential oil in your repertoire. Here's a little more about love's most notorious fragrance:
When 100 perfumers selected a standard for a floral aroma, Bulgarian rose was the one chosen. The absolute is unique in that it has a high tenacity alongside a deep, rosy fragrance.
Distilled rose otto has more top note, and absolute rose has more fixative power. Rose oil has a warm, deep floral, slightly spicy, rich, honey-like odor.
Rose is also a very popular fragrance in many cosmetics and creams, as well as perfumes, toilet preparations, lozenges, and toothpaste. Want to make sure you breath is fresh for your Valentine's Day sweetheart? Try a tooth powder with baking soda, and a few drops each of rose Rosa damascena (Mill.) and mastic Pistacia lentiscus var. chia (L.) essential oils.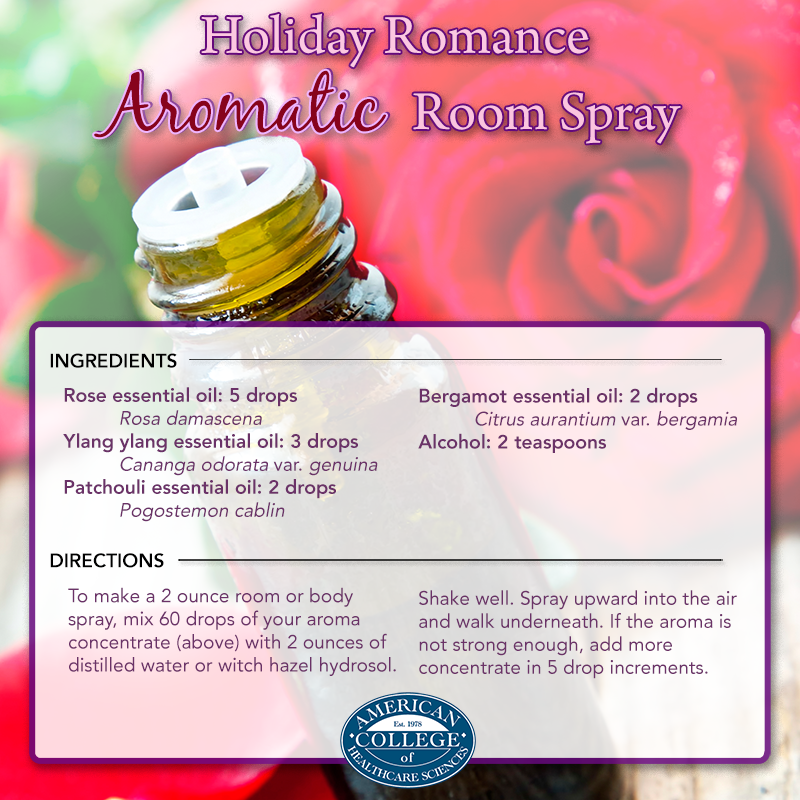 If you are creating an uplifting fragrance, rose is the perfect choice. Try blending it with floral essential oils like in the Aromatic Room Spray recipe to the right. , There are many other oils it blends well with. A few include:
anise

Pimpinella anisum

(L.)

benzoin

Styrax tonkinensis

(Pierre) Craib ex Hartwich

bergamot

Citrus aurantium

(L.) var.

bergamia

black pepper

Piper nigrum

(L.)

chamomile (Roman)

Chamaemelum nobile

(L.) All.

costus

Aplotaxis lappa

(Decne.)

fennel

Foeniculum vulgare

(Hill)

geranium Pelargonium graveolens

(L'Her.)

ginger

Zingiber officinale

(Roscoe)

jasmine

Jasminum grandiflorum

(L.)

immortelle

Helichrysum italicum

(Roth)

neroli

Citrus aurantium

(L.) var.

amara

patchouli

Pogostemon cablin

(Benth.)

sandalwood

Santalum album

(L.)

vetiver

Vetiveria zizanioides

(Nash)

ylang ylang

Cananga odorata

(Lam.) var.

genuina
As many of you know, rose essential oil can get quite pricey. But don't fear! A small quantity goes a long way. The minimum perceptible is 0.01-0.02-mg%.
Looking for more lovely ways to utilize the flower of love? Check out our free eBook, A rose by any other name..., which is a comprehensive look at a perfumer favorite, rose essential oil.
Disclaimer: This information is for educational purposes only and does not replace the need for legal advice. State laws vary greatly and change often. If you have a specific question about the laws in your state, check with your state or seek the advice of your attorney.
Disclosure of Material Connection: This blog may contain affiliate links. I am disclosing this in accordance with the Federal Trade Commission's 16 CFR, Part 255: "Guides Concerning the Use of Endorsements and Testimonials in Advertising."
This article is for informational purposes only. It is not intended to treat, diagnose, cure, or prevent disease. This article has not been reviewed by the FDA. Always consult with your primary care physician or naturopathic doctor before making any significant changes to your health and wellness routine.
Editor's Note: This blog post was originally published in February 2017 and has been updated for accuracy. (February 2018)