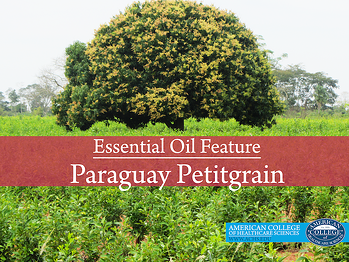 "Where do your oils come from?" is a question I am often asked.

I love hearing this from Apothecary Shoppe customers and ACHS students and grads. Knowing where the plants used to distill your oils are grown or wildcrafted is vital in appreciating the differences and qualities in each essential oil.

Sustainable farming and harvesting practices are also key factors when considering esseial oil quality. Ensuring quality of our oils and herbs is a passion of mine. That's why when I source essential oils for our College store, I visit the growers, wildcrafters, harvesters, and distillers in person.

And these sourcing journeys have taken me to some

far-flung, out-of-the-way places!

Petitgrain is a good example. Typically sourced from Italy, I was intrigued after reading about a Paraguayan petitgrain in Guenther's The Essential Oils. I was hooked, and had to set out on an exploration to find it and learn more. Landlocked Paraguay is already a fascinating country, but the rich history of petitgrain production made it even more so.

The Paraguayan industry of essential oil production from the bitter orange tree Citrus aurantium (L.) subsp. amara owes its existence to Benjamin Balansa who visited in 1873 and started distilling the essential oil. [1] Sought after for the refreshing aroma it gives to soap in 1938, Paraguay produced 100,000 kilograms of petitgrain essential oil. I was lucky to visit a number of small villages, petitgrain plantations, and distilleries throughout the northern part of the country. I learned and experienced a lot (including a hands-on harvesting education!) about the soil-to-oil process of creating this essential oil.
Soil-to-Oil: Harvesting and Distillation
Petitgrain C. aurantium subsp. amara essential oil is distilled from the leaves and twigs of the bitter orange tree. In Paraguay, the trees are cultivated usually in small plantations in low coppiced rows to maximize leaf production and facilitate harvesting, which is all done by hand with a machete and gathered and loaded onto oxen-powered carts.
The tropical climate is ideal for growing bitter orange trees. It can be harvested and distilled throughout most of the year, making it an important crop for the rural network of small villages and farmers who rely on the immediate cash return. It's estimated that approximately 20,000 Paraguayan families are directly or indirectly involved in petitgrain essential oil production.
Pictured: Worker stomping down the plant into the wooden retort for distillation to ensure there are no air pockets, which reduces the yield.
While visiting the small, local villages, I was intrigued to see the precise, straight wagon-width-apart rows of the glossy leaved citrus trees against the orange sunbaked soil. I appreciated the effort of the intense work of the machete-wielding harvesters laboring in the oppressive heat. I even tried my own hand at harvesting using a machete. It's not an easy process. (Check out the video below!) The same men gathered the cut leaves, stems, and twigs by hand or used a large pitchfork to throw the harvest on the back of the wagon as the oxen leisurely ambled down the rows.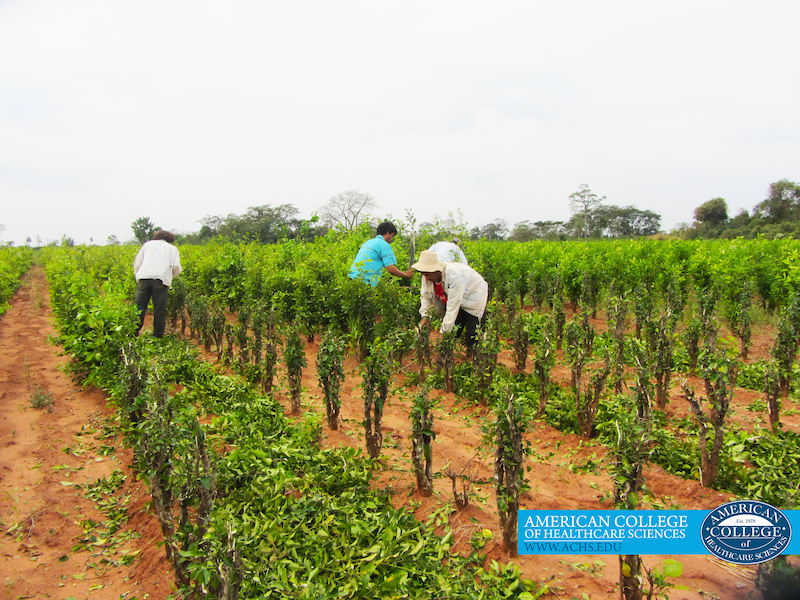 Pictured: Petitgrain grown in rows and kept coppiced.
The fully loaded oxen cart slowly made its way to the distillery, located close by in the same village. The leaves and twigs were loaded into a retort, but unlike typical stills made of copper, iron, or stainless steel, this was a traditional wooden-barrel still fueled by a satellite boiler. I later learned that some distilleries began experimenting with modern, metal distillation equipment during the mid-20th century, but distillers and buyers all seem to agree the quality was not nearly as desirable as the traditional wooden-barrel distilled petitgrain.
Remembering this massive effort to harvest and distill this plant somehow makes using my organic petitgrain essential oil even more special (see the section Uses for Petitgrain Essential Oil below).
Uses for Petitgrain Essential Oil
Now that you know the soil-to-oil process for petitgrain, let me make some recommendations for how you may want to experiment with this wonderful oil at home.
Petitgrain essential oil has an enticing, crisp, and refreshing aroma with a hint of spice. You'll love this oil for its relaxing properties! Personally, I love adding it to my bedtime diffuser and letting the tropical aroma of Paraguay soothe me into sleep.
You can also try adding petitgrain to your "after workout" massage blend or shower gel. It works wonders on the muscles. For your next DIY project, try mixing up this invigorating shower gel recipe:
Morning Revive Shower Gel Recipe
Rosemary Rosmarinus officinalis oil: 15 drops
Grapefruit Citrus paradisi oil: 10 drops
Tangerine Citrus reticulata oil: 10 drops
Petitgrain Citrus aurantium subsp. amara oil: 6 drops
Unscented shower gel: 4 ounces
Blend the ingredients and use externally in morning shower.
And if you are a soap maker, try it in your next batch of soap!
Are you ready to try it for yourself? Get your Certified Organic Petitgrain Essential Oil.
Pictured above: Evaluating the aroma intensity and notes of petitgrain essential oil at the distillery in Paraguay.
Disclosure of Material Connection: I am the President and Founder of American College of Healthcare Sciences, the Institution that publishes this blog. However, all opinions are my own. This blog may contain affiliate links. I am disclosing this in accordance with the Federal Trade Commission's 16 CFR, Part 255: "Guides Concerning the Use of Endorsements and Testimonials in Advertising."
This article is for informational purposes only. It is not intended to treat, diagnose, cure, or prevent disease. This article has not been reviewed by the FDA. Always consult with your primary care physician or naturopathic doctor before making any significant changes to your health and wellness routine.
[1] Guenther, E. (1974). The Essential Oils, Vol. III. D. Van Nostrand. 215.