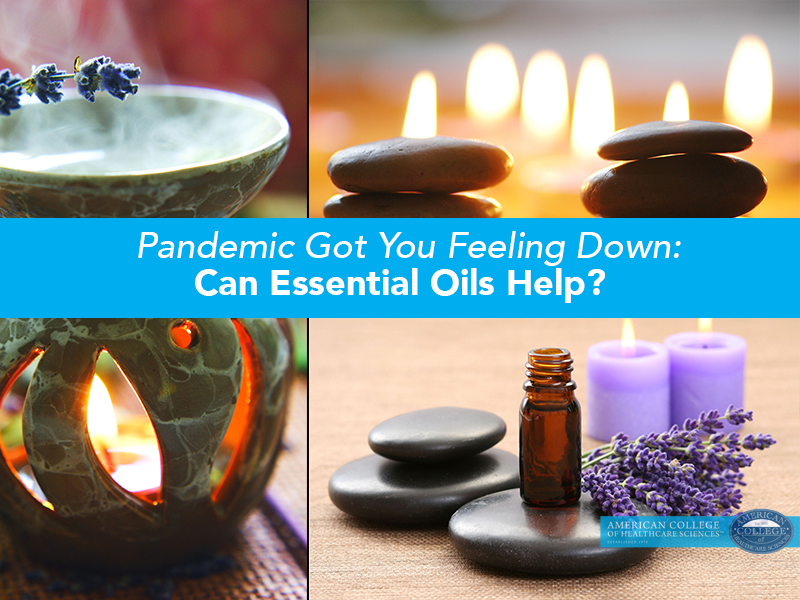 Updated from the original version of this article on the ACHS Health and Wellness Blog here: http://info.achs.edu/blog/depression-and-anxiety-can-essential-oils-help
I'm slowly adjusting to working at home, trying to focus on gratitude and hope, but still some days, dealing with roller coaster emotions. How about you? Adapting to life in a pandemic is bringing with it a lot of emotional disorders like sadness, depression and anxiety. Talking about this difficult topic is an enormous step forward on the road to supporting yourself and those in need. If you are looking for day to day support, you may have heard that essential oils can help. But have you wondered how aromatherapy works with depression and anxiety? And can essential oils really help?
With a recent 2020 study showing a link between anti-anxiety medications and dementia, there is even a more compelling reason than ever to explore the uplifting benefits of essential oils.[1] Here are three essential oils that research has shown can help support a healthy mood.
Bergamot: A Powerful Mood-Booster
One essential oil that stands out as a mood-booster is bergamot Citrus aurantium (L.) var. bergamia. Many citruses are known for their uplifting effects, but bergamot is particularly powerful.
There are numerous historical and anecdotal reports of the calming and cheering effects of bergamot essential oil. But there are also scientific studies supporting these claims.
A 2019 study found that bergamot essential oil demonstrated extensive evidence of analgesic properties without side effects of sedation, typical of many anti-anxiety medications. [2]
An older 2014 study with 58 hospice patients presented some interesting conclusions.[3] The hospice patients were given hand massages once a day for one week with an essential oil blend in 1.5% dilution with sweet almond oil. The essential oil blend consisted of these essential oils in equal ratios:
Bergamot C. aurantium var. bergamia
Frankincense Boswellia carterii (Birdw.)
Lavender Lavandula angustifolia (Mill.)
Here's the good news: all the patients who received the aromatherapy hand massage reported less pain and depression.[4] This study shows that aromatherapy massage with this specific essential oil blend is more effective for pain and depression management than massage alone.
What about anxiety?
Another study conducted in Taiwan in 2011 provided more compelling evidence. The authors selected elementary school teachers, who are known to work under significant stress. An inhalation of bergamot C. aurantium var. bergamia essential oil just once a week for 10-minutes resulted in a substantial reduction in blood pressure and heart rate and drove autonomic nervous activity toward a balanced state. Also, participants with moderate and high degrees of anxiety benefited more than the light anxiety group.[5]
Researchers even demonstrated in an animal study with mice that bergamot C. aurantium var. bergamia essential oil's calming properties could be as strong as diazepam (valium)[6]. However, it's important to note that in this animal study, mice received injections of bergamot C. aurantium var. bergamia essential oil. I am certainly not advocating injections with bergamot oil, but inhalation or diluted topical application could be sufficient.
Here is a floral blend that may help you to cope with the stress or anxiety you may be experiencing right now: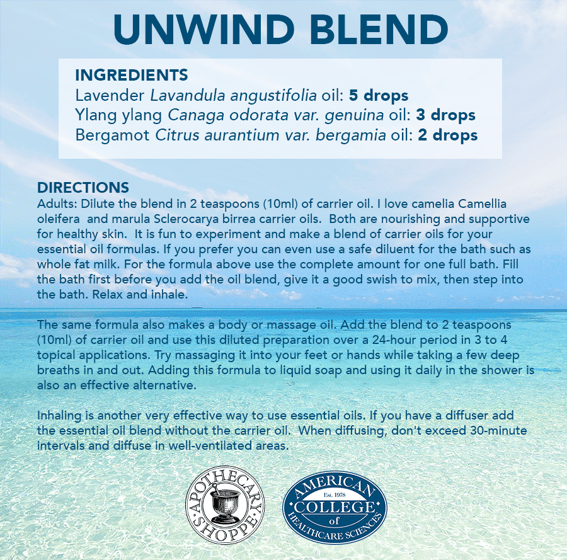 Adults: Dilute the blend in 2 teaspoons (10ml) of carrier oil. I love camelia Camellia oleifera and marula Sclerocarya birrea carrier oils. Both are nourishing and supportive for healthy skin. It is fun to experiment and make a blend of carrier oils for your essential oil formulas. If you prefer you can even use a safe diluent for the bath such as whole fat milk. For the formula above use the complete amount for one full bath. Fill the bath first before you add the oil blend, give it a good swish to mix, then step into the bath. Relax and inhale.
The same formula also makes a body or massage oil. Add the blend to 2 teaspoons (10ml) of carrier oil and use this diluted preparation over a 24-hour period in 3 to 4 topical applications. Try massaging it into your feet or hands while taking a few deep breaths in and out. Adding this formula to liquid soap and using it daily in the shower is also an effective alternative.
Inhaling is another very effective way to use essential oils. If you have a diffuser add the essential oil blend without the carrier oil. When diffusing, don't exceed 30-minute intervals and diffuse in well-ventilated areas.
Clary Sage: Clear, Calm, and Content
The English name clary originates from the Latin sclarea, which was derived from clarus, meaning "clear." I like to think of clary sage Salvia sclarea (L.) essential oil as "clearing" away the dark clouds of our mood, as it's traditionally been known for its uplifting and euphoric actions. Clary sage S. sclarea is an essential oil you can diffuse before bed or add to the bath for a relaxing, therapeutic soak.
But where's the research?
Clary sage S. sclarea, essential oil, contains a health-boosting aromatic molecule called linalool. A 2018 animal study showed that linalool released serotonin, (the mood-stabilizing chemical) and reduced cortisol the hormone that elevates during periods of anxiety. Linalool's beneficial effects aid memory loss improve levels of anxiety due to lack of deep relaxing sleep.[7] Another older 2010 research study with rats documented clary sage S. sclarea essential oil's antidepressant effects [8], suggesting that it could be a useful holistic addition for those coping with depression and anxiety.
Additionally, a randomized controlled trial in 2013 suggested that clary sage S. sclarea essential oil may be helpful—more so than lavender Lavandula angustifolia [Mill.]—in reducing stress for female patients undergoing urodynamic assessments.[9]
Why not give it a try? Here's a relaxing bath blend to help get you through the "stay at home pandemic blues."
Relaxing Bath
Clary sage Salvia sclarea essential oil: 3 drops
Ylang ylang Cananga odorata var. genuina: 2 drops
Follow the instructions for the Unwind Blend.
Lavender: The Purple Flower of Peace
It's no secret I'm a big fan of lavender L. angustifolia and its many therapeutic properties. Not only does it smell divine, but it is also an extremely versatile herb and essential oil with several practical uses, including pest control, sleep support, and of course, promoting a balanced mood.
A 2020 randomized controlled trial of the effect of lavender L. angustifolia on patients undergoing bone marrow biopsy has positive results. The trial showed that the aroma of lavender reduced anxiety in patients undergoing this procedure. The researchers recommended the inhalation of lavender in hematology and oncology clinics to reduce stress caused by bone marrow biopsy.[10] In an older 2003, small but relevant double-blind trial, patients with mild to moderate depression showed improvement after receiving 60 drops of lavender tincture (1:5 in 50% alcohol) per day.[11]
A study in 2007 also showed that lavender aromatherapy reduced serum cortisol—which plays a central role in the body's response to stress—in healthy men.[12] The researchers concluded: "These findings suggest that lavender aromatherapy has relaxation effects and may have beneficial effects on coronary circulation."
Further, research suggests lavender essential oil may be a substitute for other common and potentially addictive psychoactive drugs used for anxiety. A 2010 study investigated the use of lavender with Generalized Anxiety Disorder (GAD). Silexan, an oral lavender oil capsule preparation, when taken over six weeks, was shown to effectively relieve generalized anxiety comparable to lorazepam, a powerful psychoactive drug.[13]
It's important to note that these studies were assessing the soothing properties of lavender L. angustifolia and not lavandin Lavandula intermedia (Emeric ex Loisel.), which can have stimulating effects. As a reminder, be sure to check that the Latin name reads Lavandula angustifolia when using lavender essential oil for calming and therapeutic purposes.
More Mood-Boosting Oils
While bergamot, clary sage, and lavender are excellent oils to support healthy moods, here are 10 more oils that you can add to your wellness routine to brighten your day.
Basil Ocimum basilicum (L.)
Geranium Pelargonium graveolens (L'Her.)
Grapefruit Citrus paradisi (Macfad.)
Lime Citrus aurantifolia (Christm.)
Neroli Citrus aurantium (L.) var. amara
Roman chamomile Chamaemelum nobile (L.) All.
Rose Rosa damascena (Mill.)
Sandalwood Santalum album (L.)
Sweet orange Citrus sinensis (Osbeck)
Ylang ylang Cananga odorata (Lam.) var. genuina
You can find the essential oils in this article in the ACHS Apothecary Shoppe.
Are You Experiencing Symptoms of Depression or Anxiety?
While essential oils are compelling additions to a wellness routine, depression and anxiety are serious mood disorders.
If you are experiencing severe symptoms of depression or anxiety, please seek the attention of a trusted physician, naturopath, or mental health provider, who may, in fact, suggest an aromatherapy regime.
This article is for informational purposes only. It is not intended to treat, diagnose, cure, or prevent disease. This article has not been reviewed by the FDA. Always consult with your primary care physician or naturopathic doctor before making any significant changes to your health and wellness routine.
Safety Tip: when using essential oils at home ensure you store your oils tightly capped in a cool location, away from kids and pets. Diffuse in a well ventilated area for a maximum of 30 minutes.
References
[1] Ettcheto, M., Olloquequi, J., Sánchez-López, E., Busquets, O., Cano, A., Manzine, P. R., Beas-Zarate, C., Castro-Torres, R. D., García, M. L., Bulló, M., Auladell, C., Folch, J., & Camins, A. (2020). Benzodiazepines and Related Drugs as a Risk Factor in Alzheimer's Disease Dementia. Frontiers in aging neuroscience, 11, 344. https://doi.org/10.3389/fnagi.2019.00344
[2] Scuteri D, Rombolà L, Morrone LA, et al. Neuropharmacology of the Neuropsychiatric Symptoms of Dementia and Role of Pain: Essential Oil of Bergamot as a Novel Therapeutic Approach. Int J Mol Sci. 2019;20(13):3327. Published 2019 Jul 6. doi:10.3390/ijms20133327
[3] Chang, S.Y. (2008). Effects of aroma hand massage on pain, state anxiety and depression in hospice patients with terminal cancer. Taehan Kanho Hakhoe Chi., 38(4):493-502
[4] Ibid.
[5] Chang, K. & Shen, C. (2011). Aromatherapy Benefits Autonomic Nervous System Regulation for Elementary School Faculty in Taiwan. Evidence-Based Complementary and Alternative Medicine. Retrieved from: http://www.hindawi.com/journals/ecam/2011/946537/
[6] Saiyudthong, S. & Marsden, C.A. (2011). Acute effects of bergamot oil on anxiety-related behaviour and corticosterone level in rats. Phytother Res., 25(6):858-62.
[7] Lee, B. K., Jung, A. N., & Jung, Y. S. (2018). Linalool ameliorates memory loss and behavioral impairment induced by REM-sleep deprivation through the serotonergic pathway. Biomolecules & Therapeutics, 26(4), 368–373. https://doi.org/10.4062/biomolther.2018.081
[8] Seol, G.H., Shim, H.S., Kim, P.J., Moon, H.K., Lee, K.H., Shim, I., et. al. (2010). Antidepressant-like effect of Salvia sclarea is explained by modulation of dopamine activities in rats. J Ethnopharmacol., 130(1):187-90.
[9] Seol, G.H., Lee, Y.H., Kang, P., You, J.H., Park, M., & Min, S.S. (2013). Randomized controlled trial for Salvia sclarea or Lavandula angustifolia: Differential effects on blood pressure in female patients with urinary incontinence undergoing urodynamic examination. J Altern Complement Med., 19(7):664-70.
[10] Abbaszadeh, R., Tabari, F., & Asadpour, A. (2020). The Effect of Lavender Aroma on Anxiety of Patients Having Bone Marrow Biopsy. Asian Pacific journal of cancer prevention : APJCP, 21(3), 771–775. https://doi.org/10.31557/APJCP.2020.21.3.771
[11] Akhondzadeh, S., Kashani, L., Fotouhi, A., Jarvandi, S., Mobaseri, M., Moin, M., et al. (2003). Comparison of Lavandula angustifolia Mill. tincture and imipramine in the treatment of mild to moderate depression: a double-blind, randomized trial. Prog Neuropsychopharmacol Biol Psychiatry, 27(1):123-7.
[12] Shiina Y., Funabashi N., Lee K., Toyoda T., Sekine T., Honjo S., et al. (2007). Relaxation effects of lavender aromatherapy improve coronary flow velocity reserve in healthy men evaluated by transthoracic Doppler echocardiography. Int J Cardiol.,129(2):193-7.
[13] Woelk, H. & Schläfke, S. (2010). A multi-center, double- blind, randomized study of the Lavender oil preparation Silexan in comparison to Lorazepam for generalized anxiety disorder. Phytomedicine, 17(2):94-9.
Disclosure of Material Connection:I am the President of the American College of Healthcare Sciences, the Institution that publishes this blog. However, all opinions are my own. This blog may contain affiliate links. I am disclosing this in accordance with the Federal Trade Commission's 16 CFR, Part 255: "Guides Concerning the Use of Endorsements and Testimonials in Advertising."
About American College of Healthcare Sciences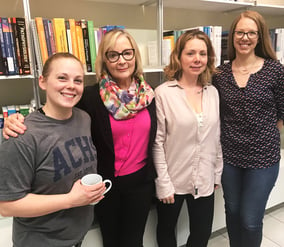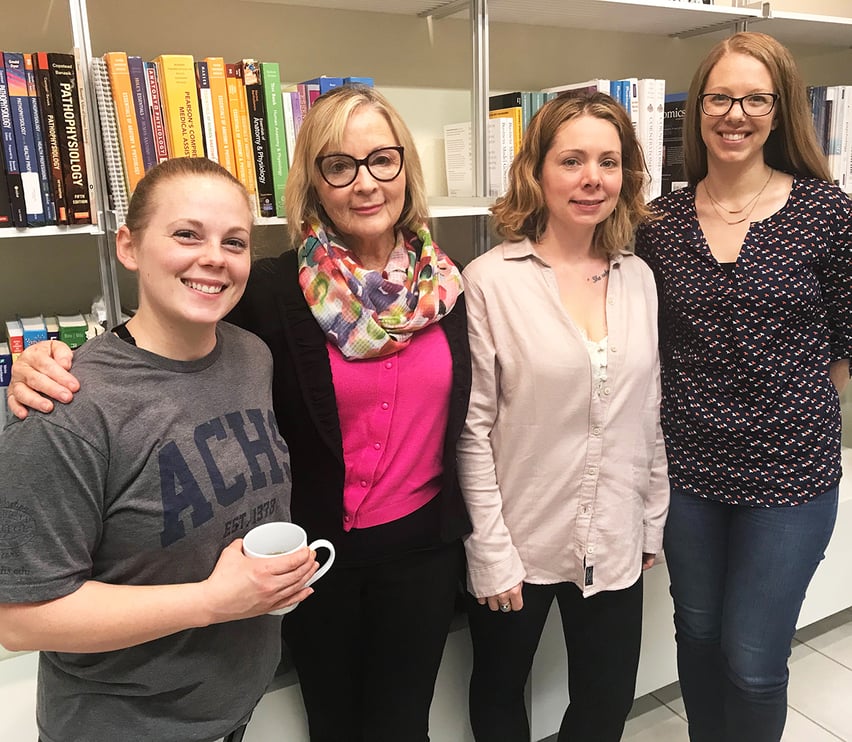 American College founded in 1978, is a fully online accredited institute of higher education specializing in holistic health. Based in Portland, OR; our goal is to make research-driven and science-based holistic health education taught by industry-leading experts accessible to anyone anywhere while still giving students a hands-on experiential learning experience like a traditional college and a strong sense of community, school pride and student bond.
This commitment to our students and graduates reflects in our current survey results that reflect 98% of our students would recommend ACHS to a friend or family member.
We believe education is the most powerful tool for changing an individual and the world around us.
When a person enrolls as ACHS, it is vitally important that they graduate with tools they need to forge their own holistic and sustainable missions, build up their communities confidently and changing the face of healthcare with knowledge.
For more information visit achs.edu.