Earlier this month, I had the privilege of attending the annual National Association of Nutrition Professionals (NANP) Conference. I had been eagerly anticipating this event for over a year and may have even stalked the NANP Conference page regularly for updates on presenters and topics.
It isn't every day that this Midwesterner gets to be surrounded by like-minded nutrition professionals! I believe this is what drew me to the Conference. I was seeking nourishment for my mind and soul that could only be fulfilled by connecting with others in this profession.
Photo: Taking a group "selfie" at the ACHS Booth. From left to right: Renee (ACHS Communications Specialist), Amy (ACHS Dean of Admissions), me, and Valentina (ACHS student)
Making Connections and Friendships
I was honored to be able to attend the NANP Conference through a scholarship offered by ACHS. Meeting fellow ACHS classmates, alumni, and staff was an amazing experience. Placing faces with names I'd seen in my online classrooms, or staff from which I had received emails, has enriched my experience at ACHS. I am grateful for the fast friends I made at the conference. (You can watch a group interview with other ACHSers below!)
In fact, fast friendships seemed to blossom throughout the Conference as professionals and students alike took the opportunity to network. I received upward of 30 business cards and countless words of support and camaraderie. As a student, it was easy to feel intimidated and in awe of those who have been practicing in the nutrition field for years. But in fact, when speaking with most of these professionals, intimidated was the last thing I felt. Everyone I met was approachable, kind, and encouraging.
As a registered nurse, I was also pleasantly surprised to meet many other nurses who had transitioned to a career in holistic nutrition. I felt an immediate connection with these women as they graciously offered me advice and support in my journey. My career goals felt more attainable after these encounters.
Learning from Experts
Learning from the knowledgeable presenters was also a highlight for me. I was blown away by the experience many of these individuals had to offer. The theme of this year's conference was "Revealing the Science Behind Holistic Nutrition." As expected, the information presented was evidence-based and relevant to current topics and trends.
Beginning with Dr. Ed Bauman's opening keynote presentation and ending with roundtable discussions, the Conference was very interactive. The breakout session on cancer survivorship, led by Dr. Lise Alschuler, was among my favorites. It provided a very in depth and research-driven discussion, yet also included personal stories from co-presenter Karolyn A. Gazella. As an online student, I enjoyed the opportunity to be with the speakers, in person, and to feel engaged and motivated by the words spoken.
Photo: ACHS students, graduates, staff, and friends at the 2015 NANP Conference Reception and Dinner
A Conference for Foodies
Now, we simply must talk about the food. It was AMAZING. It was fresh. Most of it was local. All dietary restrictions were met with ease. Basically, it was everything food at a nutrition conference should be! Way to know your audience, NANP. :)
A few of the standouts for me included:
eggplant caponata stuffed mushroom caps
mushroom wild rice soup with squash
gobi aloo cauliflower and potato curry
and a delightful coconut tapioca pudding with mango salsa
(I wish I could have received copies of the recipes for these yummy dishes, but if you're looking for holistically minded nutritional recipes, ACHS will send you a delicious recipe a week for twelve weeks. Not all of them are vegetarian, but there's a recipe for everyone!)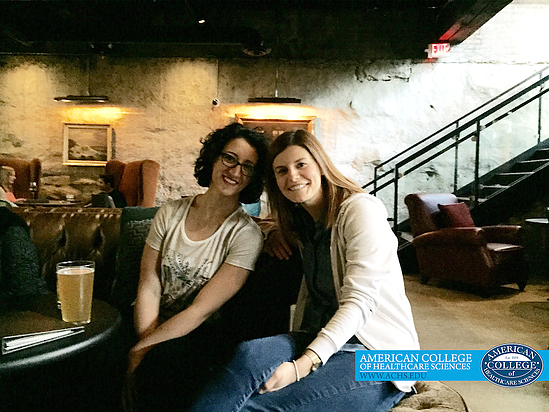 Photo: Valentina (ACHS student) and me at the the ACHS Meet and Greet in St. Paul Minnesota
A Plant-Based Perspective
My criticisms are few, but for the sake of being well-rounded, I will mention these briefly. As a plant-based eater, I would have valued a session regarding elimination of animal products and the associated health benefits. Recent research summed up in the documentary Cowspiracy also links animal agriculture to climate disruption and excessive use of resources.
As nutrition professionals, I believe it is in our best interest to look at many aspects of health and wellness. What we eat impacts our environment and the world we live in. This is something we must address as responsible co-inhabitants of the Earth.
I am so grateful for my experience at the NANP conference. I am thankful for the people I met and the inspiration I brought home with me. I will definitely be attending in the years to come!
This article is for informational purposes only. It is not intended to treat, diagnose, cure, or prevent disease. This article has not been reviewed by the FDA. Always consult with your primary care physician or naturopathic doctor before making any significant changes to your health and wellness routine.
Disclosure of Material Connection: I am a student of American College of Healthcare Sciences, the Institution that publishes this blog. However, all opinions are my own. This blog may contain affiliate links. I am disclosing this in accordance with the Federal Trade Commission's 16 CFR, Part 255: "Guides Concerning the Use of Endorsements and Testimonials in Advertising."