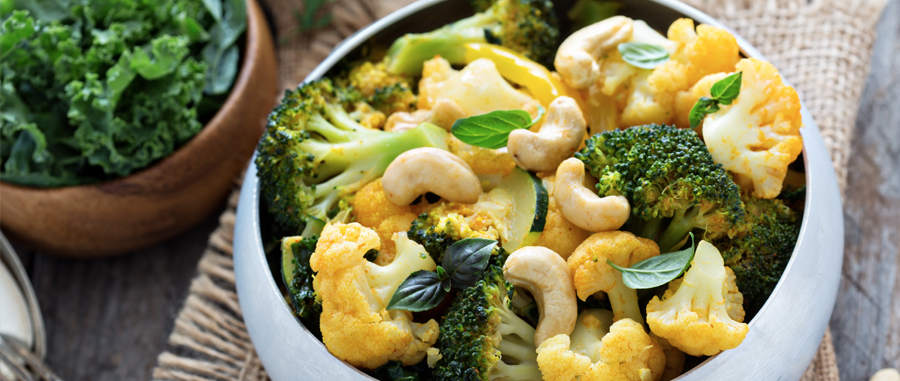 The question I hear most when people learn that I practice a vegan lifestyle is: How do you get your protein?
This is a super important question as WebMd tells us the daily protein intake recommended for adult men is 56 grams and adult women need 46 grams with 10 to 35 percent coming from our daily caloric intake. So, for personal reasons and also as an employee of the American College of Healthcare Sciences, ACHS, it was important to me to know the facts.
I decided to research my food choices to truly ensure that I'm getting enough protein in my vegan diet. I drink a smoothie most mornings and I learned that there is as much or more protein in my morning smoothie, about 23 grams, than there is in a bacon and egg breakfast sandwich, 13.3 to 27 grams protein depending on the size. My typical smoothie recipe, posted below, is versatile and nutritious.
Blissful Berry Breakfast Smoothie:
One cup of soy milk - 7 grams protein
One 7 inch banana - 1.3 grams protein
½ cup raspberries - 1 gram protein
2 tablespoons soaked raw chia seeds - 6 grams protein
1 tablespoon soaked raw sesame seeds - 2.0 grams protein
1 tablespoon soaked raw pumpkin seeds - 3 grams protein
¼ cup of soaked raw unsalted almonds - 2 grams protein
¼ cup raw alfalfa sprouts growing on my kitchen countertop - 0.35 grams protein
The ingredients in the smoothie are also rich in iron, calcium, magnesium, selenium, vitamin E and B, antioxidants, and potassium. These nutrients are good for the heart and waistline. The breakfast sandwich is a great source of protein but problematic for people like me with a family history of heart disease.
Luxurious Legumes Pack a Protein Punch
I generally prepare lentils, beans and/or chickpeas over the weekend to eat at lunch during the work week. A cup of homemade lentil soup with vegetables supplies another 18 plus grams of protein. Add an afternoon snack of shelled edamame to give a boost of iron, calcium and 6 grams of protein per ½ cup. So my afternoon total protein intake is about 24 grams.
A sample vegan dinner consisting of a green salad made with kale, spinach, peas, broccoli, asparagus and sprouted quinoa supplies 4 - 6 ounces of protein. By pairing the salad with a burrito made with avocado, black beans, tofu, tomato and kale on a sprouted grain tortilla topped with salsa I get a total of 16-20 grams of protein.
Before sitting down to a typical American dinner of meat, potatoes or rice and a salad that is touted to be healthy and full of needed protein, consider reading a major 2009 study conducted by the National Institutes of Health (NIH) and the AARP that examined how meat vs. bean consumption affects mortality in the reference link below. I am personally shocked to learn their findings show heart disease, cancer and vision issues were substantially increased by those who consumed all meat, with some types of meat being more problematic than others.
One of my favorite desserts is Chia seed pudding. These little seeds are a mini-powerhouses packed with nutrients. To make chia seed pudding, just toss the following ingredients in the blender, pour into a glass container, cover and chill for a few hours in the refrigerator. You can add chocolate to the ingredients or top it with your favorite fruit for variety. One half cup provides 3 grams protein. A half cup of ice cream, on the other hand, contains 2.3 grams protein.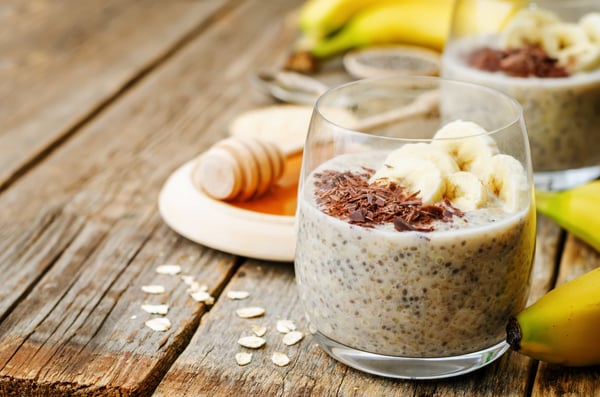 Beneficial Breakfast or Dessert: Chia Seed Pudding
2 cups coconut milk
½ cup chia seeds
½ tsp vanilla extract
¼ cup maple syrup
¼ tsp cinnamon, optional
Air pop some popcorn and sprinkle nutritional yeast over it for a protein packed snack while watching a movie. There are 8 grams of protein per ¼ cup in large flake nutritional yeast.
The truth is, it is possible to be completely full and satisfied, reduce calorie intake, lose weight and meet nutritional needs for excellent health on a vegan diet. Not everyone at ACHS practices veganism, as I do. Yet, we work at the college because we care about health, making a difference and ensuring that ACHS students and graduates receive the best possible education possible. Our goal is to provide students with the tools they need to follow their holistic health career dreams.
You can learn more and earn a certificate, diploma, bachelor or master of science degree in holistic nutrition at the American College of Healthcare Sciences. The college offers all three accredited distance learning opportunities.
Students receive focused training in advanced applied holistic nutrition with an emphasis on integrating holistic nutrition research and coaching skills to prepare them for direct application of holistic nutrition theory, science and concepts in holistic health lifestyle planning. Courses include exploration of biological sciences such as anatomy, physiology, psychology, biology and chemistry. Graduates learn how to gather and evaluate nutrition information and develop customized nutritional protocols for individuals. The holistic nutrition program emphasizes evaluation of the whole person—body, mind, and spirit—while developing diverse perspectives on wellness.
About ACHS
Founded in 1978, ACHS.edu is a Portland, OR-based, accredited college offering online, on-campus, and study abroad integrative health education. ACHS also has a satellite campus in Kona, Hawaii. With undergraduate and graduate degrees, diplomas, certificates, and continuing education units in integrative health, ACHS makes holistic health and wellness education accessible to a diverse community, including healthcare professionals, military students, stay-at-home parents, and lifelong learners. Specializations include aromatherapy, herbal medicine, holistic nutrition, and wellness coaching. ACHS is a Certified B Corporation® and was ranked five of 100 Best Green Workplaces in Oregon 2018 by Oregon Business magazine. ACHS was also honored with 2016 and 2017 When Work Works awards, administered by the Families and Work Institute and the Society for Human Resource Management, and received the City of Portland Sustainability at Work Certification in 2017. ACHS is accredited by the Distance Education Accrediting Commission (DEAC), which is recognized by the U.S. Department of Education and by the Council for Higher Education Accreditation (CHEA), and is also approved by the Office of Degree Authorization of the Oregon Higher Education Coordinating Commission and authorized by the Hawaii Department of Commerce and Consumer Affairs, Hawaii Post-Secondary Education Authorization Program (HPEAP). Visit achs.edu.
Blog References:
WebMD: https://www.webmd.com/food-recipes/protein
Harvard Health Study: https://www.health.harvard.edu/staying-healthy/meat-or-beans-what-will-you-have-part-i-meat
USDA Food Composition Databases: https://ndb.nal.usda.gov
Protein Sources: https://www.healthline.com/nutrition/protein-for-vegans-vegetarians#section2
Recent news article, noted diet that reduces death by 10%, Cooking Light - https://www.cookinglight.com/news/plant-based-diet-reduces-death-risk