Yummy Desserts if You're Watching Your Sugar
For many people who try to eat healthy or follow certain diets, eliminating or limiting processed sugar can be a challenge. It is abundant in everything. Strict diets can make life pretty gloomy, especially if you consider yourself to be a foodie like me!
Even though more artisan desserts being sold in markets are consciously avoiding artificial sweeteners, and alternative sweeteners are increasingly available as options, sometimes it is still necessary and beneficial for people to eliminate all added sweeteners. This requires getting creative in the kitchen. Fortunately, healthy dessert ideas are still possible.
Here are two of my favorite healthy dessert recipes for when you need to satisfy that sweet tooth without adding excess sugar:

2 Ingredient Vegan Banana Almond Butter "Ice Cream"
Bananas are naturally sweet, so no added sweeteners are necessary. This recipe is also conveniently dairy and soy free! Also, many vegan ice creams made with coconut milk contain guar gum, which can be difficult for people with sensitive guts to handle.
Ingredients
Bananas (sliced and then frozen, best overnight): 2
Raw, creamy almond butter (or peanut butter if preferred): 2 tablespoons
Place frozen bananas in a food processor, and start on low/dough setting until the chunky banana pieces are mixed and mashed. Then adjust the processer to faster speed until the bananas are smooth and creamy. The texture from the frozen bananas will eventually actually look like ice cream. Mix in almond butter, scoop out of the processor, and eat immediately or put into glass containers and freeze to harden a bit more until ready to eat!
Optional healthy mix-ins:
Nut pieces
Coconut flakes
Cacao nibs
Servings: 2. This recipe can easily be increased using the ratio of 1 banana to 1 tablespoon of almond butter.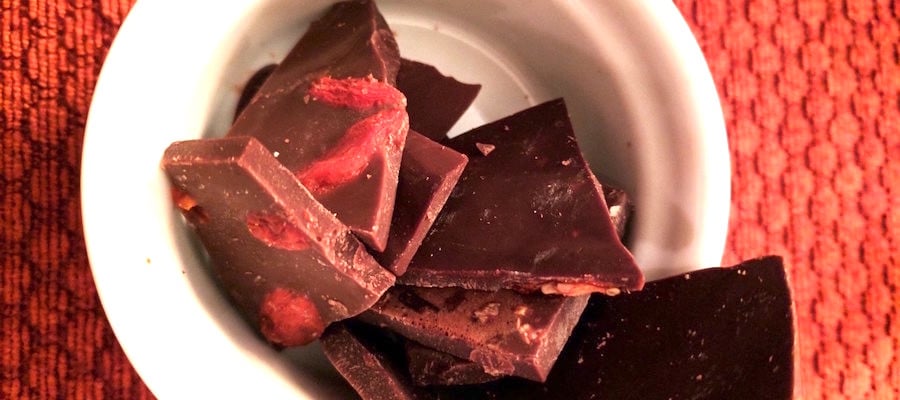 Salty & Spicy Dark Chocolate Bark with Pistachios
I avoid the majority of dark chocolate sold in markets because they typically contain added cane sugar and soy lecithin; both tend to be GMO unless stated to be organic. Plus, chocolate bars can be expensive. So, I've been experimenting and making my own dark chocolate bark.
Using coconut oil and cacao butter, this bark is loaded with healthy fats. Because I do not use any added sugar or alternative sweeteners, the cacao powder can be pretty bitter. But, I do prefer very dark chocolate (the antioxidant content is a bonus!), and the sea salt, cayenne powder, and pistachios offset the bitterness with their flavors!
Ingredients
Organic, raw cacao powder: 1/2 cup
Organic, raw cacao butter pieces: 1/4 cup
Organic coconut oil: 1/4 cup
Almond butter (optional): 2 tablespoons
Pistachios: 1/4 cup
Pinch of sea salt
Pinch of cayenne pepper Capsicum annuum
Optional flavors to experiment with:
Peanut butter
Ashwagandha powder Withania somnifera
Kava powder Piper methysticum
Cinnamon
Ginger powder
Coconut flakes
Almond/hazelnut pieces
Pomegranate seeds
Goji berries
The options are endless!
Line a flat baking sheet or glass dish with parchment paper. In a small saucepan, melt the butters and the coconut oil over low heat. Then mix in the cacao powder until smooth. Remove from heat. Stir in the nuts, sea salt, cayenne pepper, and/or any other additional seasonings. Pour onto the baking sheet, and place in the freezer for at least three hours. Once solidified, break into pieces. Store what you haven't already eaten (aka, "taste tested"!) in an airtight, glass container in the freezer.
Servings: depends how much you want to share!
Ready to get started making your own delicious and nutritious meals? If you enjoyed these recipes, you'll probably enjoy one of ACHS's many programs in holistic nutrition. Learn how to successfully and legally manage a holistic nutrition consulting or coaching practice with the Certificate in Holistic Nutrition Consulting.
I am a graduate and guest blogger for American College of Healthcare Sciences, the Institution that publishes this blog. However, all opinions are my own. If this blog contains affiliate links, they will be marked with an asterisk. I am disclosing this in accordance with the Federal Trade Commission's 16 CFR, Part 255: "Guides Concerning the Use of Endorsements and Testimonials in Advertising."
This article is for informational purposes only. It is not intended to treat, diagnose, cure, or prevent disease. This article has not been reviewed by the FDA. Always consult with your primary care physician or naturopathic doctor before making any significant changes to your health and wellness routine.