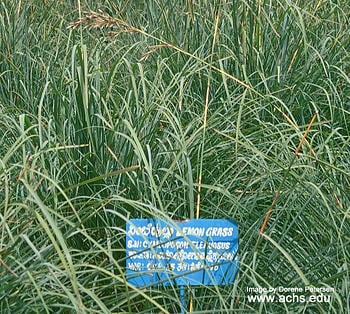 Lemongrass Cymbopogan citratus has been revered by many historical figures as a "cure-all" herb. In India, for example, lemongrass has been used as a medicinal herb for thousands of years. It is also an essential ingredient in Thai and Indonesian cooking. Why? Lemongrass has a unique, robust flavor and aroma that is both lemony and slightly floral.
It is the lemony flavor and aroma that is most interesting to current researchers. Citral, the active constituent that gives lemongrass its lemony flavor and aroma (as well as herbs like melissa and verbena), may cause "cancer cells to 'commit suicide: using apoptosis, a mechanism called programmed cell death,'" according to Dr. Rivka Ofir and Professor Yakov Weinstein from the Department of Microbiology and Immunology at BGU[1]. Ofir says, "A drink with as little as one gram of lemon grass contains enough citral to prompt the cancer cells to commit suicide in the test tube"[2].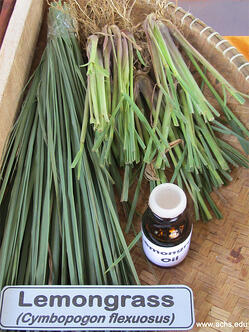 Several additional studies have also investigated the anti-cancer potential of lemongrass. And while there is no claim for a "cure," research shows lemongrass, in specific citral, may be effective with cancer.
For example, the results of a 2009 study using the Cymbopogon flexuosus variety of lemongrass indicates "that the oil has a promising anticancer activity and causes loss in tumor cell[3]," while the results of a 2012 study using the variety Cymbopogon citratus Stapf indicates the essential oil has a "protective role against early [N-methyl-N-nitrosourea]-induced mammary gland alterations in mice[4]."
So, what does this mean?
One of the world's favorite culinary herbs may also provide an important insight ... if not a breakthrough.. in the fight against cancer!
Not to mention ... lemongrass remains one of the best herbal support aids for healthy digestion and calming nerves. Plus, it contains vitamin A. Even more reason to add lemongrass to your holistic nutrition kitchen!
If you're wondering how you can add lemongrass into your daily diet as a health support, we recommend starting with herbal tea. Minimal "cooking" with delicious rewards! Here's our holistic nutrition recipe that you can try at home today:
DIY Lemongrass Tea
Simply steep 1 tbsp of loose-dried herb with 1-2 cups of boiling water. Add stevia or honey to lightly sweeten, pour over ice for a refreshing midday pick-me-up, or simply enjoy a comforting cup of this refreshing beverage.
How do you use lemongrass in your holistic kitchen? Please feel free to post a comment with your favorite herbal tea or holistic nutrition recipes!


References
[1] Sommer, A. (2006, April 2). Fresh lemon grass fields in Israel become mecca for cancer. ISREAL21c. Retrieved from http://israel21c.org/health/fresh-lemon-grass-fields-in-israel-become-mecca-for-cancer-patients/
[2] Ibid.
[3] Sharma, P.R., Mondhe, D.M., Muthiah, S., Pal, H.C., Shahi, A.K., Saxena, A.K., et al. (2009). Anticancer activity of an essential oil from Cymbopogon flexuosus. Chem Biol Interact. 2009 May 15;179(2-3):160-8.
[4] Bidinotto, L.T., Costa, C.A., Costa, M., Rodrigues, M.A., & Barbisan, L.F. (2012). Modifying effects of lemongrass essential oil on specific tissue response to the carcinogen N-methyl-N-nitrosurea in female BALB/c mice. J Med Food, 15(2):161-8.