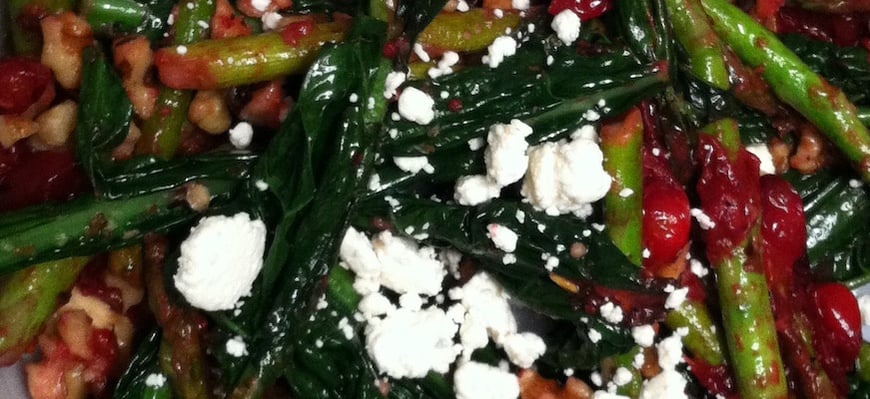 Even though I am from New Zealand, I love American Thanksgiving. It is a holiday dedicated to gratefulness, family, and of course, delicious food. But for vegetarians, choosing recipes for our Thanksgiving meal can be tricky. One way I create hearty veggie-friendly meals is by stir-frying my favorite vegetables. And king kale is certainly my favorite veggie to toss in the pan!
Will you be skipping the turkey this year? You and your dinner guests will love this vegetarian Holiday Kale and Cranberry Stir-fry recipe:
Holiday Kale and Cranberry Stir-Fry
(Remember to choose certified organic when possible.)

Kale: 1 bunch
Asparagus: 1 bunch
Cranberries:* 1 cup
Crushed walnuts: 1/2 cup
Goat cheese: 1/3 cup
Extra virgin olive oil: 2 tablespoons or enough to coat your pan

Nutmeg Myristica fragrans essence (see recipe in my eBook here): 1 tablespoon**

Chopped thyme Thymus vulgaris: 1 tablespoon
Crushed black pepper Piper nigrum: 2 teaspoons
Sea salt: 1 pinch
Prepare kale by chopping leaves into 4x2 inch pieces.
Heat olive oil in a large cast-iron skillet or stir-fry pan on medium-high heat. Add asparagus, cranberries, thyme, black pepper, and a pinch of salt. Cook about 3-5 minutes, tossing frequently.

Add kale. Stir occasionally for about 6-8 minutes or until both kale and asparagus are tender but firm.

Add nutmeg essence and walnuts, toss for about 1 minute.

Remove from heat and allow to cool for 2 minutes. Place into a serving bowl or dish. Sprinkle goat cheese over top.

Serves 4.
What recipes will you be whipping up this holiday? Share your favorites in the comments.
This article is for informational purposes only. It is not intended to treat, diagnose, cure, or prevent disease. This article has not been reviewed by the FDA. Always consult with your primary care physician or naturopathic doctor before making any significant changes to your health and wellness routine.
*Use dried cranberries instead of fresh if you prefer a sweeter, less tart flavor.
**Note: this is not pure essential oil. To make a nutmeg essence, see the recipe on page 12 of our eBook: Top 10 Culinary Essential Oils.
Editors Note: This blog post was originally published in November 2014 and has been updated for accuracy. (November 2016)