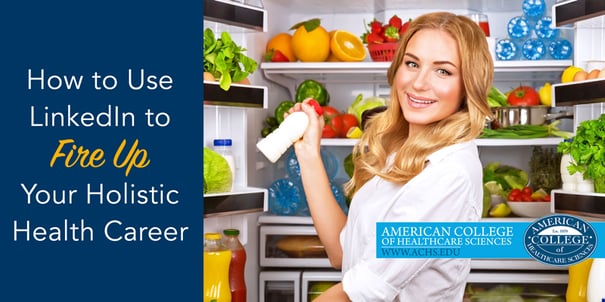 Looking for a job? Or looking to boost your business? The health and wellness industry continues to boom, and LinkedIn is the place to be for everyone in the industry. According to their website, "LinkedIn operates the world's largest professional network on the Internet with more than 400 million members in over 200 countries and territories."
There is no doubt that LinkedIn is the world's largest professional network. It started off as sort of an online curriculum vitae (CV) or résumé, but has evolved to be so much more.
It continues to be the gold standard: Creating a strong and professional LinkedIn profile will help jobs find you, will help like-minded individuals find you, and will help you join the right groups to boost your career and your business.
Recruiters from top companies search LinkedIn profiles for the best student and graduate talent, so the best time to start working on your LinkedIn profile is right now. What if a recruiter for your dream job was searching LinkedIn today? Would they find you?
So, how can you make the most of LinkedIn, both as a student and as a graduate looking for a new job in the booming health and wellness industry? Create a profile that grabs employer attention and makes them want to learn more! Here are my top tips to maximize LinkedIn to fire up your career or business:
1. Review this LinkedIn video on YouTube: Your Career Starts Here.
View on YouTube at: http://youtu.be/YWp6AN00D_c
2. Create a profile (if you don't already have one).
Here's a great article on creating a profile: https://www.linkedin.com/pulse/how-create-killer-linkedin-profile-get-you-noticed-bernard-marr
Basically: List all your jobs and what you achieved at each; include a decent photo; list all your volunteer work, honors, awards, courses, projects; include all organizations your belong to; and …
3. List your ACHS education on your profile.
Don't forget to let future employers know that you have an accredited college education under your belt. Here's how to do it:
On the top menu, hover over "Profile" with your mouse and then scroll down and click "Edit Profile."
Scroll down to the education section of your profile and click "+Add Education" in the upper-right corner of the education box.
Type in American College of Healthcare Sciences as shown in the screenshot below. Complete as much of the subsequent information that you feel comfortable with. I recommend adding at least your program and GPA.
Click save!
4. Ask for reviews.
By setting up your LinkedIn profile early in your student career, you can ask your favorite instructors to give you a review! But even if you're nearly finished, it is not too late to reach out to instructors that you really connected with during your program. And don't forget all the connections in your day-to-day life – current jobs, organizations, and volunteer work.
5. Set up Job Alerts.
Once you have created your professional profile on LinkedIn, you can set email alerts to receive notifications of recommended jobs. You'll be able to see the notifications on your homepage as soon as you log into your LinkedIn account.
6. Research at least one new potential holistic health employer or key person a week.
Knowing more about the industry will help you no matter where you end up. Thinking about looking for a job in corporate wellness?
7. Join relevant groups.
Not only will you learn from experts in your field, you can start to comment and become an expert in your area as your training evolves. You can also make valuable networking connections in LinkedIn groups. Remember to add value with your posts, and don't spam!
8. Find an internship.
Internships are very useful to build your skillset as well as your network. Don't wait for your last year to start finding internships – in many cases, you can start interning in your first year of school!
Review the list of companies that have hired ACHS grads. Any in your area? Reach out to those companies and see if they have internship opportunities.
Or simply get your foot in the door: Offer to write blog posts, conduct employee wellness seminars, write wellness tips for the employee newsletter, or catalog the library … whatever the company finds useful. Trust me, most executives could use an intern to help them out, so hit up your LinkedIn network to see what opportunities you can unearth! (And if you want to be an intern at my lavender farm, ping me!)
Disclosure of Material Connection: I am the CSO of American College of Healthcare Sciences, the Institution that publishes this blog. However, all opinions are our own. If this blog contains affiliate links, they will be marked with an asterisk. I am disclosing this in accordance with the Federal Trade Commission's 16 CFR, Part 255: "Guides Concerning the Use of Endorsements and Testimonials in Advertising."
This article is for informational purposes only. It is not intended to treat, diagnose, cure, or prevent disease. This article has not been reviewed by the FDA. Always consult with your primary care physician or naturopathic doctor before making any significant changes to your health and wellness routine.
Resources:
https://press.linkedin.com/about-linkedin
http://theundercoverrecruiter.com/7-ways-college-students-can-benefit-linkedin/
http://www.forbes.com/sites/williamarruda/2014/08/26/why-college-freshmen-need-to-major-in-linkedin/#42847c696a3b
http://www.huffingtonpost.com/students-rising-above/internship-experience-and_b_8870834.html
http://www.recruitingblogs.com/profiles/blogs/80-of-today-s-jobs-are-landed-through-networking
https://www.linkedin.com/topic/company/health-and-wellness-industry