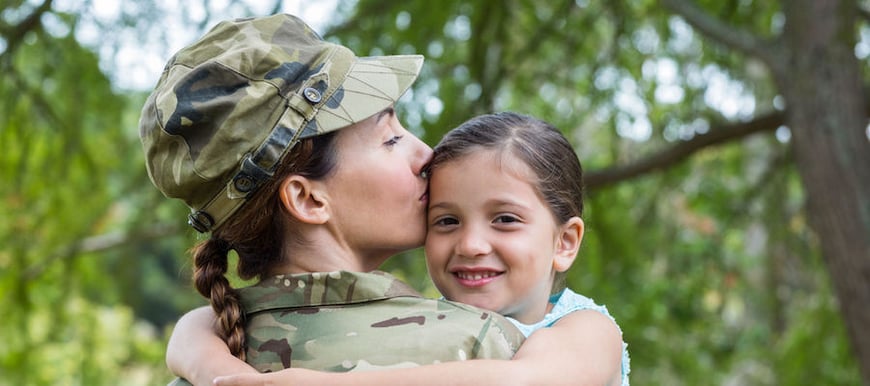 Veterans Day is an important day in the U.S. Here at ACHS, we really value the chance to let our veterans and military servicemembers know how much we appreciate them and their service.
But sometimes, knowing how to say "thank you" can be difficult. But there are many ways you can make a tangible difference for the veterans in your life. I spoke with ACHS military family staff members, and they had wonderful suggestions for how to support our veterans.
Here are five ways you can holistically thank a veteran this Veterans Day:
1. Create a personalized essential oil blend.
Essential oils make fantastic gifts for anyone. If you're a blending whiz, why not whip up a personalized essential oil blend for the veteran in your life? Adding a calming and balancing blend to a diffuser, inhaler, or homemade soap can show someone you truly care for their wellbeing and spirit.
Here are some uplifting and soothing essential oils you can get started with:
Bergamot Citrus aurantium (L.) var. bergamia
Frankincense Boswellia carterii (Birdw.)
Lavender Lavandula angustifolia (Mill.)
Ylang ylang Cananga odorata genuina
Sandalwood Santalum album (L.)
2. Brew herbal tea.
A simple way to say, "I care," is with a hot beverage! Herbal teas are not only comforting, they're great wellness supports.
Like crafting an individualized essential oil blend, you can mix and match according to your loved one's taste.
Many servicemembers struggle with sleeplessness at night. A special, sleep supportive blend of herbs might be just what they need to get some much needed rest. Here are some ideal herbs for calm and healthy sleep:
Lavender Lavandula angustifolia (Mill.)
Passionflower Passiflora incarnata (L.)
Valerian Valeriana officinalis (L.)
Catnip Nepeta cataria (L.)
Skullcap Scutellaria lateriflora (L.)
Hops Humulus lupulus (L.)
Kava Piper methysticum (G.Forst.)
German chamomile Matricaria recutita (L.)
You can even brew a large pot and bring it to your local veteran's hospital or local Veterans Day event and spread the wellness!
Need more suggestions? This free eBook has more herbal tea recipes and tips.
3. Cook a nutritious meal.
Like a hot cup of herbal tea, sharing a nutritious meal with a veteran speaks volumes. Taking the time to prepare healthy food is a sincere act of gratitude. Plus, there are some major advantages to home cooking. Need inspiration for your next meal? Check out these yummy blog posts:
Plus, cooking a great meal gives you the perfect opportunity to practice our next tip for how to thank a veteran…
4. Spend quality time and listen.
For many veterans, simply taking the time to ask about their service and to actively listen helps express gratitude and appreciation for their sacrifice and service. So go beyond the simple, "Thank you for your service." Sit down and spend some true blue quality time together. Turn off the TV, the phone, the tablet, and give the person your full attention.
Some questions to spark conversation:
"How long did you serve?"
"Why did you choose the branch of service you served in?"
"Can you tell me about the friends you made while serving?"
Sometimes just spending real, uninterrupted time with someone—maybe over tea or a nutritious meal—and quietly listening can make someone feel valued, heard, and appreciated.
5. Get involved.
On a grander level, one of the best ways to say thank you to our veterans is by getting involved and donating your time. Whether you volunteer with the Wounded Warrior Project or at your local VA hospital, it's important to give back to those who have given so much. Or, you can simply get involved with a Veterans Day event. Find your local VA website and events through the U.S. Department of Veterans Affairs website here.
All of us at ACHS want to extend our sincerest gratitude to our veterans and military students and families who strive to protect freedom all over the world. We'll be participating in the 2016 U.S. National Roll Call this Veterans Day at 11 a.m. PST. We will also take a moment to honor the names of those in the ACHS family who have served. You can view the list of the ACHS military students, graduates, and family by following this link: https://www.achs.edu/2016-national-roll-call.
Thank you for your sacrifice, thank you for your bravery, and cheers to you this Veterans Day!
How will you say thank you to our veterans this Veterans Day? Share your suggestions in the comments!
This article is for informational purposes only. It is not intended to treat, diagnose, cure, or prevent disease. This article has not been reviewed by the FDA. Always consult with your primary care physician or naturopathic doctor before making any significant changes to your health and wellness routine.
Disclosure of Material Connection: I am a Communications Specialist for American College of Healthcare Sciences, the Institution that publishes this blog. However, all opinions are my own. This blog may contain affiliate links. I am disclosing this in accordance with the Federal Trade Commission's 16 CFR, Part 255: "Guides Concerning the Use of Endorsements and Testimonials in Advertising."