How to Get Over the Stigma of Sales in the Spa Industry
As a spa professional, I'm passionate about sharing tools, tips, and techniques that help my clients live healthier and more fulfilling lives. My goal is to use the short time we spend together (usually just a few hours) to educate and inspire positive lifestyle changes.
For example, I might help a client learn how to maintain their clean and vibrant complexion after a facial or how they can extend that relaxation vibe experienced during their massage.
Spa clients have two goals:
Enjoy themselves and relax at the spa
Prolong the effects of their spa experience
To help them achieve the latter goal, I create a vision of how to live and breathe a spa lifestyle at home. In other words, I continue selling.
"But I don't want to be a pushy salesperson."
There are varying degrees of comfort with sales. For many spa professionals, the word "sales" conjures up negative imagery like the used car salesman in a ten-gallon hat that won't take no for an answer!
This image is a total turn off, but let's agree on one thing: spa professionals would never wear a ten-gallon hat.
Also remember that you're not selling used cars… you're selling products and services that will enhance your client's life and wellbeing. You're making a difference.
Now that we can agree that retail sales can benefit our client's lives, here's how to improve your sales technique. So leave that ten-gallon hat where it belongs—at the used car lot.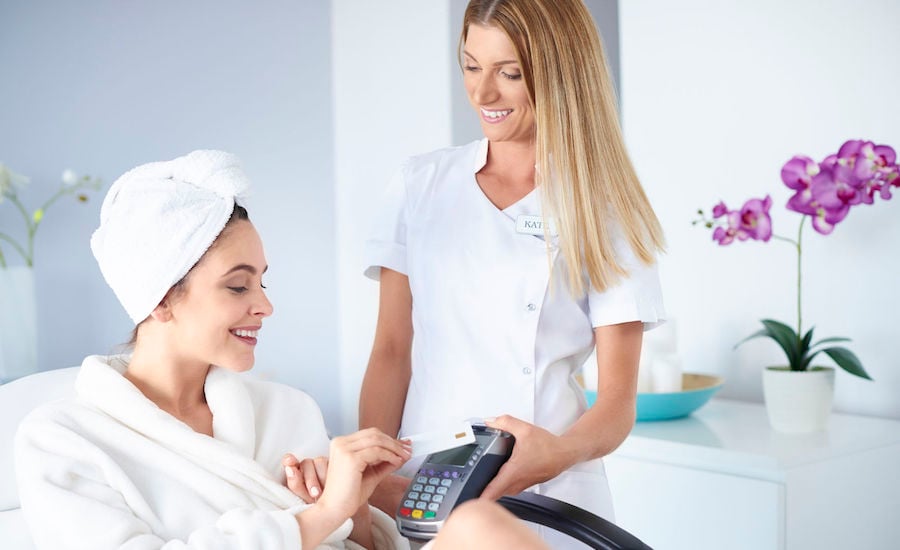 Improve Your Spa Products Sales Pitch
As a spa professional, you share common qualities with the most effective sellers:
You are motivated by helping customers
You have a personality that draws people to you
You are passionate about what you do
Selling technique improves over time, but it can be boiled down to four basic steps:
Build a rapport with your customer
Connect the dots between what you have and what they need (solve a problem)
Show off products with confidence and enthusiasm
Assume the sale, and close it
Keep the Convo Flowing
Engage in an upbeat and friendly conversation that goes beyond the shopping experience. For example: "Are you enjoying your stay on Maui?" This type of open-ended question elevates the mood and invites conversation.
Consider swapping out close-ended questions like "Can I help you?" with questions that spark interest. Once you've established a rapport, continue asking open-ended questions to understand your customer's needs so you can satisfy them.
Solve a Problem
The key to closing the buying funnel? Solve your client's problem.
Connecting the dots between your services and inventory and what a customer needs requires effective listening.
For example, if a customer tells me they're enjoying Maui and their ultimate goal is to relax, I think: What products evoke Maui? What can help achieve relaxation? Perhaps a locally made pineapple and passionfruit body lotion paired with a CD featuring local music will do the trick!
To test this theory, I can offer a complimentary hand massage using that lotion while we enjoy the music piping throughout the boutique. By demonstrating these products while I talk about them, I'm helping the customer create their own connection – they imagine ownership and how they would use them in their daily life.
Believe in Your Product & Close the Sale
In order to sell a product, you actually have to sell it.
In other words, assume that you've done a good job with rapport, connecting the dots to solve a problem, and product demo. These steps have inspired your customer to want tools that will enable them to achieve their personal goals.
Closing the sale is simple at this point – simply acknowledge your customer's excellent decision and confirm the practical details: "These will definitely help you remember Maui and the relaxation you found here. Would you prefer to pay by cash or credit card today?"
By shifting from negative to positive imagery, you have a profound opportunity to become an incredible educator and sales person. When you believe in your products and mission, your enthusiasm for what you do translates into taking care of your customers with opportunities to empower them with tools to live the life they want.
Disclosure of Material Connection: I am the Chair of the ACHS Spa Management Department and a guest blogger for American College of Healthcare Sciences, the Institution that publishes this blog. However, all opinions are my own. This blog may contain affiliate links. I am disclosing this in accordance with the Federal Trade Commission's 16 CFR, Part 255: "Guides Concerning the Use of Endorsements and Testimonials in Advertising."
This article is for informational purposes only. It is not intended to treat, diagnose, cure, or prevent disease. This article has not been reviewed by the FDA. Always consult with your primary care physician or naturopathic doctor before making any significant changes to your health and wellness routine.