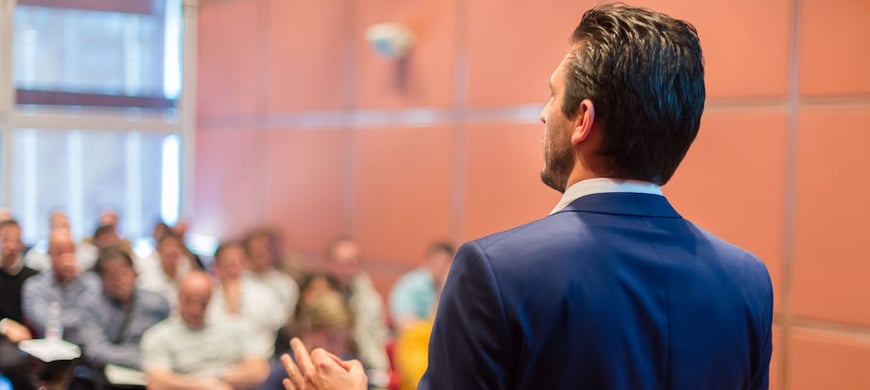 Get involved. Yup, that's the secret. Get out there by attending events and conferences in your industry or field of interest.
Why is this so important for your professional goals? Simple: Industry events and conferences connect you with like-minded experts and organizations that will fuel your curiosity and motivation to become a successful holistic health professional.
Not convinced? Here are five more reasons why attending conferences and industry events is vital to your holistic health career:
1. Networking
This is the most obvious, and arguably the most valuable, reason to attend a conference or industry-specific event. Time and again, career coaches will tell you that networking—who you know and who knows you—is the most important element to a successful career.
Holistic health events bring together hundreds of people interested in holistic nutrition and health! Bonus: You'll never be at a loss for something to talk about because everyone is passionate about the same subject.
Developing professional friendships and relationships is crucial because it creates a network of people who will support you. Think about it: If you have a question about a natural products company, don't you pitch your concerns to your buddies on Facebook first?
Here are two important relationships you could develop at an upcoming conference:
Professional colleagues at your level: These are your kin, the ones you'll laugh and cry with over the struggles and joys of your industry.
Mentors who have found success: Mentors offer immense wisdom and shed light on what you might encounter down the road in your career. They can also provide excellent references and letters of recommendation when you're ready to make the next big move.
But don't take my word for it. Here's what ACHS Professor Deryl Gulliford, CEO of two community hospitals in Oklahoma and health writer, has to say on the subject:
Success in any healthcare profession is based primarily upon building relationships…collegial relationships with practicing healthcare professionals, caring relationships with clients, and learning relationships with researchers who are on the cutting edge of our field. One of the very best ways to build relationships in natural health is to attend conferences. I say learn from the presenters, learn from your peers, and also share your own experiences in working for the advancement of health.
2. Continuing Education Opportunities
Pictured: ACHS President and Founder Dorene Petersen hosts a roundtable discussion at the 2014 NANP Conference in Tucson, Arizona.
Many conference lectures, roundtables, and workshops can be used for continuing education credits. Not only will you enjoy the learning experience of expert lectures, you'll also be adding valuable lines to your résumé or CV.
Health occupations (such as nursing, massage therapy, case management) and credentialing organizations (such as Aromatherapy Registration Council, Holistic Nutrition Credentialing Board, and American Herbalists Guild) typically require you to complete a certain number of continuing education hours to remain in good standing.
Imagine how many you could rack up by attending just one conference?
ACHS student Peggy Doyle attended the 2015 Nutritional Therapy Association's (NTA) Conference with a scholarship from ACHS. Not only did she have a great time, she also attended numerous lectures, including a talk from one of her heroes:
I have wanted to hear Joel Salatin speak for years, as I greatly admire his courage and innovation in his passionate defense of whole foods and sustainable agriculture. Joel most certainly did not disappoint and received one of only two standing ovations offered during the conference.

3. Career Perspective
At a holistic health conference, you'll get a bird's-eye view of your industry. You'll meet people from all corners of the field—health writers, practitioners, educators, consultants, product developers—who can help you gain valuable perspective on how you want to develop your career.
You may even discover new passions! Another ACHS student who attended the 2015 NTA Conference with a scholarship from ACHS, Shannon Mesneak, was inspired while listening to a lecture on the concerns of GMOs and says:
I was taken aback at my own lack of knowledge about GMOs. I was surprised to learn how corrupt our food system really is. […] After learning what is happening, I am joining the movement.
Our passions should drive our actions and career choices. You never know—your future life's work may be waiting at your industry's next big event.
4. Staying Relevant and Learning What's Trending
Whether you're a professional practitioner, a student, or a holistic health enthusiast looking to learn more, you need to be up-to-date on industry trends. ACHS faculty member, acupuncturist, and public health educator Anisa Kassim says:
I always find it beneficial and fun to attend conferences and workshops geared towards my profession. Not only is it a chance to meet other professionals in my field, but it is also a fantastic opportunity to hear the latest trends and get up-to-date on the latest research within my field. Many times after events I feel reinvigorated about my profession and make positive changes to my practice based on what I learned. Another great thing about attending these events is that I can usually get a good amount of my CEUs covered in a weekend. This is always a bonus.
5. Connecting with Your ACHS Community
Pictured: ACHS Dean of Admissions Amy Swinehart and ACHS Graduate and editor of IJPHA Lora Cantele at the 2014 NAHA Conference in Seattle, Washington.
Team ACHS attends many conferences each year (keep reading for our 2015 upcoming events), and we love meeting our future and current students and graduates in person. As an online writing teacher, connecting with students and meeting them in person at industry events is one of my greatest joys.
Whether you're part of our blog community to learn more about personal health and wellness or one of our students, events like the upcoming Mother Earth News Fair from June 6-7 are opportunities to meet other ACHS students and graduates and talk to us about what a holistic health education at ACHS might look like for you.
For instance, you might learn that a Master of Science in Holistic Nutrition is the best fit for your path, or maybe it's a Certificate in a specialized area that will advance your goals. Either way, you'll get a chance to talk to people in the know!
Now Get Involved!
You may be thinking: Sure! I want to get involved. But what events should I attend?
Team ACHS will be attending and sponsoring a number of events in 2015, so our list of upcoming conferences is a good place to start. ACHS will have a booth with College representatives and free resources at:
Traditional Roots Institute in Portland, OR, from May 15-17, 2015 – ACHS will have a vendor table on Saturday, May 16: http://traditionalroots.org This event has ended.
ACHS is also sponsoring these conferences, but will not attending in person. That shouldn't stop you from going! Check out these conference opportunities:
Now get out there and get involved! Your future is calling.
This article is for informational purposes only. It is not intended to treat, diagnose, cure, or prevent disease. This article has not been reviewed by the FDA. Always consult with your primary care physician or naturopathic doctor before making any significant changes to your health and wellness routine.
Disclosure of Material Connection: I am a Communications Specialist for American College of Healthcare Sciences (ACHS), the Institution that publishes this blog. However, all opinions are my own. This blog may contain affiliate links. I am disclosing this in accordance with the Federal Trade Commission's 16 CFR, Part 255: "Guides Concerning the Use of Endorsements and Testimonials in Advertising."
Note: This article was last updated to reflect accurate dates on June 2, 2015.