Herbal and Essential Oil Remedies for Children
The sense of smell is the only sense that is fully developed at birth. Scent crosses the placenta; babies, in fact, are making memories in utero.
The scents from pure plant essential oils can bring nature into your home environment and help maintain good health to those who use them safely.
Your precious child is your top priority, and as parents, we're forever concerned that we are providing our kids with the best and safest remedies for their health and well-being.
Herbs & Infants
Before we dive into essential oil use for toddlers, let's begin with the most effective and safe use for infant care – the herbal bath.
Teas, or aromatic hydrosols (the water left over from distilling essential oils) from medicinal plants such as lavender Lavandula angustifolia (Mill.), orange blossom Citrus aurantium (L.) var. amara, chamomile Chamaemelum nobile (L.) All., dill Anethum graveolens (L.), lemon balm Melissa officinalis (L.), and catnip Nepeta cataria (L.), 
are time-tested remedies for fussiness, teething, fever, colds, colic, irritability, and nearly everything that childhood throws at us as caregivers.
Teas and hydrosols are far less irritating than essential oils, and with their long history of use, parents can rest assured they are employing a modality that has a proven track record and will provide the safest delivery of herbal wellness to their child.
Though hydrosols are available for purchase, herbal teas for baby's bath are easy to make at home.
Herbal Baby Bath
Add about 1/2 ounce of dried herb (or one ounce of fresh herb) to one quart of boiling water. Cover, remove from heat, steep until lukewarm (about two to three hours) and strain into tepid bath water for your little one.
Allow the child to remain for 10 to 20 minutes, if possible. The skin is a wonderful organ of absorption, and herbal baths are legendary and historic remedies that will usher your child into the botanical realms of Nature's healing powers at an early age.
Essential Oils
There's a lot of confusing information on the safe use of essential oils for supporting children. Infants and kids under the age of two should not be subjected to even dilute essential oils. The internet is full of claims that essential oils are safe and effective for a wide variety of childhood ailments. Well, ….maybe.
It is also disturbing to hear of "adult" remedies being translated to childhood uses, potentially causing more harm than good. Tiny humans need special care, and depending on their age and weight, their tender systems should be pampered with gentle remedies such as herbal therapies, as discussed above.
If your child is over the age of two, a mild dilution of safe and gentle essential oils may be used externally or diffused into the air. You may choose to introduce some safe and well-diluted essential oils into first aid situations that are normally tended to at home, such as minor scrapes, burns, or bites, or to simply prepare your rambunctious one for bedtime.
General Safety Basics for Essential Oils
Keep out of the reach of children
Do not give orally
Keep away from eyes, and do not use in ears
Dilute well before external application
Gentle Essential Oils for Children
The following essential oils have a reputation for safety, but individual responses may vary, so use judiciously. It may even be a good idea to dilute more than recommended until you get to know how your child reacts to the oil. Individual responses may occur, even with the safest oils:
Lavender angustifolia
Neroli C. aurantium amara
Frankincense Boswellia carterii
Tangerine Citrus tangerina
Mandarin Citrus reticulata
Blue cypress Callitris intratropica
Atlas cedarwood Cedrus atlantica
Roman chamomile nobile
Geranium Pelargonium graveolens
Sandalwood Santalum album
Spearmint Mentha spicata (not peppermint)
Tea tree Australia Melaleuca alternifolia
Ylang ylang Cananga odorata var. genuina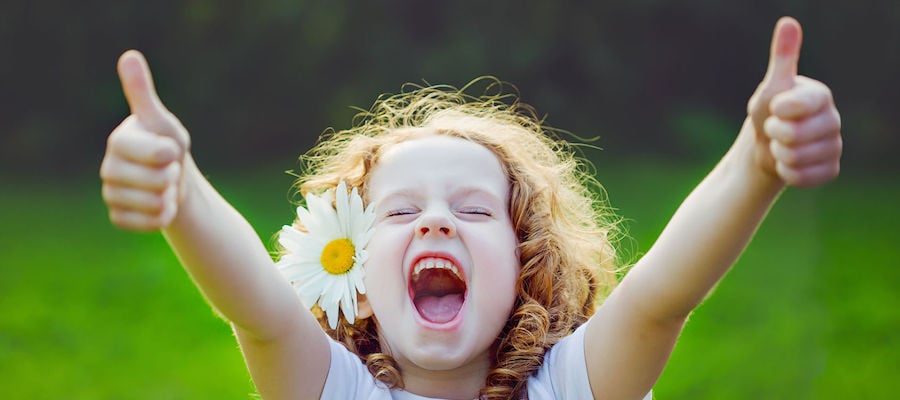 Diffusion
Diffusion (dispersing essential oils into the air using a nebulizer, ultrasonic diffuser, or heat diffuser) is the safest application for children. They will inhale small amounts of the aromatic molecules without direct skin exposure.
Any of the essential oils mentioned above may be added to a diffusor for day or nighttime use. Ideally, use the intermittent setting on your diffusor for sporadic and safe delivery. Depending on your child's sensitivity and/or the essential oil, a good average is about five minutes on and 15 minutes off.
Add two to four drops into the water receptacle of the diffuser; it doesn't take much, and a little goes a long way. Research shows that even when a scent is below detectable thresholds, it can influence mood and behavior.
Topical Application
It may be best to start with a single essential oil rather than blending several. This way, if irritation occurs, it's easier to identify the culprit.
Add one to three drops of one essential oil to one ounce of your favorite carrier oil. Shake well, and apply a small amount to the body or in the bath.
Carrier Oils
Even the safest essential oils must be diluted for topical application to diminish the possibility of irritation. Most vegetable oils are well tolerated on skin. If your child is especially sensitive, try the carrier oil directly on the skin without the addition of any essential oils.
Conduct a skin patch test: Apply a small amount to the inner arm and rub in well. Wait several hours and check for redness or irritation. There are many suitable "vegetable" oils from seeds and nuts. Ideally, your selection will be organic and cold pressed for optimum efficacy and safety:
Jojoba
Argan
Almond
Coconut
Avocado
Occasionally, sensitive children may have a skin reaction to a single carrier oil. Always perform a skin patch test (as instructed above) before adding the essential oils.
Dilutions
Even though the essential oils listed are among the gentlest, it's best to begin with well-diluted blends and observe your child's skin. Discontinue use if irritation, rash, or redness appears. I recommend you be as conservative as possible with your dilutions:
2 to 5 years old: 1 to 3 drops of a single essential oil (or blend) in one ounce of carrier oil
5 years to early adolescence: 3 to 5 drops of a single essential oil (or blend) in one ounce of carrier oil
Blend the essential oil into the carrier oil, shake well, and apply to feet, back, tummy, or wherever your child needs it. Avoid mucus membranes, stay away from the face, and never use essential oils in the ears, mouth, or other orifices.
Check in with your child to be certain she/he enjoys the scent of the single note or blend. Aromatic memories are being made with every inhalation. If every application is accompanied by love and cuddles, the aroma will surely bring a lifetime of good memories and secure feelings!
Disclosure of Material Connection: I am on the ACHS Aromatherapy Program Advisory Council and a guest blogger for American College of Healthcare Sciences, the Institution that publishes this blog. However, all opinions are my own. This blog may contain affiliate links. I am disclosing this in accordance with the Federal Trade Commission's 16 CFR, Part 255: "Guides Concerning the Use of Endorsements and Testimonials in Advertising."
This article is for informational purposes only. It is not intended to treat, diagnose, cure, or prevent disease. This article has not been reviewed by the FDA. Always consult with your primary care physician or naturopathic doctor before making any significant changes to your health and wellness routine.