With mild, rainy winters and precious months of warm (or even hot!) summer sun, we are fortunate to live in a climate that is ideal for farming and gardening here in western Oregon. Lavender is just one of the many flowering plants that can thrive in our Eden-like land of the Pacific Northwest, if given the right conditions. After visiting the rolling lavender fields of Provence with the very first ACHS study abroad program in 1999, then again in 2000, 2001, and 2002, my addiction was official and I started my own lavender farm in Sherwood, Oregon. In 2003, we planted dozens of lavender plants in the ACHS Botanical Teaching Garden in SW Portland, taking over the bland roadside verge with a swath of lavender!
After more than a decade of growing lavender, I've learned many things:
Wear sunscreen and hats to avoid sunburn, but if you get a little too much sun, apply Lavandula angustifolia essential oil
Lavender usually makes bees mellow (but not always!)
Lavender honey is divine!
Lavender needs good drainage (which means adding gravel to clay – not sand!) or having a bit of a slope, or both!
No overhead watering to avoid fungal diseases
Plant your lavender where it gets a lot of sun
But one truth seems to stand above the rest: growing lavender brings people together.
This year, ACHS invited our local community to come pick lavender in our Botanical Teaching Garden free of charge. We had a lovely day of harvesting lavender, weaving lavender wands, and blending enchanting lavender essential oil blends. Here are just a few highlights from our lovely day of fun in the lavender-loving sun!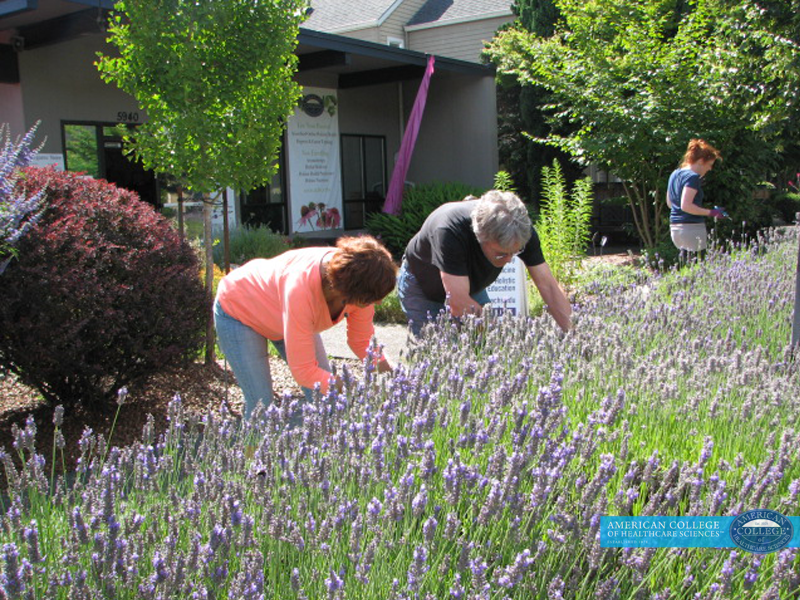 Harvesting lavender in the early morning sunshine. Picking your bunches with the ones you love allows you to spend quality time together while also getting some exercise in gorgeous weather!
Old friends of ACHS—Patsy and others enjoy a day of urban lavender picking. Growing lavender and inviting your friends to come take part in your harvest allows you to keep in touch with people you care about.
Tracey Abell—ACHS Director of Operations—finds some shade while picking the perfect flowers for her lavender wand!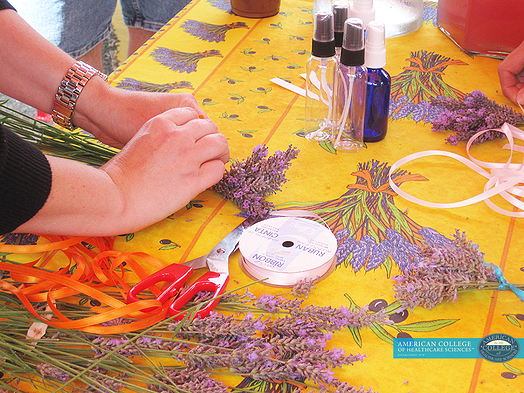 Harvesting lavender + wand making = a fantastic summer activity for the kids! And guess what—that delicious lavender aroma lasts for YEARS, allowing those beautiful memories with your children to last even longer.
Tracey and Patsy and her finished lavender wand. She was a lavender wand weaving pro!
Growing lavender can give you many beautiful days to spend with your friends from the local community. Thank you to everyone who came out to join us!
If you're interested in growing lavender yourself (or maybe you already do!), the United States Lavender Growers Association is hosting their second annual United Sates Lavender Conference in San Antonio, Texas this coming January 22-25, 2015. The conference will be focused on offering information, resources, and networking advice that will help you grow your lavender related business. (And bonus: who doesn't want to spend a few days in warm and sunny San Antonio during the chilly month of January?!)
Lavender farming has brought a lot of joy and new people into my life. Maybe the conference will be a start to your lavender journey! And, since I won't be able to attend, maybe you can share some of the best details with me after the conference! Registration for the conference opened with Early Bird rates on August 1st, 2014, so don't miss out! Find out more here: http://www.uslavender.org/uslc/
What do you love about summer gardening? Tell me in the comments!
Disclosure of Material Connection: I am the CIO of American College of Healthcare Sciences, the Institution that publishes this blog. However, all opinions are my own. This blog may contain affiliate links. I am disclosing this in accordance with the Federal Trade Commission's 16 CFR, Part 255: "Guides Concerning the Use of Endorsements and Testimonials in Advertising."
This article is for informational purposes only. It is not intended to treat, diagnose, cure, or prevent disease. This article has not been reviewed by the FDA. Always consult with your primary care physician or naturopathic doctor before making any significant changes to your health and wellness routine.