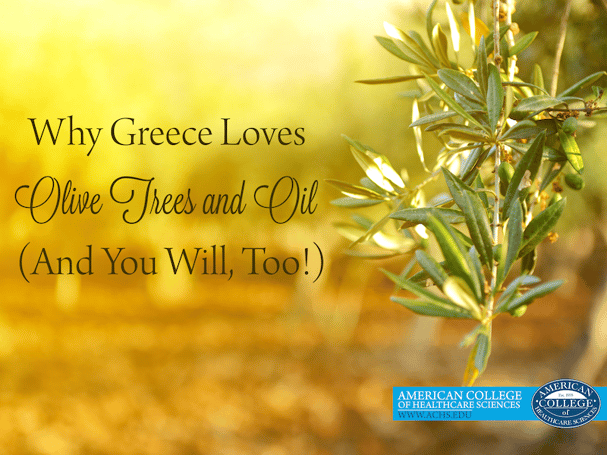 I've always been a tree hugger. But I do have my favorites, like the beautiful Mediterranean olive tree. There is something about wrapping your arms around an old, weathered olive tree trunk and inhaling the surrounding aromas that provides deep rejuvenation.

Could it be connected to the fact that this ancient, noble tree has been revered throughout history, and has supplied deep meaning to many cultures? Did you know that the oldest fossilized wild olive tree was found in Greece and dates back to 37,000 B.C.?

But the real reason I love this tree is its fruit. Olives and olive oil have extraordinary therapeutic qualities.

So here are a few of the reasons I (and the Greek culture!) love olive trees and the incredible oil they produce:
Excellent Source of Essential Fatty Acids and Other Key Nutrients
Essentially, olive oil is fantastic for supporting optimal cardiovascular health.
Olive oil contains oleic acid, an essential fatty acid beneficial to blood pressure and cholesterol levels. It also contains sterols (beta- sitosterol, campesterol, and sigmasterol) and tocopherols, which contain supportive properties for cholesterol already in the normal range.
Ancient Folk Remedies
The Greeks and other Mediterranean cultures have used olive oil for centuries as a folk remedy for kidney stones, flatulence, diabetes, and topically for psoriasis, eczema, sunburn, and sore and achy joints.
Hippocrates, the Father of Medicine, is recorded as using olive oil with his patients. Homer is said to have dubbed olive oil "Liquid Gold." And I'll take advice from those famous Greeks any day. ;)
The Possible "Key" to Health Benefits of Mediterranean Diet
Olive oil is rich in antioxidants as well as squalene and terpenoids (extremely powerful nutrients), and this may be the key to the health benefits of the popular Mediterranean Diet.
One research review notes that a diet high in extra-virgin olive oil could promote body systems and promote the body's natural defenses against coronary heart disease and aging by reducing oxidative stress.[1] That's a big incentive to start eating like the Greeks!
Emollient in Natural Bath and Skin Products
Olive oil also has a rich history of being used in cosmetics and skin nourishing products.
Even today, many cultures in the Mediterranean use olive oil to cultivate healthy, radiant skin and hair.
Here are just a few of the many ways you can use olive oil for health and beauty:
Dandruff: To help manage dandruff, rub your scalp with olive oil
Hair: To strengthen your hair, rub your scalp with olive oil and one drop of thyme Thymus vulgaris (L.) or rosemary Rosmarinus officinalis(L.) essential oil (dark hair), and chamomile Chamaemelum nobile (L.) All. essential oil (fair hair)
Nails: For brittle nails, dip them in olive oil and massage into nails
Skin: For lines and wrinkles, massage your face gently with olive oil
It's also said that if you rub your gums with olive oil, it acts as a natural tooth whitener.
Want to learn to make delicious and nourishing natural products and eat a clean Mediterranean Diet on location in Greece? Join me for our Summer Study Abroad program in Syros, Greece!
Delicious and Healthy Cooking Oil, Even When Heated
Choosing the right cooking oil is essential to a healthy, holistic diet. With hydrogenated and heavily processed cooking oils out there, a bad choice could mean health consequences down the road.
Polyunsaturated fats are more susceptible to oxidation during heating than monounsaturated fats.
The most common monounsaturated fat is oleic acid, found in olive oil. Polyunsaturated fats include linoleic in corn, peanut, cottonseed, and soybean oil, and arachidonic found in peanut oil.
Olive oil, on the other hand, breaks down less when heating and retains many of its nutritional benefits. Squalene is a significantly beneficial nutrient, and it is not reduced significantly through heating. So, go ahead! Throw some extra virgin olive oil on that pan and fry up some stir-fry for tonight's dinner.
They Are Beautiful and Life-giving
Olive trees fill me with a deep reverence. Olive trees and their fruit are referenced throughout ancient religions and cultures. Their beautiful, winding trunks and sprawling branches are gorgeous against the blue sky and sea of Syros.
Or perhaps it is their long, ancient history of providing nourishing oil and vocation to the people of Greece and the Mediterranean that fills me with awe. Either way, there's something magical about seeing an olive orchard in person.
Bonus L'aïoli Recipe
If you haven't already started experimenting with olive oil, here's a delicious l'aïoli recipe to get you started.
Serves four. 

Ingredients
Be sure to use Certified Organic when available.
Garlic: 5-6 cloves
Salt: a pinch
Egg yolk: 1
Extra virgin olive oil: 1 ounce
Lemon juice: a few drops 

Directions
Peel and split the garlic cloves, take out the sprout in the center, and then crush them with a garlic crusher. Put the garlic and salt in a mortar. Crush and mix it with a wooden pestle until you obtain a smooth, creamy paste. Add in the egg yolk.
Beat the l'aïoli with a whisk or pestle, adding the olive oil gradually. Season with salt and a few drops of lemon juice.
When ready to serve, the l'aïoli should be thick and smooth.
Travel to Greece
Want to experience the best tasting olive oil in one of the most beautiful places in the world? Join me in Greece this summer (April 24-28, 2017) for a five-night, six-day study abroad experience for your mind, body, and soul.
I hope to see you there!
Disclosure of Material Connection: I am the President and Founder of American College of Healthcare Sciences, the Institution that publishes this blog. However, all opinions are my own. This blog may contain affiliate links. I am disclosing this in accordance with the Federal Trade Commission's 16 CFR, Part 255: "Guides Concerning the Use of Endorsements and Testimonials in Advertising."
This article is for informational purposes only. It is not intended to treat, diagnose, cure, or prevent disease. This article has not been reviewed by the FDA. Always consult with your primary care physician or naturopathic doctor before making any significant changes to your health and wellness routine.
[1] Owen, R.W., Giacosa, A., Hull, W.E., Haubner, R., Wurtele, G., Spiegelhalder, B., et al. (2000). Olive-oil consumption and health: the possible role of antioxidants. Lancet Oncol.,1:107-12. Review.