Copyright: pxhere.com
The recent story of germy Uber back seats is enough to put you off ever getting in another Uber. Last time I took an Uber I did so to relax. Yes, it's true I find being driven is relaxing. I can text, read, daydream …… but now I enter an Uber or Lyft ride share with a checklist! Have I have checked the drivers face in the APP – check -, confirmed the license plate – check – oh wait …. and detoxed the back seat. Forget relaxing!
The "study" was not a robust study. The small comparative analysis of the microbes that contaminate various back seat car areas focused on private cars, taxis, and Ubers– but– only three of each!
Superbugs abound in public transportation.
Reading between the lines the 15 plus "news" stories that pulled up on a DuckDuckGo search (not google but I digress– that is another story) made it clear it was a marketing hype story to introduce consumers to a new Clorox product specific to cars. Hype or not, exposure to superbugs is a real threat.
I often think I am just a vehicle for the myriad of bacteria that live on and in me. I relish the "good" bacteria in the vegan, fermented organic sauerkraut and the probiotic, grass-fed, organic yogurt that I eat almost daily. I am terrified of the "bad" ones. And it is not just bacteria there are viruses as well. I reach out to the American Cleaning Institute (a Trade Association) but the information they relay makes it worse. Yikes! Their website tells me that "The average kitchen dishcloth can contain 4 billion living germs." No wonder my dishcloth lies stiff and smelly in the bottom of the sink – it's dead!
Who is the unseen enemy? Bacteria or microbes with strange names such as the gram negative, rod shaped Enterobacter aerogenes which can cause urinary tract infections and adult meningitis. Others such Escherichia coli, Klebsiella pneumoniae, Proteus mirabilis, Salmonella choleraesuis, Shigella flexneri, Bacillus subtilis, Listeria monocytogenes, Staphylococcus aureus, Staphylococcus saprophyticus, and Staphylococcus xylosus invisible to the naked eye look like outer space creatures under the microscope.
So how do we go forth into this world teeming with unseen bacteria and viruses ready to attack and infect us with minor and major illnesses?
Learn what antigens and bacteria are in the air.
"Know thy enemy" is powerful wisdom when arming yourself against these creatures. Most importantly know the name of the microbe and ask your healthcare provider is it gram negative or gram positive. Understanding the test that differentiates the two is material for another blog. It is enough to know if it is gram negative you need to get out the big guns. These are the troublemakers with tough, impenetrable, thin cell walls that quickly alter their structure and develop resistance to antibiotics and even our chosen weapon, essential oils.
It's an easy reach for proven powerful essential oils and make blends. Forget the hand sanitizer loaded with chemicals – triclosan was recently banned by the FDA but I still see it on labels. Just a handful of power packed volatile plant oils can alleviate the stress of the next Uber ride.
Clearing the Air Naturally with Essential Oils
How to decide what essential oils to use is a question I get asked a lot. Start small and simple but always blend.
A small – 10 milliliters – bottle of each these oils is a great start; a blend of tea tree Australia Melaleuca alternifolia, cajuput Melaleuca leucadendron var. cajuputi, niaouli Melaleuca quinquenervia, tea tree New Zealand (manuka) Leptospermum scoparium and eucalyptus Eucalyptus globulus. You can also add oregano Origanum vulgare to give an extra punch to the gram-negative bacteria.
If you are a stop and smell the roses type try this selection; Bay Laurus nobilis, Geranium Pelargonium graveolens, Lavender Lavandula angustifolia, Rose Rosa damascene and Tea tree Australia Melaleuca alternifolia.
Preparing an air and surface protector is easy. Simply mix the essential oils with distilled water and ethyl alcohol in a one-ounce amber spray bottle. Enter a germ-laden environment spray your hands and air wash them dry. Another technique is to spray on a tissue and wipe surfaces directly.
Here are two air and surface purification formulas to get you started.

Formula #1
Pack a Punch
Tea tree Australia Melaleuca alternifolia: 5 drops
Cajuput Melaleuca leucadendron var. cajuputi: 5 drops
Niaouli M Melaleuca quinquenervia: 5 drops
Tea tree New Zealand (manuka) Leptospermum scoparium: 5 drops
Eucalyptus Eucalyptus globulus: 5 drops
Oregano Origanum vulgare: 3 drops
Water distilled: ½ ounce
Alcohol ethyl: ½ ounce
Formula #2
Smell the Roses
Bay Laurus nobilis : 5 drops
Geranium Pelargonium graveolens: 3 drops
Lavender Lavandula angustifolia: 5 drops
Rose Rosa damascene: 2 drops
Tea tree Australia Melaleuca alternifolia: 2 drops
Water distilled: ½ ounce
Alcohol ethyl: ½ ounce
Mix the essential oils with the distilled water and ethyl alcohol in a one-ounce amber glass spray bottle or any glass bottle with a pump-action atomizer. If you are the stay at home type try diffusing 5-10 drops of either blend minus the alcohol and water placed in a diffuser will help to keep the air in your home microbe free. Given the warning from the American Cleaning Institute, I'm off to soak my dishcloth in the blends diluted in water, of course.
Let me know if you have other ideas for protective blends and next time you take an Uber or Lyft share the protective essential oil joy with the driver.
Need organic herbs, aromatherapy and apothecary supplies?
Want to learn more about natural skincare formulations and remedies? Check out our updated Rose ebook!
About American College of Healthcare Sciences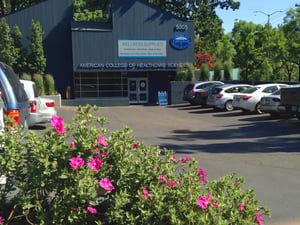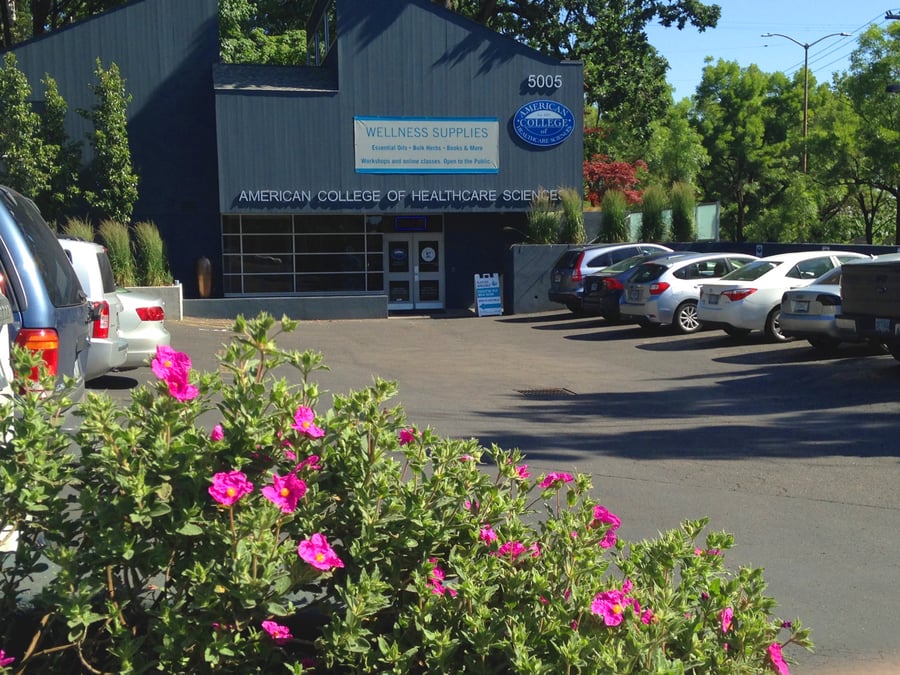 Founded in 1978, ACHS.edu is a Portland, Ore.-based, accredited college offering online, on-campus, and study abroad integrative health education. With undergraduate and graduate degrees, diplomas, certificates, and continuing education units in integrative health, ACHS makes holistic health and wellness education accessible to a diverse community, including healthcare professionals, military students, stay-at-home parents, and lifelong learners. Specializations include aromatherapy, herbal medicine, holistic nutrition, and integrative health. ACHS is a Certified B Corporation® and was named two of 100 Best Green Workplaces in Oregon 2017 by Oregon Business magazine. ACHS is also accredited by the Distance Education Accrediting Commission (DEAC), which is recognized by the U.S. Department of Education and by the Council for Higher Education Accreditation (CHEA). In response to our commitment to service members, veterans and military spouses, ACHS has been designated as one of the top 16% of military-friendly institutions in the U.S. for nine years in a row. For more information visit achs.edu.
Blog References:
https://abcnews.go.com/Health/study-shows-active-ingredients-sunscreen-absorbed-bloodstream-fda/story?id=62858765
https://abcnews.go.com/Politics/fda-mineral-sunscreens-safe-chemical-sunscreens-research/story?id=61217564
https://www.skincancer.org/prevention/sun-protection/sunscreen/sunscreens-explained
http://www.healthinsurancequotes.org/7-harmful-sunscreen-ingredients-to-avoid/