Seasonal DIY Gifts for Bath Lovers
Whether you're looking to wind down, purge a case of the blahs!, or revitalize your spirit, baths are one of the easiest, yet most luxurious wellness tools we have at our disposal.
It's a simple pleasure that's easy to share … especially during the holiday season. Why buy impersonal, ready-made products for the bath lover on your gift list when you can quickly make a lovely blend at home?
We say, go for it!
Do-it-yourself natural skin care products like bath salts, herbal blends, and fizzing bath bombs only require a few key ingredients, but can be customized a bazillion ways! Plus, they're a fun way to infuse some creativity into your day. We can get a bit bonkers about our to-do list during the winter and holiday seasons, but playtime is important, too.
Make it a group activity! Invite some friends over for a DIY party or pull the whole family into the endeavor with the wafting of some aromatic aromatherapy.
Seriously … it's easier than you think and the bath lovers in your life will thank you.
Here are some basic recipes to get you started, plus some of our favorite ways to customize your bath products with certified organic or sustainably wildcrafted essential oils. (And, if this is your first time working with essential oils, don't worry – we have a whole blog series on aromatherapy essential oil safety you can review first.)
Basic Bath Salts Blend
Ingredients
Epsom salts: 1 cup (8 ounces)
Sea or mineral salts: ½ cup (4 ounces)
White clay: ⅛ cup (1 ounce)
Pure essential oils
Mix all ingredients together in bowl and sift. Add four tablespoons to one full bath after the bath water has filled. Essential oils can be added as either single oils or as blends.
These make wonderful party favors for holiday gift swaps or even baby and bridal showers.
Image by Renee Long
Essential Oil Bath Salt Blends
An aromatic bath is one of the best ways to experience essential oils. When you're ready to get blending, you can watch this video below on how to use essential oils safely in the bath.
Calm Down Blend Ingredients
Geranium Pelargonium graveolens essential oil: 3 drops
Lavender Lavandula angustifolia essential oil: 3 drops
Lemon Citrus limonum essential oil: 2 drops
Sandalwood Santalum album essential oil: 2 drops
Winter Blahs Blend Ingredients
Grapefruit Citrus paradisi essential oil: 6 drops
Elemi Canarium luzonicum essential oil: 6 drops
Ginger Zingiber officinale essential oil: 4 drops
Sandalwood Santalum album essential oil: 2 drops
Wake Up Blend Ingredients
Rosemary Rosmarinus officinalis essential oil: 5 drops
Peppermint Mentha xpiperita essential oil: 4 drops
Bay Laurus nobilis essential oil: 3 drops
Ginger Zingiber officinale essential oil: 2 drops
And if you really want to amp up your aroma blending skills, check out our on-demand aromatherapy CE courses here.
Herbal Bath Blends
Mix the herbs together through a sieve. Weigh out one ounce and package into herbal sachets for the bath. Hang from the faucet when drawing a bath so that the water will filter through the sachet when filling the tub. Then place the sachet in the water, and let it soak in the water while bathing.
Slow Down Blend Ingredients
Equal parts of:
Lavender Lavandula angustifolia flowers

Rosemary leaves Rosmarinus officinalis

Peppermint leaves

Mentha xpiperita

Chamomile flowers (German or Roman) Matricaria recutita, Chamaemelum nobile

Calendula flowers Calendula officinalis
Dream Time Blend Ingredients
Equal parts of:
Rose petals and buds Rosa damascena

Chamomile flowers (German or Roman) recutita, C. nobile

Lavender flowers angustifolia
Rejuvenating & Stimulating Blend Ingredients
Equal parts of:
Sage leaves Salvia officinalis

Rosemary leaves officinalis

Lavender flowers angustifolia
Calming & Relaxing Blend Ingredients
Equal parts of:
Spearmint leaves Mentha spicata

Comfrey leaves Symphytum officinale

Chamomile leaves (German or Roman) recutita, C. nobile

Valerian root Valeriana officinalis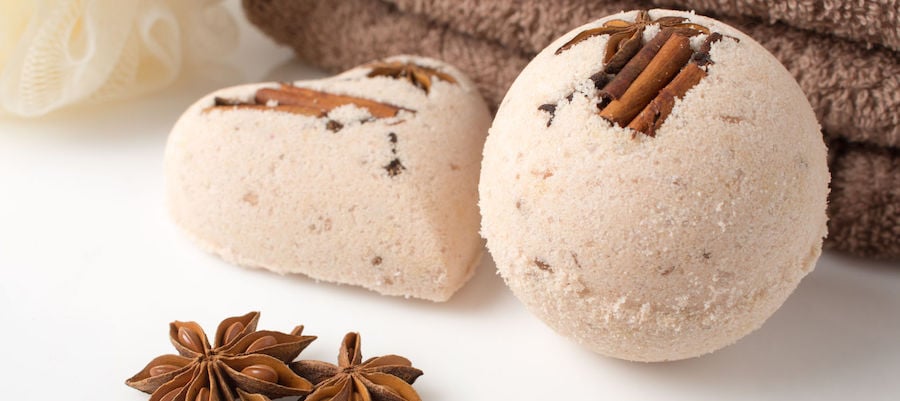 Fizzing Bath Bombs
(Find this original recipe and video on our blog here.)
Ingredients
Baking soda: 10 tablespoons
Citric acid: 4 tablespoons
Cornstarch: 4 tablespoons
Mineral salts (fine): 4 tablespoons
Water: 2 teaspoons
Sweet almond oil: 2 teaspoons
10-15 drops of your favorite holiday bath salts essential oil blend (above)
Combine baking soda, citric acid, cornstarch, and salts in a large bowl and whisk together well.
Add the wet ingredients to the dry and mix well with a whisk. The mixture will bubble just a bit and begin to clump together.
Mix and blend the mixture until it is well combined and has the texture of mildly wet sand. It should clump together when you squeeze it with your fingers. You DO NOT want to get the mixture too wet or your bombs will not set properly.
Allow to dry for 2-4 hours, depending on the humidity where you live. The molds will be ready to flip when you feel the exposed bath bomb and it feels dry and firm. Now place the mold right side up, gently pop out and allow to dry for another 2-4 hours.
Watch a fun video demonstration on how to make these delightful fizzing herbal bath bombs.
Ready to amp up your DIY passion and start making natural products at the professional level? You can earn your Certificate in Natural Products Manufacturing (CNPM) with ACHS! You'll learn how to use herbs and essential oils to create handcrafted and natural beauty products, lotions, salves, creams, body sprays and perfume blends with essential oils, bath and bodycare products, and so much more.
Disclosure of Material Connection: This blog may contain affiliate links. I am disclosing this in accordance with the Federal Trade Commission's 16 CFR, Part 255: "Guides Concerning the Use of Endorsements and Testimonials in Advertising.
This article is for informational purposes only. It is not intended to treat, diagnose, cure, or prevent disease. This article has not been reviewed by the FDA. Always consult with your primary care physician or naturopathic doctor before making any significant changes to your health and wellness routine.