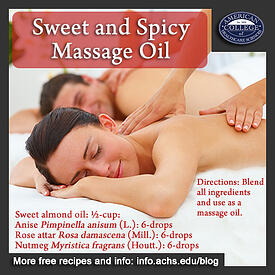 You may have noticed that many of us at the American College are bonafide travel junkies. So if your Valentine's Day has you stuck firmly in reality rather than jetting off somewhere exotic (like mine!), what's better than to daydream? Here are the five most romantic places on earth, which also happen to be amazing sources for our favorite romantic essential oils!
What's better than romance in an exotic locale with a side of aromatherapy?
5. Agra, Uttar Pradesh, India
Why it's romantic: Did you know that the Taj Mahal is one of the greatest romantic gestures in history? In 1631, the wife of the Mughal emperor Shah Jahan passed away after giving birth to their 14th child. Stricken with grief, the emperor built the most splendid mausoleum of all time to house her tomb—the Taj Mahal. When the emperor passed away in 1666, his tomb was placed next to his late wife's, making the Taj Mahal one of the most romantic memorials of all time. I was lucky enough to visit the Taj when I was quite young, and the awe is still fresh in my memory!
How to experience the romance:
Rose Rosa damascena (Mill.) essential oil: Roses are the ultimate romantic flower, and India is one of the leading producers of rose essential oil. There is also a romantic Indian legend about rose oil—again surrounding Shah Jahan and his love. During their wedding, there was a canal filled with rose petals circling the garden where they were married. As the pair rowed through the rose covered water, the heat of the sun separated the water from the oil of rose. They skimmed the essential oil off the top of the water and noticed that it created a lovely aroma—perhaps even beginning the distillation of rose essential oil in India. Want to celebrate your Valentine's Day like the emperor and his queen? Try this Rose Water Ointment recipe. Then make sure to download our A rose by any other name… eBook for even more recipes and uses for rose![1]
Rose Water Ointment
Sweet almond oil: 1 ounce
Beeswax: ½ ounce
Rose water: 7 ounces
Rose Rosa damascena (Mill.) essential oil: 8 drops
Directions: Melt beeswax and almond oil over water bath or in a double boiler. Remove mixture from heat and allow to cool until lukewarm. Beat in rose water until ointment emulsifies (stop when mixture emulsifies), and then add rose essential oil
Jasmine Jasminum officinale (L.) var. grandiflorum essential oil: Jasmine essential oil has a long history of romance. Originating in the mysterious mountains of northwest India, jasmine is known there as "moonshine in the garden." Legend has it that Cleopatra wooed Mark Antony with its warm and rich aroma. Jasmine J. officinale has also been known to support a healthy and balanced mood, so you might try blending with rose R. damascena for a real Love Potion #9!
4. Syros, Greece
Why it's romantic: White villas overlooking a turquoise Aegean sea, delicious Greek cuisine, leisurely bicycle rides through ancient streets, palm trees shading you from a Mediterranean sun… there are many reasons why Syros is an ideal destination for a romantic get-away. Even though most people think of Santorini as their go-to Greek get-away, Syros offers many of the same activities, but with fewer tourists. (Plus, this is where ACHS conducts the Summer School in Greece program, so make sure to stay tuned for dates and travel information on our next trip!)
How to experience the romance:
Mastic Pistacia lentiscus (L.) var. Chia essential oil: Exclusive to Greece, the musky and woodsy essential oil of mastic is more than a great ingredient in natural toothpaste…it's a must have essential oil on your romantic get-away to Syros! It also has a reputation as an ancient aphrodisiac. You can read more about it's romantic history and uses in ACHS President Dorene Petersen's article on mastic in the winter 2013 issue of the International Journal of Professional Holistic Aromatherapy (IJPHA) by following this link.
Anise Pimpinella anisum (L.) essential oil: This sweet and spicy oil is not only a popular ingredient in the delicious Greek spirit known as ouzo, but it is also known to have a relaxing effect. Why not try it out with this sweet and spicy massage oil recipe (don't forget to share the graphic above!).
Sweet and Spicy Massage Oil (Ooh lala)
Sweet almond oil: ½ cup
Anise Pimpinella anisum (L.): 6 drops
Rose attar Rosa damascena (Mill.): 6 drops
Nutmeg Myristica fragrans (Houtt.): 6 drops
Directions: Blend all ingredients and use as a massage oil.
3. Provence, France
Why it's romantic: Tucked in the Southeast of France along the Mediterranean Sea, Provence is known for its cultural landmarks and delectable cuisine. But most importantly, Provence boasts a gorgeous landscape where aromatic plants such as sage Salvia officinalis (L.), rosemary Rosmarinus officinalis (L.), thyme Thymus vulgaris (L.), and lavender Lavandula angustifolia (Mill.) (my favorite, of course!) grow as far as the eye can see. If you're besotted by botany, then Provence is the romantic destination for you! We started our ACHS study abroad trips in 1999 with our first trip to Provence, and I've been addicted to lavender ever since. There's something about the stone buildings and scent of lavender that just conjures up romance!
How to experience the romance:
Lavender Lavandula angustifolia (Mill.) essential oil: If you don't know already, I LOVE lavender! So much so that my family and I maintain a sustainable lavender farm here in Oregon. I also love to visit France where the lavender fields are a-plenty! Lavender L. angustifolia is the ultimate essential oil for relaxation, and after a long day of rambling through the beautiful gardens in Provence, you're going to want to mellow out by making the most of this oil. Soothing neck rub anyone? (Just don't confuse lavender L. angustifolia with lavandin Lavandula latifolia (Medik.), L. stoechas, or L. intermedia, which can be more stimulating than relaxing!)
Immortelle Helichrysum angustifolium (Pers.) essential oil: Because of it's resilience and ability to grow in poor soil the helichrysum flower—from which immortelle essential oil is produced—symbolizes eternal love. It's also a useful oil for bumps and bruises, so it's an great oil to add to your essential oil travel kit! Not to mention, it produces a lovely and complex aroma that's spicy, woodsy, and citrusy. Give this alluring perfume recipe a try:
Helichrysum Perfume Blend
Immortelle H. Helichrysum angustifolium (Pers.): 20 drops
Clary sage Salvia sclarea (L.): 10 drops
Bergamot Citrus aurantium (L.) var. bergamia: 10 drops
Lavender Lavandula angustifolia (Mill.): 10 drops
Clove Syzygium aromaticum (L.): 5 drops
Rose Rosa damascena (Mill.): 5 drops
Vanilla absolute: 5 drops
Benzoin resinoid Styrax benzoin (Dryand.): 5 drops
Alcohol: 4 ounces
Blend all the ingredients except the alcohol. Shake well and allow to stand for 48 hours. Test on a perfume blotter and adjust to your personal taste if needed. Add to alcohol and allow to mature for a month before using. This fragrance can be further diluted with more alcohol or with vegetable glycerin if a thicker consistency is preferred.
2. Kauaʻi, Hawaii



Why it's romantic: Known as the "Garden Isle", it's no wonder that this is one of my absolute favorite romantic destinations. Cruise with the top down along the Hawaii Scenic Byway where you'll marvel at spectacular ocean and mountain views, drive through a beautiful tree tunnel towards Poipu, and keep going until you get to the Allerton and McBryde Gardens, part of The National Tropical Botanical Gardens, and home to an amazing collection of aromatic plants. Mahalo!
How to experience the romance:
Vanilla Vanilla

tahitensis

(Moore): Vanilla absolute is the most amazing aromatic for romance. Vanilla has been used as an aphrodisiac for centuries. Dr. Hirsch from the Smell & Taste Research Foundation found that older men in particular had quite a response to the smell of vanilla![2]
Sandalwood Santalum album (L.) essential oil: Sandalwood S. album is a favorite of many essential oil enthusiasts—its sweet, heavy, and woody aroma is perfect to take us (mentally at least) to a beach vacation in Hawaii.[3]
And the #1 Romantic Destinations for Essential Oil Lovers is…
1. Bali, Indonesia



Why it's romantic: Bali encompasses the perfect balance for a romantic get-away: sun, spa, beach, botanicals, adventure, and a deep culture rich in mystery. Our own Dorene Petersen loves traveling to Indonesia and Bali for its aromatic diversity. Students on the study abroad program roam through a sustainable vetiver plantation, learning about the vetiver essential oil distillation process; studying the ancient traditions of Jamu (an ancient herbal medicine); and attending world-class spa and yoga workshops. Need more convincing that Bali is the perfect get-away for you and your significant other? Here are 9 more reasons Bali, Indonesia should be on the top of your travel list!
How to experience the romance:
Vetiver Vetiveria zizanioides (Nash) essential oil: While also being a lovely fixative for perfume (a wonderful woody-earthy aroma), this is one essential industry that I love to support. In Java, Indonesia, the production of vetiver V. zizanioides essential oil also supports a thriving craft industry including items like soaps, candles, aromatic mats, baskets, and chocolates—all fashioned from the same vetiver root! One way to keep a growing relationship strong is by sharing a passion for making the world a better place. So why not join us in Indonesia with your Valentine to visit a sustainable vetiver plantation and see this amazing process up close?
Nutmeg Myristica fragrans (Houtt.) essential oil: This Indonesian essential oil is a perfect "his" oil with middle notes that blend nicely with other heartier oils aromas like black pepper Piper nigrum (L.) and neroli Citrus aurantium (L.) var. amara. This is also another must-have essential oil in your travel kit—check out this great balancing blend for those long, bumpy rides on the plane, boat, or tour bus.
Balancing Travel Blend
Nutmeg Myristica fragrans (Houtt.): 4 drops
Ginger Zingiber officinale (Roscoe): 3 drops
Tangerine Citrus reticulata (Blanco): 6 drops
Chamomile Chamaemelum nobile (L.) All.: 3 drops
Cardamom Elettaria cardamomum (L.): 2 drops
Directions: Blend all oils in a 1-oz bottle. Use sparingly: 1-2 drops in 1 teaspoon of honey or on a sugar cube.
Has the travel bug bitten you and your Valentine yet? After writing this blog, I'm ready to jet off to my next great adventure! If you're itching to start packing, be sure to browse our detailed itinerary and brochure for our next adventure study-tour: Aromatic Indonesia 2014! If you're too anxious to wait, you can always download our free eBook, The Essential Oils of Indonesia by clicking the button below.
Note that this top five list is from my personal experience and a series of totally unscientific chats around the filtered water cooler at the College. Where would you love to jet-off to with your Valentine? Tell me in the comments!
This article is for informational purposes only. It is not intended to treat, diagnose, cure, or prevent disease. This article has not been reviewed by the FDA. Always consult with your primary care physician or naturopathic doctor before making any significant changes to your health and wellness routine.
References and Notes
---
[1] Caution: While rose R. damascena is a lovely oil for romance, it should not be used during pregnancy. Sorry ladies!
[3] It's important to note that, due to its vulnerability for extinction and overharvesting, the United Plant Savers (UpS) added six species of Native Hawaiian Sandalwood to the At-Risk list in 2011. The sandalwood tree is a difficult tree to reforest, taking about 40 years to mature. According to the UpS, "Hawaii still remains the only region in the world where sandalwood is being commercially harvested without regulation."Even though this is a fabulous essential oil with many uses, we must be very cognizant of how the oil is sourced. Reference: United Plant Savers. 7 November, 2011. UpS Updates At-Risk List. Retrieved from
http://www.unitedplantsavers.org/content.php/221-UpS-
Taj Mahal Photo Credit: A. Mongia (2007) "The Taj Mahal" retrieved from http://en.wikipedia.org/wiki/File:TajMahalbyAmalMongia.jpg