Image source: pixabay.com
What is a gardener's number one secret for amazing results? Compost. If you're new to composting, don't worry! Making your own compost is easy, and it's well worth the difference it will make for your garden.

1. How does it work?
Compost is a collection of organic matter intentionally left to breakdown, or "ferment," into an ideal chemical stew that provides the garden with essential nutrients.
How? Millions of bacteria, fungi, and actinomycetes (Gram-positive bacteria) break down the organic matter. All these little micro-organisms need to do their work is food, air, and water.
2. When should I start my compost pile?
You should start your compost pile in the fall in order to have it ready for spring gardening, according to the Pennsylvania State University Home Composting Guide. Similarly, you should start another compost pile in the spring if you're looking to have it ready for your garden in the fall.
3. What are the basic ingredients?
The EPA says that all compost should include these 3 basic ingredients:
Browns - This includes materials such as dead leaves, branches, and twigs.
Greens - This includes materials such as grass clippings, vegetable waste, fruit scraps, and coffee grounds.
Water - Having the right amount of water, greens, and browns is important for compost development.


For perfect balance, you want your compost to be approximately ten parts carbon-rich material (like from straw and leaves) to one part nitrogen-rich materials (like from manure, fishmeal, grass clippings, weeds, and kitchen waste).

But, don't add chemically treated or fertilized plants or clippings into your compost heap. Keep it simple, clean, and green.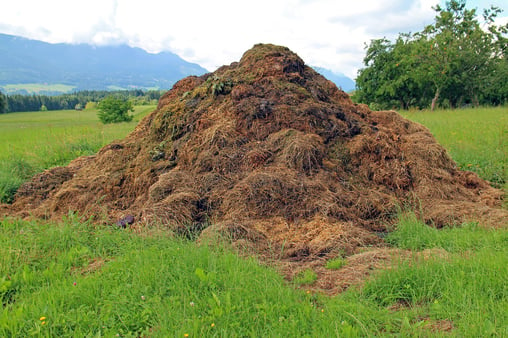 Image: compost heap | pixabay.com
4. Can I include herbs in my compost?
Herbs can make a valuable contribution to your compost heap. They quicken the decomposition process and add extra minerals and nutrients to your compost.
If you're following biodynamic gardening principles, based on the idea that all garden elements influence each other, there are six specific herbs recommended for your compost heap: Stinging nettle Urtica dioica (L.), dandelion Taraxacum officinale (F.H. Wigg.), oak tree Quercus spp. bark, yarrow Achillea millefolium (L.), chamomile Roman Chamaemelum nobile (L.) All. or German Matricaria recutita (L.), and valerian Valeriana officinalis (L.).
You can also add comfrey Symphytum officinale (L.) and any herbs that have been trimmed back at the end of the growing season.
5. What are the benefits of composting?
The EPA says that the benefits of composting are as follows:
Enriches soil, helping retain moisture and suppress plant diseases and pests.
Reduces the need for chemical fertilizers.
Encourages the production of beneficial bacteria and fungi that break down organic matter to create humus, a rich nutrient-filled material.
Reduces methane emissions from landfills and lowers your carbon footprint.
We hope you learned something! If you're looking for more gardening-related tips, try these resources:
Join us and help reduce plastic use!
The Plastic Free Ecochallenge is a 31-day, global challenge to reduce and refuse single-use plastics. As they explain on their website, "throughout the Ecochallenge, share your progress, success, and reflections with fellow Ecochallengers, all while earning points for completed actions."
Join the ACHS Ecochallenge Team and help us earn points throughout the month! If our ACHS Team scores 10,000 points in the Ecochallenge through completing sustainable actions, the college will donate $1,000 to a local, sustainable, inclusive organization that represents ACHS values: Mudbone Grown.
Article adapted from this blog: https://info.achs.edu/blog/how-to-make-the-best-compost-for-gardening
Disclosure of Material Connection: This blog may contain affiliate links. I am disclosing this in accordance with the Federal Trade Commission's 16 CFR, Part 255: "Guides Concerning the Use of Endorsements and Testimonials in Advertising.
This article is for informational purposes only. It is not intended to treat, diagnose, cure, or prevent disease. This article has not been reviewed by the FDA. Always consult with your primary care physician or naturopathic doctor before making any significant changes to your health and wellness routine.