From left: Lindsay Little, CMO Kate Harmon, Professor Susan Marcus, Crystal Duey, and Jessica Goss.
ACHS hosted a panel last week at the Washington Oregon Higher Education Sustainability Conference (WOHESC). We invited our students to apply to speak on the panel and selected three amazing students to speak at the conference: Lindsay Little, Jessica Goss, and Crystal Duey. In the panel, the students spoke about their academic and professional experiences developing integrative health skill sets with sustainable practices at ACHS.
Each of the women that we selected to speak at the conference has made an incredible impact in their communities, and ACHS President and Founder Dorene Petersen says that they are just the type of women she was hoping to inspire when she started ACHS in the first place.
From left to right: Crystal Duey, ACHS President Dorene Petersen, Jessica Goss, and Lindsay Little.
The students started their trip in Portland, Oregon, with a tour of the ACHS campus and lunch with Dorene Petersen and Chief Marketing Officer Kate Harmon before heading to the conference in Eugene, Oregon. At the conference, they were joined by Chief Academic Officer Hill Taylor and Professor Susan Marcus.
"Having been in higher education for nearly 20 years, I've been to my share of conferences. This one was different. The passion for the topic was palpable." -Susan Marcus, ACHS Professor
Lindsay Little: Wellness Wednesdays
Lindsay is working on her Master of Science in Holistic Nutrition. She is a Jazzercise instructor in Hartford, Wisconsin, where she has been working for the past two years to create a more holistic fitness experience for customers by incorporating more health and wellness tips into the Jazzercise program. She does this with her Wellness Wednesday posts on social media, and says that she has noticed a positive community response. "I have noticed a shift in awareness amongst our customers. They look forward to the posts each week and enjoy talking to each other about how they incorporated something from a post into their lives," Lindsay says.
Lindsay shares about her experience at the conference: "It was an amazing honor to have been selected to help represent ACHS at the WOHES conference. When I originally applied to the call out, I was a little unsure of what to expect and if anyone would care about what I had to say. All of that doubt disappeared when I met the friendly faces at ACHS. Everyone was so incredibly kind, supportive, and genuinely interested in my story. Having some of these people in the audience when I was speaking really helped to boost my confidence and reassured the idea that I 'belonged' there."
In her presentation, Lindsay talked about sustainability in her community.
"Sustainability in my community is so important to me because I feel that we are at a critical

time in our history where a lot of things are broken. The food system is promoting disease

rather than health, the healthcare system is focused on managing symptoms rather than

promoting health and preventing disease, and our environment is slowly melting away.

These are all daunting issues that affect each and every one of us. It's easy to get overwhelmed by it

all! Although I do not know the solution to all these problems, what I do know is that the

solutions start in our communities with us working together with neighbors, co-workers, and

those we have yet to meet. We cannot begin to think about the global community until we start to

heal our own communities."
You can find Jazzercise of Hartford on Facebook here and on Instagram here. Follow them to see Lindsay's Wellness Wednesday posts!
Jessica Goss: An Herb and Love Story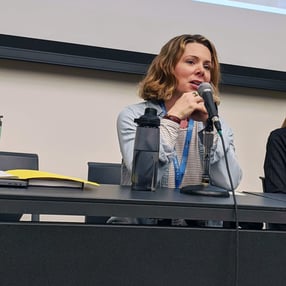 Jessica Goss is working on her Bachelor of Science in Integrative Health Sciences. In March of 2019, she opened An Herb and Love Story, which she describes as "the first eco-friendly, chemically conscious salon and healing space in my area of the Olympic Peninsula."
At An Herb and Love Story, Jessica offers holistic hair care as well as wellness classes for her community. The first class she taught was on holistic management of ADHD. Jessica says, "Using the tools acquired from ACHS, I was able to empower parents and caregivers."
Jessica says that her salon at An Herb and Love Story is a completely different experience than typical salons. First of all, it doesn't smell like chemicals. She says that the products she uses are made in Italy and scented with pure essential oils. The salon also uses recyclable glass bottles for products. In addition, Jessica is working with the mayor of her city to improve recycling options for small businesses.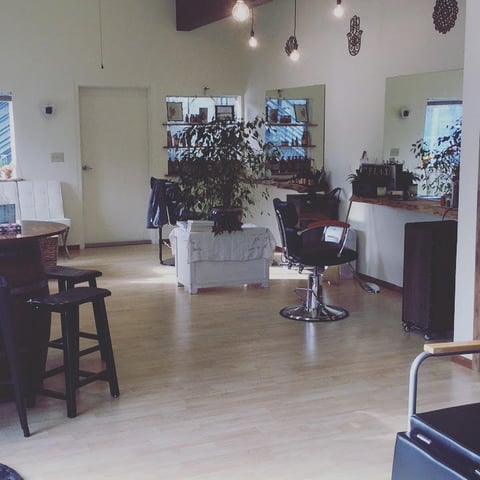 Jessica's salon, An Herb and Love Story
Jessica describes her experience at the conference: "The WOHESC was a beautiful experience. I went not really knowing what to expect. I found a huge group of wonderful people all looking to make a difference. The classes were inspiring and tangible, talking about real ideas and examples of change. The food was beautiful, fresh, and nutrient dense- showing that sustainability is possible even catering for an event this size. ACHS staff were supportive and encouraging and my fellow students were wonderful inspiring women who are making real change in their communities."
In a rural town like Jessica's, she says the options for healthy lifestyle choices are minimal and need to be expanded. The community needs holistic lifestyle support.
"As a mother, sustainability in community is very dear to me, I am raising two amazing young ladies that deserve a beautiful and vital landscape to build and live out their dreams. This opportunity is a memory I will cherish for years to come, I am so grateful to ACHS for granting me this experience."
You can find the website for An Herb and Love Story here.
Crystal Duey: KC Women's Ministry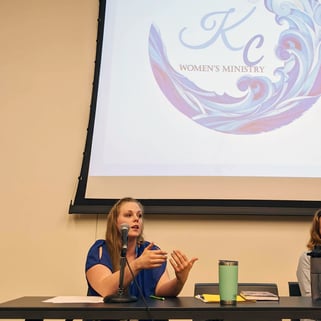 Crystal Duey is working on her Diploma in Holistic Health Practice. She became interested in holistic health because she struggled to afford a holistic doctor to treat health issues within her family.
While the financial struggle has been emotionally and physically wearing, Crystal says that it showed her that she isn't the only one with a family that needs accessible holistic health care to support them in achieving optimal health. It made her want to help others with similar issues by creating a non-profit.
Crystal intended to focus on her studies at ACHS first before moving forward with her idea of creating a non-profit. But, she ended up becoming friends with a registered nurse and health coach who was in the process of starting a similar organization, which she ended up joining forces with. The organization is called the KC Women's Ministry.
KC Women's Ministry is currently seven months old and is working on gaining the funds needed to apply to become a non-profit. The organization was originally called the KC Doula's Ministry and had the mission of providing birth and postpartum doula services to women in need, but it quickly expanded to focus on all women.
"The members of our organization recognize that all women deserve to have support in pregnancy and beyond, but women in need who cannot afford to pay for doula, chiropractic care, holistic wellness care, etc. out of pocket, do not get the opportunity of having such support."

KC Women's Ministry group photo
Crystal describes her time at the conference: "The whole experience was an awesome time. I'm really grateful that I got to come meet some of the staff at ACHS and meet a few other students. It was so refreshing to be around like minded people with big goals for their life. As for why community sustainability is important to me, I see that when we help our community support itself and needs are met, we can thrive. Sustainability is all about the health of our community, environment, finances, relationships, etc. When we have health in these areas of our life, we get out of survival mode, allowing us to be creative and innovative and progress forward together as a society."
You can find KC Women's Ministry on their website here on Facebook here.
A closing message from Professor Susan Marcus
"When our session began, there was a difference: most addressed the environmental aspect of sustainability -- surely an important consideration since life depends on the livability of our planet. Our students spoke about projects, enterprises, and business models that connected communities, changing lives through their efforts. Attendees took notice! They had so many questions, both during and after the allotted time for our panel.
At the conclusion, they flowed to the front of the room with more questions until we could see the next panel attempting to take over the room. It was time to make way for them, but those conversations continued the next morning at breakfast. This is the essence of our work: helping students realize their potential to bring about the kind of change that moves us all towards a sustainable future. What an honor to have played a small role in our students' journey."
How do you contribute to sustainability in your community? Let us know in the comments.
About American College of Healthcare Sciences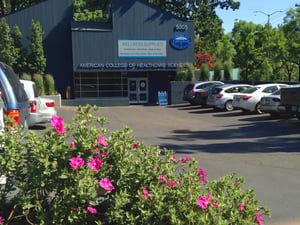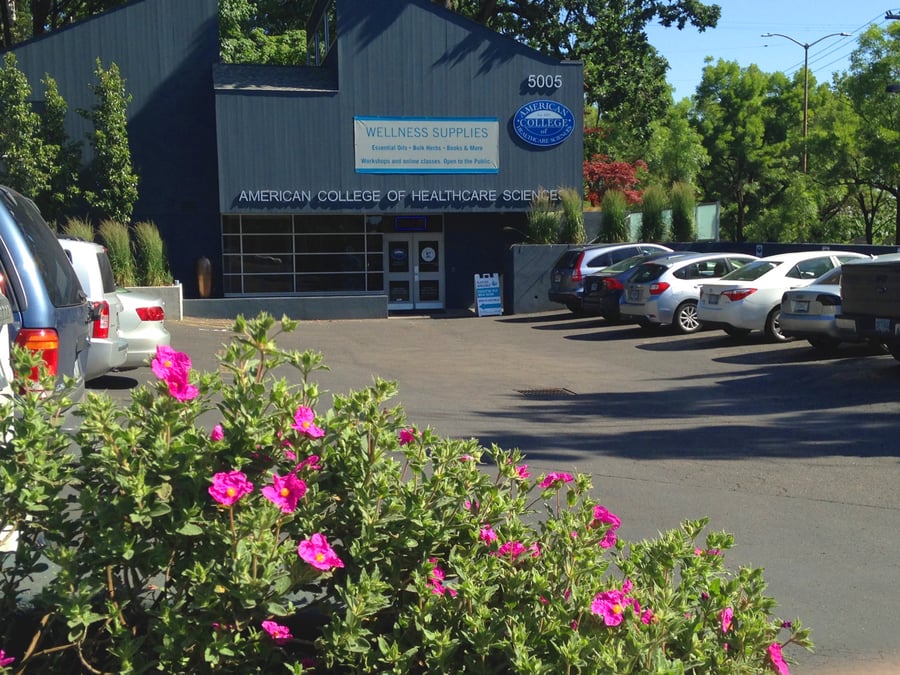 Founded in 1978, ACHS.edu is a Portland, Ore.-based, accredited college offering online, on-campus, and study abroad integrative health education. With undergraduate and graduate degrees, diplomas, certificates, and continuing education units in integrative health, ACHS makes holistic health and wellness education accessible to a diverse community, including healthcare professionals, military students, stay-at-home parents, and lifelong learners. Specializations include aromatherapy, herbal medicine, holistic nutrition, and integrative health. ACHS is a Certified B Corporation® and was named two of 100 Best Green Workplaces in Oregon 2017 by Oregon Business magazine. ACHS is also accredited by the Distance Education Accrediting Commission (DEAC), which is recognized by the U.S. Department of Education and by the Council for Higher Education Accreditation (CHEA). In response to our commitment to service members, veterans and military spouses, ACHS has been designated as one of the top 16% of military-friendly institutions in the U.S. for nine years in a row. For more information visit achs.edu.