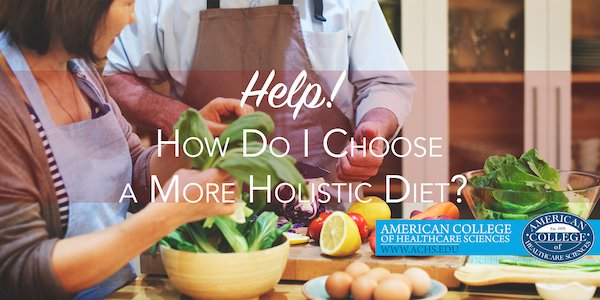 We know holistic nutrition is important.
Maybe you're looking for ideas to help improve the way you eat. But, with so much advice on the Internet about how to improve nutrition, how do you decide what is right for you?
For example, maybe you've vowed to give up dairy or to grow your own garden but have had a few unsuccessful attempts. Maybe, through trial and error, you've learned that dairy is important to you or that you just weren't blessed with a green thumb.
Lessons learned. Our priorities change.
If you're looking to make a positive change in your life through conscious food choices and you aren't sure where to start, keep reading.
You need a plan of action. A plan of action starts with an awareness of personal lifestyle choices, and your personal food philosophy. To develop a food philosophy, you can take an inventory.
Try asking questions like:
How does my family eat now?
How does my cultural background influence my diet choices?
Where do I buy my food?
Are there current personal health issues to address?
Our dietary choices should be driven by an awareness of what we eat, where we buy, what we buy, and how we prepare our food.
First and foremost, it's important to meet your own test of reasonableness, and take actions that feel right to you. For me, for example, it's important to make strategic use of my dollars. I feel that how, what, and where I buy my food sends a message to my family, friends, and grocery providers about how I live and what I value, namely … an holistic approach to nutrition.
I've put together a list of 15 simple ideas you and your family can try to start embracing a more holistic food philosophy today. Try:
Eating vegetarian for one week out of each month.
Eat meat three times per week instead of three times per day.
Buy hormone-free, free-range, and cage-free meat, eggs, and poultry (and wild caught fish).
Support sustainable local farming practices by shopping for seasonal foods at farmer's markets.
Get your coffee/tea in a ceramic mug instead of a disposable paper cup.
Avoid genetically engineered foods by buying organic soy and corn products.
Grow a garden in your front or back yard or on your patio to supplement the family diet.
Eliminate fast food from your diet (particularly avoid buying from corporations that range their cattle in deforested rainforest areas).
Don't eat out as often. Cook at home.
Avoid pre-prepared and heavily packaged food items at the grocery store.
Don't buy water in plastic containers.
Make a donation to an organization that advocates for a food issue you believe in.
Vote on issues that affect environmental and agribusiness issues.
Maybe today you pick one item from the list and try it for a week. If it works for you, great. If not, pick a different holistic nutrition strategy to try next week. The more honest you can be about what you value and how you and your family live, the more successful you will be.
Have you thought about taking classes in holistic health? If you would like to explore holistic nutrition further, take a look at the online Holistic Nutrition and other Holistic Health Certificate and Degree programs available at American College of Healthcare Sciences.
Disclosure of Material Connection: I am the Assistant Director of Compliance at American College of Healthcare Sciences, the Institution that publishes this blog. However, all opinions are our own. If this blog contains affiliate links, they will be marked with an asterisk. I am disclosing this in accordance with the Federal Trade Commission's 16 CFR, Part 255: "Guides Concerning the Use of Endorsements and Testimonials in Advertising."
This article is for informational purposes only. It is not intended to treat, diagnose, cure, or prevent disease. This article has not been reviewed by the FDA. Always consult with your primary care physician or naturopathic doctor before making any significant changes to your health and wellness routine.