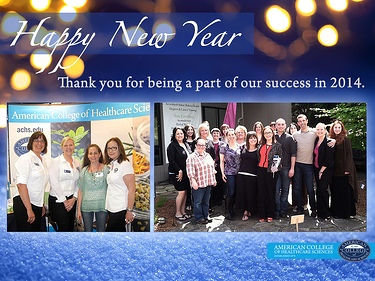 I simply love the refreshed and rejuvenated feeling that comes with a new year, and I am thrilled with the new opportunities for growth, learning, and positive change that await our ACHS family in 2015.
When the New Year rolls around, I enjoy taking time to reflect and be thankful for our achievements of the past year. Throughout 2014, we've endeavored to strengthen our commitment to our College mission: To provide leadership in holistic health education through comprehensive professional online and on-campus education and high-quality natural products with a commitment to sustainable practices and principles.
Our mission is written with the ambition to foster competence, professionalism, and cooperation in holistic healthcare, and preserve and share knowledge in natural medicine.
You—our students, graduates, faculty, advisory council, Apothecary Shoppe customers, and social media followers—have been an integral part in accomplishing this mission. As a thank you for your continued support, I would like to share our top 7 success stories that we hope will make you proud to be part of the ACHS family:
Graduate Shawn Hallum is selected as the 2014 DETC Outstanding Graduate of the Year. We are so proud of Shawn and his exciting accomplishments in the holistic health and spa industries. We were also honored to have Shawn join the ACHS Faculty in 2014.
Graduate Shivana Inalsingh is selected as the 2014 DETC Famous Alumni of the Year.

Shivana is a shining example of excellence as a clinical reflexologist who has also been recognized for her work with trauma victims and first responders following the September 11 attacks in New York City.
ACHS Conducts a Virtual Graduation Ceremony. By utilizing state-of-the-art technology, we were able to acknowledge the tremendous achievements of our graduates with live video footage of our speakers and presenters at the 2014 Graduation Ceremony in October. It was my privilege to give a live speech and express my pride for our 2014 graduates. Congratulations!
ACHS receives expanded authorization to participate in full Title IV Federal Student Aid programs. This authorization provides expanded access to tuition funding programs, provides more access to higher education, and helps students advance their education in holistic health. I am extremely proud that we can offer this opportunity to students so they may follow their dreams of living well and educating others.
ACHS provides Continuing Education Opportunities to case managers and naturopaths.

In 2014, ACHS was granted approval from the Commission for Case Manager Certification (CCMC) to award 60 Continuing Education hours to students who complete all requirements for ACHS's Certificate in Aromatherapy. Additionally, the Oregon Board of Naturopathic Medicine (OBNM) renewed ACHS as an approved continuing education provider for Oregon naturopathic physicians.
ACHS President is awarded National Association of Nutrition Professionals (NANP) Service Award at 2014 Annual Conference & Expo. I was incredibly honored to receive this award at the NANP Conference this past April. It is my pleasure and joy to support students in their journey toward success in the holistic health and nutrition industries, and I will continue to encourage the growth and development of emerging holistic health professionals.
Team ACHS and I attend numerous holistic health events across the U.S. and the globe. 2014 was an incredible year for the holistic health industry with many events and conferences. I love meeting our students and graduates in person and firmly believe in supporting industry events that foster collaboration and networking with industry professionals. ACHS attended ten major holistic health conferences in 2014, including…

International Center of Advanced Aromatherapy (ICAA) Special Seminar in Seoul, Korea
National Association of Nutrition Professionals (NANP) Conference & Expo in Tucson, Arizona, U.S.A.
Distance Education and Training Council's (DETC) 88th Annual Conference in Hammock Beach, Florida, U.S.A.
American Holistic Nurses Association's (AHNA) 34th Annual Conference in Portland, Oregon, U.S.A.
Asian Aroma Ingredients Congress (AAIC) & Expo in Kunming, Yunnan, China
International Symposium on Essential Oils (ISEO) in Istanbul, Turkey
National Association for Holistic Aromatherapy (NAHA) The World of Aromatherapy VII Conference in Seattle, Washington, U.S.A.
International Federation of Essential Oils and Aroma Trades Conference (IFEAT) in Rome, Italy
Northwest Regional Lavender Conference II in Portland, Oregon, U.S.A.
American Herbalists Guild (AHG) 25th Annual Symposium in Pine Mountain, Georgia, U.S.A.
It was a wonderful year at ACHS; please enjoy this slideshow featuring some of our favorite moments from 2014. From all of us here at the American College of Healthcare Sciences, thank you for being a part of our success, and we wish you a safe, happy, and healthy New Year and 2015!
This article is for informational purposes only. It is not intended to treat, diagnose, cure, or prevent disease. This article has not been reviewed by the FDA. Always consult with your primary care physician or naturopathic doctor before making any significant changes to your health and wellness routine.