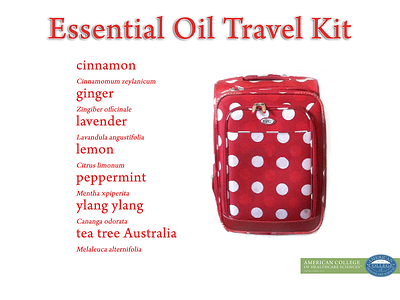 Did you start watching the Olympics last night? We did! My family and I love the Winter Olympics! But as far as travel accommodations go, things have been a bit more "one star" than "five rings" in Sochi, Russia! What can you do to protect yourself when your travels don't include the Ritz Carlton? Travel with essential oils! My E.O. travel kit is always with me when I'm globetrotting!
Just seven small bottles (small enough to get through security!) can help you with many of the common issues travellers face these days—whether your heading to Sochi, Ethiopia (my kit came in mighty handy there!), or on the Max train heading to downtown Portland.
1. Sochi food giving you an upset stomach? Try 1 drop of cinnamon Cinnamomum zeylanicum (Blume) essential oil on a sugar cube or some honey daily for upset stomach and diarrhea (or apply directly on your tongue if you want to avoid what's in the honey in Sochi). However, always exercise caution when using cinnamon E.O. or taking it orally, as Cinnamon's toxic rating is II, so make sure to do a skin patch test. The toxic constituent is cinnamic aldehyde, and you shouldn't use it during pregnancy, nursing, or suffering from stomach or intestinal ulcers. Make sure to follow dose and duration guidelines closely for any oral use. You can read more about the cautions and contraindications below.[1]
2. Thoughts of the winding luge giving you travel sickness? Rubbing Ginger Zingiber officinale (Roscoe) essential oil on your pulse points might just do the trick!
3. Getting a little sunburn from all that reflection off the snow? Apply LavenderLavandula angustifolia (Mill.) essential oil directly to the skin. You can dilute with base oil if you're more sensitive.
4. Worried about what's making the water in the shower that color? Gargle 1 drop of lemon Citrus limonum (Risso)in bottled water three times a day to keep those microbes at bay!
5. Did you have to fight someone for a light bulb? Mix one drop of peppermint Mentha piperita (L.) var. amara with aloe and rub into the skin for aches, pains, and bruising.
6. Forgot to wear your shoes in the shower? Blend 1 drop of ylang ylang Cananga odorata (Lam.)var. genuinewith one drop of…
7. Tea tree Australia Melaleuca alternifolia (Cheel) in an aloe base and massage into skin to kill all those foul fungi!
Now you have the perfect travel kit for all your Olympic adventures—or any time your wanderlust beckons you on a journey!
Want to learn more about blending essential oils for health and wellness? The American College of Healthcare Sciences offers accredited online programs in aromatherapy; be sure to check them out here.
This article is for informational purposes only. It is not intended to treat, diagnose, cure, or prevent disease. This article has not been reviewed by the FDA. Always consult with your primary care physician or naturopathic doctor before making any significant changes to your health and wellness routine.
Love traveling, aromatherapy, and essential oils? Download our free eBook, The Essential Oils of Indonesia, and explore the mysterious and aromatic wonders of Indonesian herbs essential oils!
What essential oils are must haves in your travel kit? Tell me in the comments!
---
[1]Cinnamon Cinnamomum zeylanicum (Blume) essential oil cautions and contraindications: Do not use with homeopathics. Cinnamon may cause irritation and sensitization externally. Use the skin patch test or reduce the dosage by half is someone is particularly sensitive, which will ensure there is no reaction. If consumed orally in excess, cinnamon can cause tachycardia, increased intestinal peristalsis, increased respiration, and increased perspiration through stimulation of the vasomotor center, followed by a sedative stage characterized by sleepiness and depression.