Yesterday was Food Day, so we took some time to celebrate nutrition with 3 Sweet Ways to Cut Sugar. If you didn't see it, definitely take some time to read up on the dangers of sugar and artificial sweeteners; we have some great tips for weaning it out of your diet. Did our tips help you craft your Food Day goal? Either way, decreasing your sugar intake is a great way to keep the Food Day momentum going, so here's our fourth BONUS tip to help you cut down on sugar. We've also included a recipe (courtesy of the talented Susan Belsinger!) for a delicious low-sugar treat: Seasonal Shortcakes with Apples and/or Pears!
4. Spice it Up! Sweeten with Natural Spices and Herbs.
Spices and herbs—like ginger, cardamom, nutmeg (pictured above), and cinnamon—are great natural sweeteners. So instead of reaching for a Sweet 'N' Low packet, add a fun spice to your coffee or tea. I love to add a fresh, green cardamom pod to my morning tea or espresso! Spices and herbs also come with numerous health benefits. For example, ginger is stocked with nutrients and active constituents that will rejuvenate and tone the body's organs over time, and it's also known to support digestive health.
You'd be surprised how many different herbs you can mix with fruit to create delicious flavors, like apples with rosemary for example! Give the Seasonal Shortcakes with Apples and/or Pears recipe a try (you can learn more about recipes like this in our accredited online holistic nutrition courses).

Seasonal Shortcakes with Apples and/or Pears
courtesy of Susan Belsinger (www.susanbelsinger.com)
You can make these shortcakes with any combination of organic seasonal fruits. We chose apples and/or pears for an autumn version of these shortcakes. Make sure to use whatever is locally fresh and available. And you'll definitely want to double the stewed fruit since it's great to eat alone, on yogurt, with wholewheat pancakes or waffles, or on natural and organic ice cream.
Makes about eight 3-inch shortcakes.
Topping:
Bruise a small handful of lemon balm, verbena, or lemon thyme and put them in a bowl with the whipping cream. Cover and refrigerate.
Core and peel 2 organic apples or organic pears (or one of each). Quarter them lengthwise and slice them crosswise into 1/8-inch thick slices. Toss the sliced apples or pears into a small saucepan with 2 or 3 sprigs of fresh rosemary or fresh bay leaves. Add 2 to 3 tablespoons of pure maple syrup and cook, covered, over medium heat until contents come to a simmer.
Reduce heat, stir occasionally, and cook for about 10 to 15 minutes until fruit has softened. The fruit should be tender, and there should be some juice when it cooks down—if not, add a tablespoon or two of water. Add a few pinches of ground cinnamon and/or ginger and remove from heat. Let stand, covered, until ready to serve. This can be served hot, warm, or at room temperature. Remove herbs before serving.
Shortcakes:
2 cups organic unbleached white flour

2 teaspoons baking powder

Scant 1/2 teaspoon salt


4 tablespoons organic sugar

1 cup organic half-and-half or organic whole milk


2 tablespoons lemon thyme, balm, or verbena, chopped fine. Or you can substitute with 2 teaspoons of lemon zest

1 tablespoon unsalted butter, melted
Preheat oven to 425° F and lightly butter a baking sheet.
Combine the flour, baking powder, salt, and 2 tablespoons of the sugar in a bowl or processor. Cut the butter into the mixture until it is a coarse meal. Add the half-and-half to the dry ingredients and mix until just blended. Add the chopped herbs—just mix them in. Do not over mix.
Turn the dough onto a floured surface and knead 8 or 10 times. Roll or pat the dough to about 3/4 inch thick. Using a 3-inch cutter, cut out rounds using all of the dough. Place the rounds of dough on the baking sheet, brush the tops with the melted butter, and sprinkle them lightly with 1 tablespoon of organic sugar.
Bake the cakes in the center of the oven for about 12 to 14 minutes or until golden brown. Cool the shortcakes for at least 5 minutes before splitting them open. They are best served warm, but room temperature is fine.
While the cakes are baking, remove the herb sprigs from the whipping cream, add the remaining tablespoon of organic sugar and whisk until softly whipped.
To assemble the shortcakes, split them in half. Place a spoonful of fruit on the bottom half with a bit of the juice. Add a dollop of whipped cream and place the top half on top. Repeat with the fruit and the cream and garnish the top with a slice of fruit. Serve immediately, and enjoy the fruits of fall!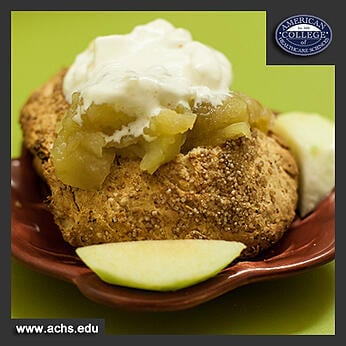 This article is for informational purposes only. It is not intended to treat, diagnose, cure, or prevent disease. This article has not been reviewed by the FDA. Always consult with your primary care physician or naturopathic doctor before making any significant changes to your health and wellness routine.