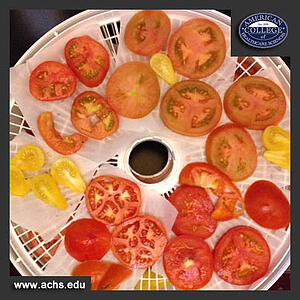 For the last three years, I've been cursing the tomato gods. Why have I done everything right but my crops seem to fail year after year? Well, this year, the gods answered my call, and I've been gifted with a bounty of tomatoes in all shapes and sizes.
However, I recently got a distress call from a fellow gardener. While my friend was out of the country, her tomato plants went rogue. We're not talking about a few plants here. We're talking about 12-15 plants. So, Dorene Petersen, President of ACHS, and I spent an evening propping up the plants and using florists' tape to MacGyver materials into post-apocalyptic trellises. Whew!
Once we were done, the garden looked much tidier, but a plethora of green tomatoes had been sacrificed and were looking sad and lonely. For two people who don't like to see anything go to waste, we knew that we had to try to do something with this unexpected aftermath. So, we gathered up the tomatoes and the wheels started turning.
The results? Two delicious, healthy, holistic recipes for rogue tomatoes!
Just a quick caveat ... We were being creative here, so the measurements are not exact; however, since the first batch of Roasted Green Tomato Soup (see the recipe below), I've tried a similar recipe with eggplant and another one using up my summer squash and green tomatoes. So far, so good. As the creative process takes over, notice how the stove gets messier and messier!
Recipe #1: Roasted Green Tomato Soup
Ingredients
10-12 Green tomatoes
½ Onion
4-5 Cloves of garlic
Directions: Preheat your oven to 375 degrees. Cut the tomatoes in half and the onions in quarters. Peel the garlic, brush the lot with olive oil, and place in a foil-lined pan. Cook for 30 minutes, flip your ingredients over, and cook for another 15 minutes.
Add all ingredients to a pot and add ½ cup of water or more if you like it less thick. The tomatoes will put off a lot of liquid, so you don't need to add too much.
Add salt, pepper, a pinch of salt, and blend baby blend. I like to use an immersion blender (since hot liquids will make your blender explode) and blend until consistent. Add any other spices that you'd like. A little curry powder is delicious, too.
Recipe #2: Dehydrated Tomatoes (preparation pictured in the photo above)
Ingredients
Cut small tomatoes, like grape tomatoes, in half, and slice larger tomatoes so that they are of uniform thickness. Line the dehydrator with parchment paper (makes cleanup a lot easier) and let it go. (In this batch, Dorene and I ran the dehydrator for about 28 hours. They may have been done a lot sooner but the "Do not touch/open sign" on the dehydrator didn't work, and staff (myself included) had to keep looking at the progress. Being in holistic health education, we're a curious bunch and couldn't stay away!)
The results are dried, but not rubbery, sweet, and slightly tart dehydrated tomatoes. They're oh so yummy and a healthy addition to tons of holistic nutrition recipes, including salads, sandwiches, pasta dishes, and quinoa (ACHS CIO Erika Yigzaw has an awesome blog post on the MANY health benefits of quinoa, with recipes, you can find online here: http://info.achs.edu/blog/bid/277869/Holistic-Nutrition-Quinoa-Gluten-Free-High-Protein-Vegan-Superfood)!
These tomatoes went back to my friend, the owner of the garden, and I hear she's loving them. I also heard that she's dehydrating celery now. I think we created a monster!
Is your garden bursting with fresh veggies right now? Maybe you have some rogue tomatoes of your own!?! I'd love to know how you're making the most of your late-summer bounty — leave a comment! And, if you have recipes, share those in your comments, too! Let's get creative!