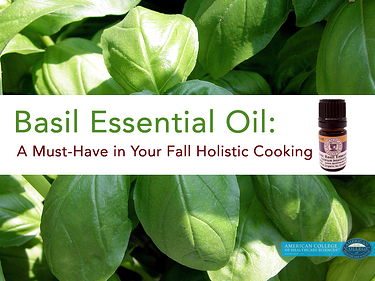 I just returned from two weeks in Sicily and Rome visiting our organic citrus distillers and attending the International Federation of Essential Oils and Aroma Trades annual conference. My daily treat was a caprese salad with the tastiest tomatoes, fresh mozzarella, drizzled with extra virgin olive oil with a generous layer of whole fresh basil leaves. I was eager to get home and harvest my basil plants growing in my patio pots.
Since returning, my caprese salad addiction has waned, and as fall ushers in the cooler air and changing leaves, my dinner table begins to change as well. If you're like me, you start to crave those heartier and more savory dishes that keep us warm and toasty as the seasons change.
My basil harvest went well, and while I always do my best to save the herbal harvest from my garden, it can be difficult to cook with fresh herbs—like basil—in the late fall and winter. (And who doesn't want the taste of fresh basil in their organic pasta pomodoro?) This is one more reason why I love culinary essential oils: they are a fantastic flavor addition when you don't have the fresh or dried herbs on hand.
But even if you do have the herbs in your pantry, adding basil essential oil (EO) Ocimum basilicum (L.) to your cuisine will give a boost of both flavor and health to your holistic nutrition. Here are my favorite reasons why basil O. basilicum essential oil is a must-have in your holistic kitchen cupboard:
Add Basil Essential Oil to Your Italian Pasta Dishes
As mentioned above, basil O. basilicum EO can add a zesty kick to your tomato sauce and/or pasta dishes.
Top tips:
Start with one drop of basil O. basilicum and keep tasting.
Don't hold the bottle directly over your pot of sauce. Add your basil EO to a measuring spoon held over a cup. This helps prevent over pouring and wasting precious culinary essential oil!

Add your culinary essential oil toward the end of the recipe. This helps keep the oil and delicate flavors from evaporating away.
Get really creative with basil! Use the basil O. basilicum cooking oil outlined below to stir-fry your onions and tomatoes for your sauce.
Prepare a Fresh Sauce for Fish or Meat with Basil EO
The fresh, light, and spicy flavors of basil O. basilicum EO pair delightfully with wild seafood or free-range meat. Try adding basil to your favorite sauce for crab or wild salmon. Additionally, basil can also support healthy digestion—all the more reason to add to your more meaty cuisine.
Again, don't forget to start with small amounts and keep tasting.
How to Make a Basil EO Cooking Oil
Here's a fresh, flavorful, and savory cooking oil that is perfect for fall and winter cooking. Prepare this delicious basil O. basilicum EO cooking oil by adding 20 drops of the essential oil to ½ a cup of organic virgin olive oil.
If you've dried your fresh herbs from the fall harvest, add ½ a teaspoon of the dried finely chopped herb to your oil as well. You can use it as a salad dressing or use it to stir-fry. The suggested use level as a flavor is 0.30-1.00 mg%.[1]
Let's Get Cookin'!
Basil O. basilicum essential oil is an exquisite addition to your fall cuisine, and while it is listed on the FDA's Generally Recognized as Safe (GRAS) list, you should only use culinary essential oils in your cooking in very small amounts. Essential oils are powerful—a little bit goes a long way. So remember: safety first!
Heading to the kitchen already? There are many more recipes and tips for cooking with essential oils in our new eBook: Top 10 Culinary Essential Oils, which is mobile responsive for easy reading on your Kindle, smartphone, tablet, or other mobile device. Then, I'd love to hear how you will be using essential oils in your cooking this fall and winter in the comments!
This article is for informational purposes only. It is not intended to treat, diagnose, cure, or prevent disease. This article has not been reviewed by the FDA. Always consult with your primary care physician or naturopathic doctor before making any significant changes to your health and wellness routine.
[1] The term milligrams percent (mg%) expresses the number of milligrams of substance dissolved in 100 milliliters (ml) of liquid. It can be used to denote the concentration of a drug or natural substance in a biologic fluid, an active constituent in an essential oil or tincture, or an essential oil in a preparation. For example, the statement that the concentration of basil oil in a blend is 0.30-1.00 mg% means that each 100 milliliters of the blend contains 0.30-1.00 milligrams (mg) of basil oil.