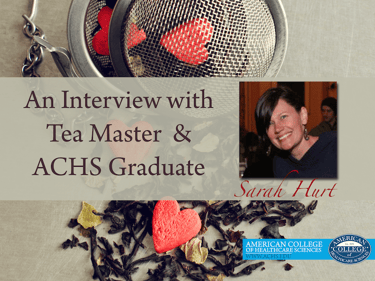 Our motto at ACHS is: Learn well. Live well. Educate others. So of course we get the "warm and fuzzies" when we see our graduates living out the motto by living well and actively educating others. Graduate, Master Herbalist, and Tea Master Sarah Hurt is one influential example of how a knowledge of holistic medicine can bring joy and health to others.
Sarah graduated from the Diploma in Herbal Studies (Master Herbalist) Program in 2013. Since then, she has used her education to develop her business as a thriving community herbalist, and educator. Sarah is the owner, tea designer, and formulator at Sage and Spice Botanicals, LLC (formerly t by Sarah), and she has been featured on New Day Cleveland and the Lakewood Observer as an expert tea formulator and herbalist.
I had the privilege of talking with Sarah about her success in the tea industry, her tips for herbal medicine students and tea enthusiasts, and her favorite teas. So brew a mug of your favorite herbal tea and enjoy:
American College of Healthcare Sciences: You've been working as a "community herbalist" since 2008. Can you talk about that role and experience?
Sarah Hurt: When I first started working with herbs in 2008, I was more of an avid enthusiast. I would excitably suggest, share, or spread the word about herbs or my herbal products to anyone that was willing to talk to me. I started growing herbs on a small scale, and began selling some of the commonly requested products that I was creating at farmers markets, garden shows, and online.
People started asking me for herbal recommendations everywhere I went (markets, weddings, the library, health food stores, restaurants), and I soon started giving talks in the community and working with herbal clients on a more regular basis.
At this point, I've become dedicated to helping maintain the health of my community as an herbalist, educator, and product formulator. Each new consult, herb, or custom formulation teaches me something, and I am truly grateful for the experience.
ACHS: How did your passion for tea blending start? Did it start with a passion for flavor or a thirst to know more about the therapeutic potential of this natural resource? Both? Neither?
SH: I remember walking in the woods with my grandfather when I was very young. We would come back and sip tea/water at the kitchen table and talk about what we discovered on our adventure. He passed away when I was six, and I forgot all about teatime, the woods, or nature in general for about 20 years.
By the time I was 26, I was working dead end jobs and struggling to get by. Depressed and anxious. I was desperate to find a solution, and knew I needed to make some serious life changes.
I began taking classes at ACHS, and the passion that I currently have for tea was reawakened as soon as I started working with herbs. Lemon balm, chamomile, and lavender were some of the first herbs to lure me in, and once I discovered that rest, relaxation, and a quiet mind were indeed possible (and tasty), I was hooked!
Creating high quality therapeutic teas quickly became my new passion. I was intrigued to learn more about tea, tea history, and the ceremonies around this ancient art when I decided to work with the International Tea Masters Association to get my Tea Mastery Certification. The therapeutic potential of herbs (and teas) is definitely part of my focus as an herbalist, but as a tea designer and formulator, having the perfect flavor profiles are also a priority.
ACHS: In the era of Teavana and Traditional Medicinals, artisan herbal teas are becoming more and more popular. What are some strategies you employ to be sure your company and tea blends remain relevant in a growing industry?
SH: As the owner of a small company, I feel that the most important thing I can focus on is the quality and integrity of my products. Creating small batch, high quality teas with the freshest organic ingredients, and infusing them with positive energy and intent is what I hope keeps my company and blends relevant in the fast growing field of artisan herbal teas and products.
Support from my community also plays a big part in my success, and I feel that it is important to work with and support as many local companies (farmers, shops, artisan crafters, and restaurants) as possible.
ACHS: What is your favorite part of the tea formulating process?
SH: Formulating is one of my favorite jobs; it makes me feel like a modern day herbal sorceress, mixing up magical formulations that others may need, enjoy, and appreciate. The tea and tisanes that I formulate are carefully created with purpose and good intention, so I would have to say that my favorite part of the tea formulating process is when a customer or a client enjoys the flavors and therapeutic benefits of my products as they were intended.
ACHS: If someone wanted to sample one of your blends for the first time, which one would you recommend?
SH: If they were interested in an herbal tea I would suggest Be Well. It is loaded with valuable herbs full of essential nutrients (red clover Trifolium pratense, oatstraw Avena sativa, nettle Urtica dioica, dandelion leaf Taraxacum officinale, rose hips Rosa canina, and peppermint Mentha piperita) that give this brew a unique and refreshing flavor.
If they were interested in a tea with caffeine I would suggest Sunrise. It is a warming combination of black and green teas with red rose petals Rosa centifolia and calendula Calendula officinalis flowers. This beautiful brew makes a fabulous iced tea and also works well when combined with sugar, honey, lemon, or milk.
ACHS: How do you evaluate the quality of the botanicals you use in your tea blends?
SH: We purchase the organic herbs, teas, and essential oils that we use for our retail and wholesale products from cGMP Compliant, Organic, and Kosher Certified Suppliers.
Our suppliers follow strict testing requirements for identity, strength, quality, and purity of the herbs, follow FDA-compliant manufacturing practices, and have protocols firmly in place for the documentation and validation of the quality control systems to ensure compliance with all relevant food safety regulations.
We also request a Certificate of Analysis on all bulk herbs and teas, and I also personally preform organoleptic tests for each herb received; ensuring quality (look/color, taste, smell, feel) before adding it to our herbal apothecary or products.
ACHS: You are also trained in Reiki and aromatherapy. Can you talk about how those modalities intersect with herbal medicine?
SH: I was first interested in including Reiki and aromatherapy as additional support for my own education and well being; but very quickly they became fully incorporated into my world of herbalism.
I always hope to infuse positivity and good intention into my products, and I find that I can do that quite easily by using Reiki when I plant, harvest, or tend to my gardens, or while formulating and blending products.
When I decided to learn about aromatherapy, I was very interested in the energetic properties of essential oils, but hesitant. I was a little concerned about concentrations, safety precautions, quality, and sustainability. As I gained training and knowledge on the subject, I became more comfortable using the term "Aromatherapy" in my practice and began adding essential oils for therapeutic actions, energetics, or blissful scents in my artisan herbal products. I think that herbs, aromatherapy, and Reiki intersect quite nicely for promoting health and healing, stimulating energy flow, and calming the body.
ACHS: What drew you to ACHS for your herbal medicine training?
SH: I was drawn to the convenience and flexibility of the ACHS course offerings, and after researching other schools, I found ACHS the most affordable option for the certification and diploma programs I was interested in. I also liked the wide range of course offerings that were available, and the customer service/administrative staff was always pleasant, knowledgeable, and very helpful.
ACHS: What is one piece of advice you would give to current students or graduates who want to turn their holistic health studies into a business?
SH: Believe in yourself; You Can Do It! "One Day, you will wake up and there won't be any more time to do things you've always wanted. DO IT NOW." ­–Paulo Coelho
ACHS: You've been featured as a tea expert and educator in articles around the Web as well as talk shows like New Day Cleveland. What's your PR philosophy?
SH: I have been blessed with good luck and free advertising from customer referrals, write ups, blogs, community events, and social media in the past. For the future, I am hoping to put together a press packet and a more organized PR strategy for promoting both myself and Sage and Spice Botanicals, LLC.
ACHS: Can you discuss some of the struggles and the joys of growing your own holistic health businesses?
SH: When t by Sarah (now Sage and Spice Botanicals) was started, I was taking a hobby to another level, and I had no idea how to properly figure out costs, inventory, product pricing, or taxes. I had not yet taken any business training classes, and costly mistakes were being made.
The business was struggling financially, and I was really stressed. Once I began taking NAT 306: Holistic Health Consulting, things really started to click. I realized I had to focus on the problems I had with organization, goal setting, scheduling, and bookkeeping. While taking the course, I was able to work on new business plans and goals, become better at networking, and felt more confident in understanding and properly following the rules and regulations in the holistic healthcare industry. Restructuring the business eventually was necessary, and I was fortunate enough to use my training from ACHS to reorganize, refocus, and get the business on a profitable track.
One of the biggest JOY moments for me in owning my holistic health business was when I was finally able to quit all of my other jobs and just work for myself. The life lessons and transitions that have been ingrained in me from running my business are truly monumental.
ACHS: What are your plans for the future?
SH: We just recently launched the new sageandspicewb.com site, and I am hoping to have some new seasonal botanicals to premier before the holidays. I am working on some workshops for 2016, and I hope to continue to educate the community on herbs and teas for many years to come.
ACHS: If you were stranded on a deserted island and only had access to one of your tea blends, which one would you choose?
SH: Chillax would be my blend of choice. : )
This article is for informational purposes only. It is not intended to treat, diagnose, cure, or prevent disease. This article has not been reviewed by the FDA. Always consult with your primary care physician or naturopathic doctor before making any significant changes to your health and wellness routine.
Disclosure of Material Connection: I am a Communications Specialist for American College of Healthcare Sciences (ACHS), the Institution that publishes this blog. However, all opinions are my own. All opinions of the interviewee, ACHS graduate Sarah Hurt, are her own. This blog may contain affiliate links. I am disclosing this in accordance with the Federal Trade Commission's 16 CFR, Part 255: "Guides Concerning the Use of Endorsements and Testimonials in Advertising."