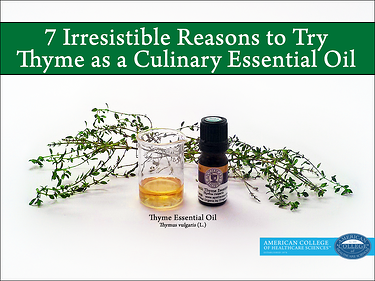 There is something about the cool weather, darker evenings, and my lonely fresh-herb patio pots that makes me yearn to start playing in the kitchen with culinary essential oils like thyme Thymus vulgaris (L.), basil Ocimum basilicum (L.), and ginger Zingiber officinale (Roscoe). I love to make hearty fall and winter recipes, and linger over my cookbooks dreaming of a delectable Thanksgiving and winter holiday cuisine. Okay, okay … I confess … I am not a cook. But, I am committed to the concept of "Let Food Be Thy Medicine," so any chance I get I peruse recipes and see where I can adapt them to be my daily medicine by adding herbal and culinary essential oil "brews."

One culinary essential oil that I always keep on hand to add feisty flavor is thyme T. vulgaris. I think you'll love the hearty, herbaceous, and slightly spicy flavor of this culinary essential oil. Here are 7 delicious reasons it's time to bring thyme T. vulgaris essential oil into your kitchen:
1. Thyme essential oil can be added to a variety of recipes:
My fresh thyme T. vulgaris has already been hit by the cold nights and has died back, but much like the fresh herb, thyme T. vulgaris essential oil can be added to a number of different recipes. Just look at all the types of dishes you can liven up by adding 1-2 drops of thyme T. vulgaris essential oil:
Your Thanksgiving meal: add to your turkey marinade and homemade stuffing
Meat and red sauces
Pickles (we LOVE pickling here in Portland!)
Savory soups and stews
Pizza
2. You'll exude a fragrance of elegance:
I enjoy learning how plants were used in history. Guess what … if you incorporate thyme T. vulgaris essential oil into your cuisine, there's a chance you may start to feel and smell like royalty! In Grecian times, the smell of thyme T. vulgaris was considered extremely elegant, and it was a compliment to tell someone that he or she smelled of thyme.
3. Thyme adds a quick and easy flavor boost to your favorite salad dressing or stir fry:
This is a quick tip and can be kept on hand. Add 2 drops of thyme T. vulgaris essential oil to 8 ounces of organic extra virgin olive oil for a tasty base for your favorite homemade salad dressings or stir fry.
4. Thyme adds delicious complexity and flair to your favorite berry pie:
I love to mix and match and pair flavors that are out of the ordinary. If you don't already know that some herbaceous flavors make decadent pairings with sweet flavors, you're in for a tasty surprise! For an invigorating kick, add 2 drops of thyme T. vulgaris essential oil to a fruit pie made with organic, freshly harvested, frozen, or preserved blackberries. You can also experiment with other fruits like organic cherries, raspberries, strawberries, marionberries, and rhubarb. Yum!
5. You can create a zesty essence of thyme:
Prepare an essence of thyme by adding .5 milliliters of thyme T. vulgaris essential oil to 100 milliliters of certified organic sweet almond oil. Use 1 teaspoon of your essence to bake muffins, cupcakes, cookies, or savory breads. It's a scrumptious, spicy, savory, and complementary flavor with a twist, especially if the original recipe calls for vanilla essence.
6. Thyme can improve quality traits of marinated meat:
Did you know chicken and turkey contain polyunsaturated fatty acids that can oxidize and cause the meat to quickly spoil? A recent study conducted in August 2014 showed that thyme and orange[1] essential oils used in a marinade decreased this spoilage and actually increased shelf life. So, thyme oil acts as a natural preservative.[2] All the more reason to add essential oils to your Thanksgiving turkey marinade!
7. Research has shown thyme essential oil has potential antioxidant activities:
Thyme T. vulgaris essential oil has attracted the attention of researchers due to its antioxidant activity. It was rated extremely favorably when tested against other culinary essential oils, such as oregano Origanum vulgare (L.), rosemary Rosmarinus officinalis (L.), sage Salvia officinalis (L.), and clove Syzygium aromaticum (L.) Merr. & L. M. Perry. In addition to having a high content of phenolic compounds (the compounds responsible for antioxidant activity), thyme essential oil was the most effective in inhibiting free radicals.[3] If you don't know this already, free radicals are those annoying atoms that are missing electrons. They steal electrons from other molecules, which in turn creates other free radicals, and before you know it you have a chain reaction. Antioxidants such as thyme T. vulgaris essential oil donate electrons without becoming a free radical. What's not to love about that. Maybe this is why the Greeks wanted to smell of thyme!
So it's clear … along with adding a tasty kick to your cuisine, there are potential health benefits to adding thyme T. vulgaris essential oil to your cooking.
If this list hasn't convinced you that it's time to try thyme T. vulgaris in your kitchen this holiday season, there are many other culinary essential oils that you're sure to love in my latest eBook: Top 10 Culinary Essential Oils.
This article is for informational purposes only. It is not intended to treat, diagnose, cure, or prevent disease. This article has not been reviewed by the FDA. Always consult with your primary care physician or naturopathic doctor before making any significant changes to your health and wellness routine.
[1] The Latin names for thyme and orange were not included in the original study so we have left them out here.
[2] Rimini, S., Petracci, M., & Smith D.P. (2014). The use of thyme and orange essential oils blend to improve quality traits of marinated chicken meat. Poult Sci., 93(8): 2096-102. Retrieved from: http://www.ncbi.nlm.nih.gov/pubmed/24902698
[3] Viuda-Martos, M., Ruiz Navajas, Y., Sanchez Zapata, E., Fernandez-Lopez, J., & Perez-Alvarez, J. (2010). Antioxidant activity of essential oils of five spice plants widely used in a Mediterranean diet. Flavour Fragr. J., 25(1):13-19.