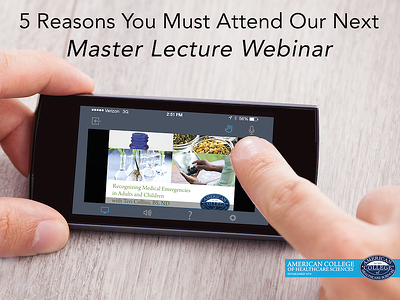 **This webinar is now over. If you missed it, no worries! We recorded it for you. Watch the recording here. **
As a webinar coordinator at ACHS, I've been lucky to attend some pretty incredible lectures. We've had expert ACHS faculty and guests present on an array of topics ranging from healthy cooking to essential oil safety to marketing a holistic health practice.
After a year of hosting and coordinating our webinars here at the College, I feel like I've gained a huge amount of holistic health knowledge I can use to improve my heath and well-being every day. (Check out my DIY video for how to make fizzing herbal bath bombs at home here.) Plus, it's fulfilling to see how much these lectures directly benefit and educate our students, graduates, and the health community.
So if you haven't attended one of our free ACHS Master Lecture webinars yet, your next opportunity is coming up on February 25, 2015 with ACHS faculty Dr. Teri Collins: Recognizing Medical Emergencies in Adults and Children. **This webinar is now over. If you missed it, no worries! We recorded it for you. Watch the recording here. **
Need a bit more inspiration to register? Here are 5 reasons you MUST attend our next Master Lecture webinar:
1. It's Free!
How often do you get to attend a science-based lecture on holistic health for free?!
ACHS's Master Lecture series was founded as part of our larger social mission with the goal to share reliable integrative health information with the public.
Every lecture is 100% free and open to everyone. PLUS—you'll get a copy of the recording and the slides after the webinar to share with your friends and family.
2. You'll Receive Continuing Education Credit
Need to beef up your résumé? Or maybe your job requires you to continue building and honing your holistic health knowledge.
Every ACHS Master Lecture webinar can count as one hour of continuing education credit. Attending a lecture on recognizing medical emergencies might be just what you need to fulfill your continuing education criteria.
3. You'll Learn to Identify Early Indicators that Could Potentially Save a Life
Teri Collins, BS, ND is a board certified naturopathic physician as well as a registered nurse. She's been educating healthcare workers and caring for patients for more than 25 years.
If you're interested in learning about the signs and symptoms of medical emergencies such as heart attacks, strokes, and seizures (which could save a life!), Dr. Collins's experiences in the field will keep you on the line and eager to learn more.
4.
You Can Attend from ANYWHERE

That's right. Like our classrooms, ACHS webinars are global. We use the software platform GoToWebinar, so you can tune in from anywhere in the world with a stable Internet connection.

There's even a mobile app so you can log on from your smart phone or tablet. Now that's mobile learning!
5. You Can Ask Questions
This is one of the biggest incentives to attend the live webinar: they're interactive. If you have questions during the webinar, ask during the live Q&A session.
Learning is best facilitated through curiosity and conversation, so attend the live event and have all your questions answered by a qualified expert.
I can't wait to watch Dr. Collins's presentation, and I hope you'll join me during the live lecture on February 25, 2015 from 3:00-4:00 p.m. Pacific time. But you'll need to act fast since our webinar "seats" are limited to the first 500 attendees who login.
Want to catch up on the Master Lectures you've missed? Check out the archives here.
This article is for informational purposes only. It is not intended to treat, diagnose, cure, or prevent disease. This article has not been reviewed by the FDA. Always consult with your primary care physician or naturopathic doctor before making any significant changes to your health and wellness routine.
Disclosure of Material Connection: I am a Communications Specialist for American College of Healthcare Sciences, the Institution that publishes this blog. However, all opinions are my own. This blog may contain affiliate links. I am disclosing this in accordance with the Federal Trade Commission's 16 CFR, Part 255: "Guides Concerning the Use of Endorsements and Testimonials in Advertising."