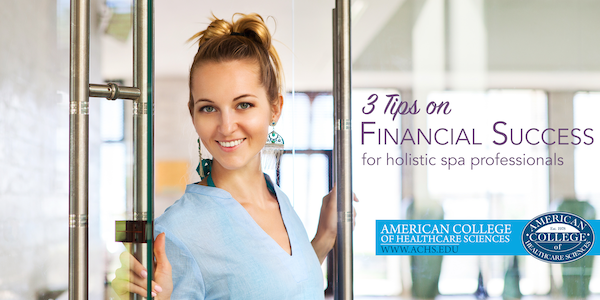 If you're a spa professional, most likely you've entered the industry with a passion to help people to be their best. But to nurture your own wellbeing, it's important to keep your financial wellness in mind as well.
As a spa director, I've learned a few strategies for keeping financially sharp in the spa business. And since you're already an expert in your industry, there's no reason not to increase your financial know-how.
How to Maintain Financial Wellness as a Spa Professional
1. Inspire a high rate of return.
Demonstrating extraordinary care during an initial client visit could lead to a life-long relationship. A technician with a loyal following of repeat clients enjoys success throughout the year, even when overall business levels tend to fluctuate for a spa operation.
To illustrate my point, imagine you're the new massage therapist working part-time at a day spa. Chances are, you're booked less frequently than the senior therapists (a common practice in the industry), making it more challenging to maximize financial potential during your first year.
By maintaining the clients you're given and inspiring them to visit you again, you'll quickly level the playing field. Let's do the math in this hypothetical example:
Ima Newtech receives 32 clients during her first month (2 clients a day, 4 days a week).
If she does nothing, she averages 32 clients a month.
If she delivers good service and can get all of her initial clients to return, she could average 64 clients the next month (32 repeat + 32 new).
If she delivers extraordinary service, she can inspire 64 clients to tell their friends and to come more often themselves. Ima could triple her business in only three months.
Bottom line, your potential is up to you. While your employer might give you a few clients to start with, the ball is in your court to keep them coming back for more and to grow your business.
2. Don't be afraid to sell.
In my experience, the most successful spa professionals are those who believe in the power of spa services and products to transform lives. These people genuinely love our industry and understand their place within it. They're not ashamed to openly discuss the value of an exceptional spa experience with anyone who will listen and will "ask for the sale" at the end of every interaction.
This is done confidently and assumes the client is receptive and interested. Revealing questions like, "May I reserve that for you this afternoon or tomorrow?" or, "Can I wrap up the travel size or the full size for you?" helps a client imagine ownership and demonstrates respect for their choice.
Spa technicians often assume that a client will loathe to hear a sales pitch or that a client will find self-care retail products to be too expensive. Technicians may base these assumptions on perceived super-human ability to "read people." In the end, this tactic fails both parties—the client missed an opportunity to learn how to take care of themselves between visits, and the technician missed an opportunity to share their knowledge (and earn a commission for doing it). Be mindful not to judge a book by its cover and never project your own limitations or biases onto your client.
3. Measure success daily, and always plan for the future.
The spa business is growing at an exponential rate. It's important to remember that like any cyclical business, there will likely be peaks and valleys in client volume throughout the year. Establish a clear plan for success by:
Setting concise (and realistic) financial goals for each day, week, month, and year.
Measuring your results every day (e.g., keeping track of client growth, return, and satisfaction).
Managing your results by adjusting financial goals as needed. For example, if you're working in a resort or hotel spa, and a group reservation cancels unexpectedly, you'll need to adjust the spa's financial plan to account for the shortfall in revenue. On the most basic level, a spa professional may decide to enhance daily goals for the remainder of the month by equally spreading the loss (e.g. a $3,500 shortfall to budget on August 12 would require that you add $185 to your daily goals for the rest of the month). Successful spa professionals will know their numbers at all times and most importantly, how to adjust them strategically to cross the finish line.
Take note of seasonal trends so that you can prepare accordingly. If you're a spa director, this helps to establish a realistic budget for the business. For a technician, this allows for personal financial planning. For example, contributing to a savings account when business levels peak—such as during wedding season or around the holidays—and accessing those funds to augment lower earning periods.
Spa professionals must work actively to understand the opportunities in this exciting industry. Delivering extraordinary service, perfecting sales technique, and staying in tune with financial performance are non-negotiables in the quest to maximize our potential.
I'm excited to share even more financial wisdom for spa professionals in ACHS's fully online holistic spa course starting this November: SPA 367 Financial Management for Spas. I hope you'll join me!
Disclosure of Material Connection: I am on the ACHS Faculty and a guest blogger for American College of Healthcare Sciences, the Institution that publishes this blog. However, all opinions are my own. This blog may contain affiliate links. I am disclosing this in accordance with the Federal Trade Commission's 16 CFR, Part 255: "Guides Concerning the Use of Endorsements and Testimonials in Advertising."
This article is for informational purposes only. It is not intended to treat, diagnose, cure, or prevent disease. This article has not been reviewed by the FDA. Always consult with your primary care physician or naturopathic doctor before making any significant changes to your health and wellness routine.