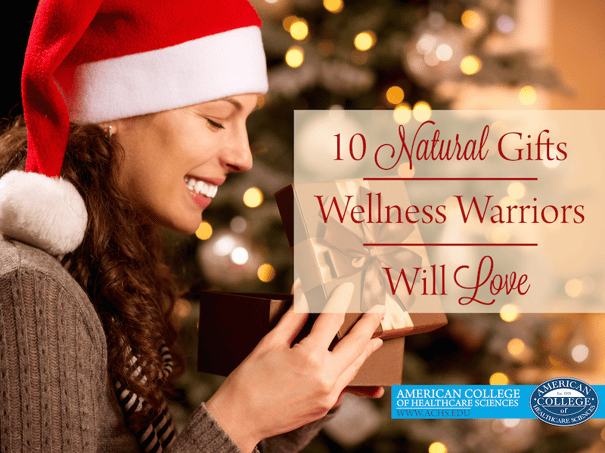 The holidays can be a hectic time—especially when trying to find the perfect gifts for your loved ones. That's why we created this quick and easy gift list to help you choose the perfect holistic health product for the wellness warrior in your life. Or if you're the wellness warrior, share this post with your Santa this year to make sure everything on your list is checked off.
Natural, organic, sustainable, and smart, here are 10 natural gifts wellness warriors will love this holiday:
ACHS President and Founder Dorene Petersen crafted this custom blend with the joy and spice of the season in mind. The aroma will put you in the holiday spirit instantly, but you'll want to diffuse this blend all winter long.
Includes a comforting blend of organic essential oils:
Anise Pimpinella anisum
Black pepper Piper nigrum
Cinnamon Cinnamomum zeylanicum
Sweet orange Citrus sinensis
Fir needle Abies balsamea
This kit has everything a DIY guru needs to create luxurious fizzing herbal bath bombs. Includes emollient and uplifting organic essential oils such as lavender Lavandula angustifolia, lemon Citrus limonum, and cardamom Elettaria cardamomum.
These fizzy bath bombs are just as fun to make as they are to use. Check out ACHSers Tiffany Stout and Renee Long making the bath bombs in this DIY video.
Looking for that perfect holiday perfume or room spray? This DIY kit lets you create it yourself! Featuring cinnamon C. zeylanicum, sweet orange C. sinensis, ylang ylang Cananga odorata (Lam.) var. genuina, and lemon C. limonum essential oils, this kit will make any wellness warrior's home smell sweet, warm, and festive for the holiday.
Here we have the perfect stocking stuffer for a wellness warrior. Why? Because lavender L. angustifolia is an extremely versatile essential oil. Plus, it's gentle! Here are just a few of the many uses for lavender L. angustifolia essential oil:
Soothing sleep support (use in an inhaler, diffuser, bath…)
Soothes and cleanses minor aches, pains, and burns
Uplifting mood support for dreary winter days
Even if your wellness warrior already has lavender essential oil, you can be sure it won't last long, and they'll appreciate you replenishing their supply.
Your wellness warriors might already have a nice supply of essential oils. But do they have a sleek, beautiful diffuser to emit them into the air?
Diffusers are the easiest way to experience aromatherapy. This ultra-sonic diffuser uses "cold mist" technology to create "sonic bubbles." Each bubble is coated with a thin layer of essential oil, which merges with and purifies the atmosphere in the room. Your home smells great and you're cleansing your indoor air at the same time!
For the more aesthetically-minded wellness warriors, this gorgeous hourglass-shaped aromatherapy nebulizer embodies both function and classic beauty.
But don't think you're sacrificing the latest technology! This powerful diffuser has a 10-minute on/off timer, so don't worry about wasting your precious essential oils if you forget to turn it off.
Always on the laptop or in the car? This convenient and adorable USB diffuser is the perfect wellness stocking stuffer. It will transform your office space into your own personal aromatic bliss. Just add oils, plug it in, and go. But don't forget the refill cartridges.
We all know winter can be rough on our bodies. That's why ACHS graduate, Master Herbalist, and tea guru Sarah Hurt created Be Well Tea. Packed with essential nutrients, wellness warriors will naturally choose this brew over hot cocoa any day of the cold holiday season.
This popular read is the perfect combo gift for that wellness warrior/bookworm in your life. Packed with essential oil safety info, 109 oil profiles, and 450 remedies all neatly organized in an A to Z format, you'll never have to Google an essential oil again—this book has you covered.
Ideal for new and seasoned wellness warriors alike. This comprehensive kit includes aromatherapy blending tools and must-have certified organic essential oils.
Lemon C. limonum
Grapefruit Citrus paradisi
Sweet orange C. sinensis
Lavender L. angustifolia
Eucalyptus Eucalyptus globulus
Rosemary Rosmarinus officinalis
This kit also comes with a handy essential oil fragrance chart, so you never have to second-guess your blending skills.
There you have it! The ultimate wellness warrior holiday gift list. And because we love our blog subscribers, you can buy these gifts for 15% off* now until December 16 and get them by Christmas Day. Use discount code BEWELLHOLIDAY.
Happy, healthy holidays!
Disclosure of Material Connection: This blog may contain affiliate links. I am disclosing this in accordance with the Federal Trade Commission's 16 CFR, Part 255: "Guides Concerning the Use of Endorsements and Testimonials in Advertising."
This article is for informational purposes only. It is not intended to treat, diagnose, cure, or prevent disease. This article has not been reviewed by the FDA. Always consult with your primary care physician or naturopathic doctor before making any significant changes to your health and wellness routine.
**Offer valid 12-8-15 until 12-16-15. Discount applies to 10 Natural Gifts Wellness Warriors Will Love collection only. Discount not applicable on Practical Lab Kits collection. Offer valid while supplies last. No backorders. Cannot be combined with other offers. Not available retroactively. Discount available on orders placed online, by phone, or in store.