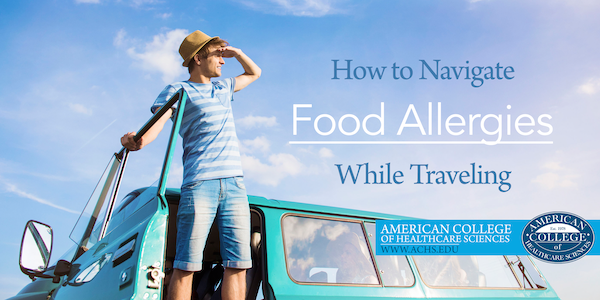 One of the highlights of traveling is trying new cuisines and restaurants. But for individuals with celiac disease, gluten sensitivities, or other food allergies, finding a safe place to eat can be stressful and even make travel a dreaded experience.
However, from my knowledge of living with multiple food intolerances, I've picked up some tips and techniques to help avoid hunger pangs on long flights, road trips, and even local day trips.
Many cities (and countries!) are becoming exceptionally accommodating to individuals' dietary needs as more people become aware of healthy eating and the incidence of food intolerances, such as gluten, increase. Restaurants are more likely to have options and cater to different food sensitivities today than ever before.
However, it still takes work and preparation on your part to avoid emotional hangry episodes and accidental ingestion and/or cross contamination of foods that are unfriendly to your digestive and immune systems while traveling!
Here are my 5 tips for how to stay satiated and safe while traveling:
1. Google Search "Gluten Free"
Conduct Google searches on your destination and the keyword "gluten free," (or whatever your restriction may be) as there are an increasing number of food and travel websites and blogs that list, review, and recommend safe restaurants for people with ingredient issues.
Even when restaurants do not specifically advertise having gluten-free menus, ask. Chefs take pride in their food, where they source their ingredients, and how their dishes taste. They focus on being creative, not making you sick. One of my favorite travel memories is from a restaurant where they fed me a meal not yet on their menu, letting me be the taste-tester!
2. Staycation in a New Town
If possible, instead of staying at a hotel, book a vacation rental through VRBO.com, Airbnb.com, or a similar website. For an equivalent or lower price you can have more space, but best of all also have access to a refrigerator, kitchen, and utensils to prepare your own food!
Find out where to buy organic produce and products at the farmer's markets, grocery stores, or co-ops where you're staying. These sellers are very likely to carry gluten-free and allergen-free products.
3. Fly Free of Worry with Wrapped Foods
For international flights, most airlines offer gluten-free meal options, which can be reserved in advance (and from my experience, bring some almond butter because they usually offer dry, unappetizing rice cakes). But, also bring some of your favorite snacks that are easy to pack!
For domestic flights, there are many foods you can bring on the plane that may even last a few days unrefrigerated. Some ideas include fruit (such as apples, pears, mandarin oranges, bananas, and peaches), raw cut vegetables, hummus or almond butter travel packs, energy bars, hardboiled eggs, cold quinoa/potato/chicken salads, cold cuts, dried oatmeal packets, and gluten-free banana bread, etc. The options are endless!
4. Don't Trip! Bring a cooler.
For road trips, you can bring all of the same foods you might bring on your flights … as well as anything that can be put in a cooler.
On short day trips, I typically bring some hot soup or food kept hot in a food jar thermos. I also like to bring a combination of salad, fruit, and energy bars.
5. As Always, Stay Hydrated
To stay hydrated, bring a stainless steel water bottle with a couple slices of lemon. Then, fill the bottle at a water fountain after passing security. Many airports now offer filtered water bottle filling stations, so you don't have to worry about heavy metals or contaminants.
Practice Makes Perfect
Eating while traveling can be worrisome if you're new to making diet and lifestyle changes. But, practice makes perfect. It takes time, but it does get easier to prepare, be creative, and be resourceful for eating on the go. Eventually, traveling and trying new restaurants will become enjoyable again, too.
Safe travels!
I am a graduate and guest blogger for American College of Healthcare Sciences, the Institution that publishes this blog. However, all opinions are our own. If this blog contains affiliate links, they will be marked with an asterisk. I am disclosing this in accordance with the Federal Trade Commission's 16 CFR, Part 255: "Guides Concerning the Use of Endorsements and Testimonials in Advertising."
This article is for informational purposes only. It is not intended to treat, diagnose, cure, or prevent disease. This article has not been reviewed by the FDA. Always consult with your primary care physician or naturopathic doctor before making any significant changes to your health and wellness routine.